Factors like experience played a bigger role, while others like company size took a back seat, but pay is staying consistent for advertising sales directors in publishing.
Roles have changed significantly however as departments are forced to do more-in the form of digital and events products-with wider responsibilities-ranging from editorial to marketing-while struggling to squeeze what they can from a shrinking print environment.
"There's increased attention to delivery via digital and mobile media," one respondent commented, "with a challenge of providing fresh content in print."
"Have had to become jack of all trades and be able to step in wherever necessary," wrote another.
COMPANY
Average total compensation for sales directors at b-to-b and consumer magazines skyrocketed over 2013 and 3-year averages, but those who didn't get a massive raise shouldn't panic. Median compensation is almost exactly the same, suggesting the big jump in mean earnings is just the result of outliers on the high end.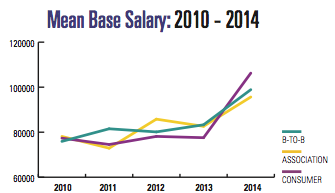 Interestingly, that skewed data is coming from higher base salaries though-commissions actually shrank. Salaries are anywhere from 17- to 37-percent higher than last year, while mean commission took a significant drop for b-to-b and association sales directors.
Company and publication revenue matter less than they have in recent years. The disparity in pay between large and small companies or magazines was only about $24,000, while it had been over $40,000 since 2012.
LOCATION
As always, location had a big say in what you're getting paid, and, also per usual, sales directors in the Northeastern U.S. made the most.
Those in the Northeast are joined by colleagues in the West this year though, with both earning $157,000-an 18-percent jump over recent pay for the latter group. Directors in the Midwest and South also saw total compensation rise, though they still trail the other two regions.
JOB DESCRIPTION
Not much changed for pay as it relates the numbers of publications worked on and employees supervised.
Sales directors with one magazine in their portfolio earn about $15,000 less than those working for at least two titles, while directors who supervise fewer than five
employees make about $30,000 less than their counterparts with larger staffs-both on par with recent norms.
DEMOGRAPHICS
The gender pay gap is getting bigger.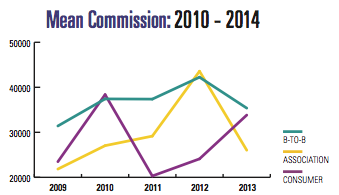 Men at the sales director level outearn women by an average of $31,000-up from $24,000 a year ago and just $12,000 in 2012-with the growing disparity coming from 60in00c0reases in base salary for males. While female salaries
have stayed flat at around $81,000, males have seen base pay jump 15 percent to $110,000. Commission-based pay was about equal at around $45,000 each.
Education kept its inverse relationship to pay, as those with at least some post-graduate work earn $20,000 less than those who've only received an undergraduate degree, but the difference has been negligible historically.
Age's impact on total compensation was also unchanged. Sales directors under age 40 earned $20,000 less than their older counterparts, right in line with 3-year averages.
EXPERIENCE
Tenure continues to play the most significant role in pay for directors, though you don't want to be in one place for too long.
Those who've been at their current company for 5 to 9 years earn the most ($176,000), while directors with more than 10 years of service make more than $30,000 less and relative newcomers come up $50,000 short. The pattern has held over the last three years.
It doesn't really matter how long you've been in the same position though. While the pay gap between those with the shortest and longest stays in one role widened to $20,000 this year, it's usually been closer to $10,000.
The same goes for time in publishing and publishing-related sales. The longer you've been in the business, the more you're likely to make, but with differences of less than $30,000 since 2012, it's not a critical factor.
METHODOLOGY:
The survey mailing list was provided by Access Intelligence, publisher of FOLIO:, representing domestic subscribers. Data was collected via mail survey by Readex Research. The survey was closed for tabulation with 138 usable responses. The margin of error for percentages based on 138 key respondents is +/- 8.1 percentage points at the 95 percent confidence level. The survey did not receive enough useable responses at the advertising sales, manager, salesperson, account executive or category manager levels.