The 2014 Fulfillment Service Bureau Survey

Is fulfillment moving fast enough?
While publishers introduce new products and platforms at a breakneck pace, fulfillment companies are faced with either adapting legacy systems to meet the changing demands, or investing resources in creating solutions from scratch.
Their universe is constantly expanding as new players with new technologies each have to be accommodated.
It's a difficult position for an industry that's historically been slow to change-with seismic shifts happening across the market, fulfillment technology and services are taking an iterative development approach.
That pattern has held in FOLIO:'s 2014 Fulfillment Service Bureau Survey. With just a handful of new services taken on in the last year, from the outside, the fulfillment industry looks much the same as it did in 2013. It's more complicated than that however.
Digital edition delivery, for example, is performed by 75 percent of the fulfillment houses surveyed-up just 3 percent from last year and actually down 3 percent from 5 years ago-but the process itself has changed. The proliferation of digital editions and the devices on which they're consumed has added complexity.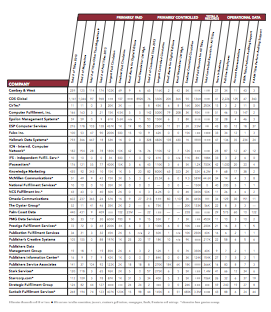 Publishers still need those services though, regardless of the layers that are being added on.
"Our need is for a fulfillment house to track all kinds of fulfillment-whether it's digital or print," says Barbara Besser, executive consumer marketing director of Dwell Media. "The limitation is more related to the fact that these platforms aren't integrated, which isn't a fulfillment house's fault, but they've been a bit slow in figuring out some solutions for us. All the information should be in one place and it's not."
Besser highlights audit, income and sales data, saying that it's been scattered. That means publishers and outside data management vendors have had to reach out to each platform provider-Apple, Kindle, Google and Nook, to name a few-for the numbers. The formats are all different as well, so each source has to be retrofitted in-house.
Eliminating distinctions between platforms is a challenge on the subscriber side though says Nancy White, director of sales for the Strategic Fulfillment Group.
"[Clients] have asked us to give them the flexibility and reporting backup that supports their efforts to be content providers that are delivery- or platform-agnostic," she says. "That includes being able to easily add levels of access so they can do things like create a membership-type of subscription that gives customers access to a suite of items that may include the current issue in digital content, access to back issues or even a Netflix-like online video training component."
Some fulfillment providers are offering the all-in-one tracking Besser suggests, but those services are still the exception, she says. High price points make them unrealistic for a lot of publishers anyway.
Outside of traditional publishing products, brand extensions like e-commerce and even email newsletters are complicating data collection further. The data for each of these products is often warehoused separately in partnership with individual vendors.
"We find that our clients are asking us to take on a greater share of customer contacts-to go back to being the fully-comprehensive database of record," White says.
Diane Ceullar, president and CEO of Cambey & West agrees: "Applying technology to implement the increasingly creative offers coming from our clients has dominated our IT activity and made for interesting times. Last year, many more clients added a paywall and mobile apps, thus increasing the number of combinations and purchase price points available to the customer."
And it's only getting harder. Not only are publishers coming up with new products, but they're developing new ways to measure old ones.
"As their database initiatives expand, our clients are incorporating deeper behavioral data, Google Analytics and Omniture data, paywalls, groups and site licenses, social integration, and mobile," says Traci Theobald, marketing manager at Omeda.
Ultimately, success is about facilitating communication. Weekly calls and quarterly face-to-face meetings keep workflows aligned between Cygnus and its fulfillment provider.
"It's bringing together our people who are using the system and their people who are serving us," says Julie Nachtigal, vice president of audience development at Cygnus. "You bring understanding from both perspectives on what you each need to do to achieve the end results. It helps establish a good working relationship so we understand their processes, they understand where we're coming from and we can achieve the desired results."
Getting Better and Going Beyond
While the fulfillment industry strives to keep pace with a stream of new publishing products and tools, some legacy processes have remained in place.
"The timetable to get a magazine in someone's hands is the most basic function that hasn't been expedited or changed since fulfillment started," Besser says.
From the moment a new subscriber submits a form online or mails in an order, Besser says it still takes 6 to 8 weeks for them to receive their first copy of the print magazine-the same subscriber can get their digital edition in seconds.
"Fulfillment houses still operate on weekly cycles. People who subscribe on a Monday, for example, might not get put on the file until Friday," she says, noting the label, printing and mailing processes that have to take place sequentially after that. "It's not cost efficient to do a small quantity either so you schedule it at a frequency that makes economic sense."
It's a problem many recognize, one that stands in sharp contrast to the rest of today's instantaneous publishing ecosystem. But, with so many layers and so many vendors involved, there's no easy solution.
Instead, publishers have adapted to it.
"Fulfillment companies need to evolve with our industry or they're going to risk being replaced," Nachtigal says. "They need to move beyond just fulfillment, and perhaps, that term may become extinct in our industry."
Advertising is an area she believes fulfillment companies can excel. They have the data, but it's not available in an accessible format. Visualization tools, market insights and research are a few of the products Nachtigal says advertisers need. Products like those could help players up and down the supply chain.
"We need to do a better job providing advertisers with intelligence and insight as to what's going to meet their information needs and goals," she says. "We're not quite there yet in the fulfillment area."
Besser agrees: "If you stand back and ask where you customer data is, it's really not where it should be given the technological world we live in now."
Meet the Author
---