At the 2014 FAME Awards, hosted early this morning at New York's Yale Club, FOLIO: and min recognized the best in magazine events and honored this year's class of Hall of Fame inductees.
Events are gaining more prominence among publisher assets, with expos, conferences, parties and more becoming innovative brands in their own right. Accordingly, the FAME Awards were set up to recognize the best of the best.
Today's breakfast event awarded winners in 19 categories ranging from Best Conference and Best Use of Video to Best Magazine Party and Best Virtual Event with honorees representing a diverse group of both b-to-b and consumer media organizations.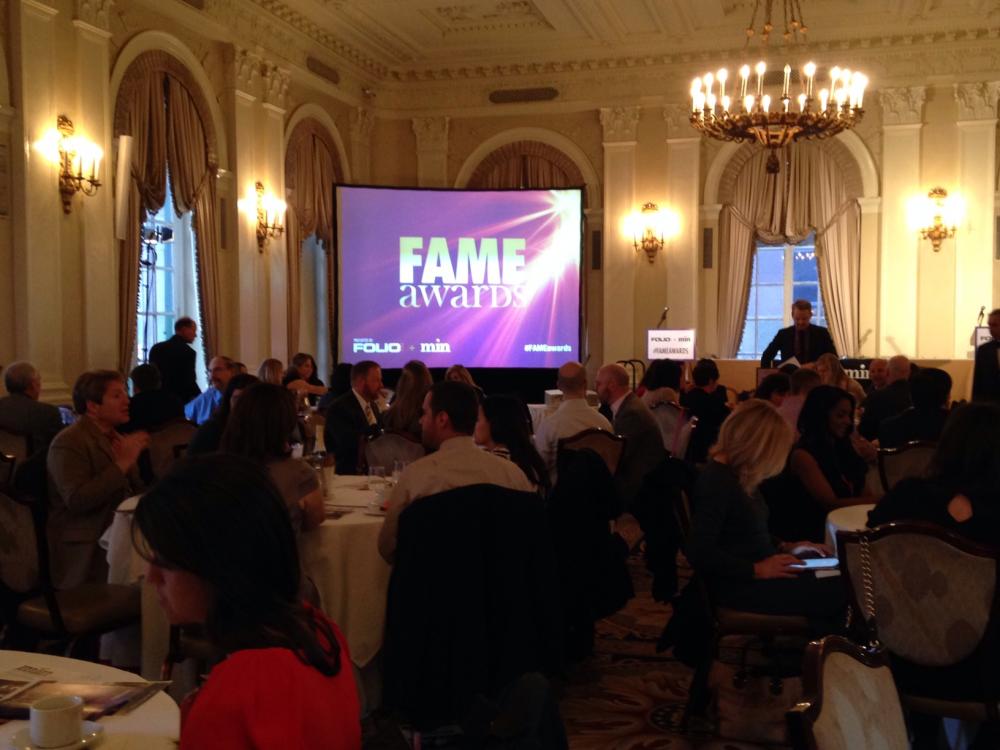 More than 100 industry executives attended the event, which included a keynote Q&A with Spanfeller Media Group founder and CEO Jim Spanfeller. The former president and CEO of Forbes.com, who chatted onstage with FOLIO: and min editorial director Bill Mickey, talked about the importance live events have—even for a digital brand targeting "mass verticals"—in extending revenue opportunities and bringing a digital startup to life in the minds of its audience.
Mickey shared announcer duties with FOLIO: and min VP of content Tony Silber  and two guest presenters—Kim Sealy, publisher of Working Mother, and InStyle's deputy editor Lisa Arbetter.
Arbetter and Working Mother's vice president of executive director conferences and events Janet Wigfield also accepted the Hall of Fame recognition for events put on by their respective magazines. "Working Mother's 100 Best Companies" and "InStyle and Warner Bros. Golden Globes After Party" were two of seven events inducted this year, singled out for their durability, longevity, reputation and innovation. More details on this year's class are below.
Here's a full list of  the winners followed by the 2014 Hall of Fame Inductees:
Best Awards/Recognition Program – B2B
• Penton – Nation's Restaurant News MenuMasters Awards Celebration
Best Awards/Recognition Program – Consumer
• Glamour – 2013 Women of the Year Awards
Best Conference
• The Atlantic – CityLab: Urban Solutions to Global Challenges
Best Custom Advertiser Event
• Future US – Hyundai: The Walking Dead
Best Educational Event
• Cygnus Business Media – EMS World Expo
Best Entertainment Event
• The FADER – The FADER FORT Presented by Converse
Best Enthusiast Event
• WatchTime Magazine – Inside Basel & Geneva
Best Epicurean Event
• Sunset – 2013 Sunset Savor the Central Coast
Best Expo
• WatchTime Magazine – Inside Basel & Geneva
Best First-Time Event
• SHAPE Magazine – Summer SHAPE Up with Jillian Michaels and Friends
Best Magazine Party
• Us Weekly – Most Stylish New Yorkers
Out-of-the-Box Sponsorship Concept
• Sunset – 2013 Celebration Weekend | Reimagining the Sunset Home
Best Overall Single Event (Consumer)
• Sunset – 2013 Celebration Weekend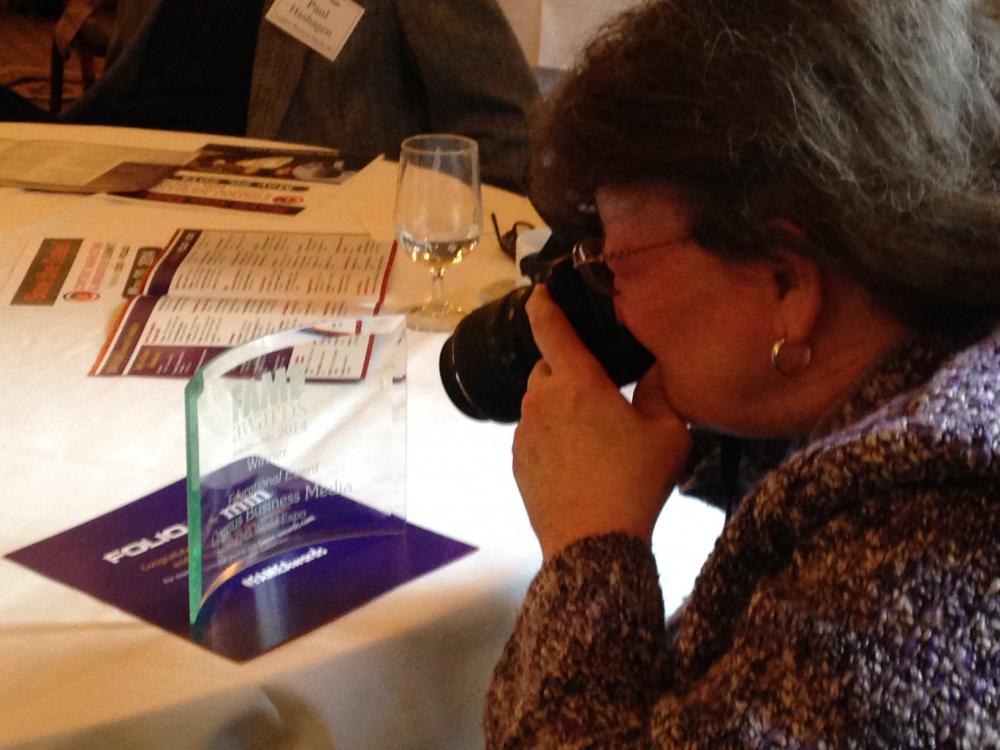 Best Series of Events
• Taste of Home – Taste of Home Cooking School
Best Social Good/Charity Event
• Chicago Magazine – Summer Lovin' 2013
Best Use of Social Media
• SHAPE Magazine – Quiznos Twitter Party
Best Use of Video
• American Payroll Association – Annual Congress I'm In Payroll Video
Virtual Event
• American Payroll Association – Virtual Congress & Expo
Magazine Event Dream Team
• Women's Health Magazine – Women's Health Marketing & Creative Services Team
FAME Hall of Fame Class of 2014:
Advanstar – MAGIC Market Week
    MAGIC is the largest global marketplace for modern men and women's apparel and footwear and the most comprehensive destination for fashion buyers and brands in the world. The trade show, started in 1933 by the Men's Apparel Guild in California, is held bi-annually in February and August and unites the largest influential network of buyers, brands, media and decision makers in Las Vegas at nine expertly merchandised and curated shows areas across category, trend and price point. At MAGIC, more than 4,300 exhibitors present items in categories such as streetwear, active, accessories, casual, young men's, contemporary, designer and kids' clothing to roughly  66,000 attendees every year. MAGIC fuels the business of fashion in a way that clearly has great influence on what the world will be wearing.
Billboard Magazine – The Billboard Music Awards
    In contrast to other televised music awards shows that populate the airwaves throughout the year, the Billboard Music Awards has managed to grow its audience. After 24 years, the event, which is televised by ABC, helped boost the network's ratings driving the channel to win its Sunday night airdate by averaging 9.5 million viewers in 2013. Total viewership for the three-hour show is 33 percent higher than in 2012 thanks to lifted growth in the coveted 18-49-viewer age group. Launched in 1989 and based off the magazine's proprietary music chart, the winners are selected not by a group of industry insiders, but fans via their wallets as chart rankings determine who's worthy and who's not. This sort of viewer's choice helps keep the winners, presenters and performers at this event more timely and fresh, indicative of current music trends and trendsetters, than its competitors.
The Hollywood Reporter – The Key Art Awards
    The Key Arts Awards, which honors the creative teams within the entertainment advertising business, are part of the CLIO Awards series and has a celebrated 43-year history of recognizing industry achievement. Since launching in 1972 to award advertising and communications efforts in the film industry, the annual ceremony sponsored by entertainment trade publication The Hollywood Reporter, has continually updated itself to fit with current times. The Key Art Awards maintains a focus on acknowledging the achievements of timely breakthroughs and honoring the most current ideas, technologies and techniques employed by today's filmmakers, television producers and game developers. The increasingly competitive landscape has only elevated the meaningfulness of winning one of these high honors.
InStyle Magazine & Warner Bros. – Golden Globe Awards After-Party
    The film industry loves its awards shows, but they seemingly love the after-parties just as much. The Golden Globes have become synonymous with the post-show soiree co-hosted by InStyle and movie studio Warner Bros. The highly anticipated party is attended by anyone and everyone in the movie industry as the coveted ticket attracts the night's big winners, the current group of nominees, past nominees and winners, A-Listers, top up-and-comers and with the Golden Globes awarding both television and movies, the best of the small screen stars turn out as well. It's an opportunity for actors to let loose and create all those great candid moments that fill the magazines for weeks on end after. Now, after 15 years, the party is still raging on in no way slowing down.
National Restaurant Association – NRA Show
    NRA Show has entertained the food services industry with a four-day event attended by exhibitors, food industry professionals, celebrity chefs and avid food enthusiasts for almost a century. With more than 2,000 exhibitors presenting 900 product categories and 62,000 foodservice professionals attending more than 80 education sessions, panel discussions, cooking demonstrations and more, the event is as high energy and fun-filled as ever. In recent years, the NRA Show has been very progressive in creating a 365-day event experience incorporating fresh content via online portals to continually build show buzz and keep the community engaged all year long. This forward-thinking strategy has really helped keep this industry stalwart both influential and impressive.
Specialty Equipment Market Association – SEMA Show
    The SEMA Show is the premier automotive specialty products trade show in the world drawing the top industry influencers and about 136,000 attendees, of which 60,000 are buyers, to the yearly event in Las Vegas. SEMA, founded in 1963 by a core group of 10 individuals, now includes 6,383 member companies worldwide. The SEMA Show provides educational seminars, product demonstrations, special events and much more. The event also caters to aftermarket manufacturers, original equipment manufacturers, media, car dealers, specialty equipment distributors, installers, retailers and restoration specialists in this nearly $30 billion a year industry. The SEMA Show has been setting size records since breaking the 500,000 net square feet mark in in 1998 and has steadily increased that total yearly. Currently, the trade show stands at more than 1 million net sq. ft. occupied by more than 3,000 media members and roughly 2,250 exhibitors utilizing up to 10,000 booths.
Working Mother Media – Working Mother's 100 Best Companies
    2014 marks the 27th anniversary of Working Mother's signature research initiative, "Working Mother's 100 Best Companies." Launched in 1986 by now CEO Carol Evans, Working Mother, the only national magazine for career-committed mothers, has a reach of 2.2 million readers. The Best Companies issue, which runs every October, expanded 10 years ago to include "Best Companies for Multicultural Women," to better include the changing dynamics of women in America and, more specifically, women in the American workplace. A division of the Bonnier Corporation, Working Mother Media, which carries a mission to serve as a champion of cultural change, also includes the National Association for Female Executives and Diversity Best Practices in addition to its research institute.