Editorial salary trends are mixed for this year's survey, with results either up or down depending on market segment (b-to-b, consumer or association) and title.
However, outside of an anomalous result for the consumer editor/executive editor title, which spiked from $75,600 in 2013 to an off-base $121,000 in 2014, salaries only moved slightly, whether up or down, for the three titles tracked: editorial director/editor-in-chief, editor/executive editor and managing editor/senior editor.
The traditional factors that have influenced salary levels continue to do so. Geography, number of titles worked on, number of staff supervised and company revenues, for example, all still impact salaries.
Gender gaps persist, with male editors out-earning females. This year, the gap is most evident in the managing editor/senior editor title, with males out-earning females by $24,000. (The editor/executive editor gap is even higher, but again, the numbers for that title appear to have spiked abnormally high for the 2014 report, so results are suspect.)
Experience and time spent in that current position and at the same company are also high-impact factors on salary levels. An editorial director/editor-in-chief, for example, who's been at the same company for 10 years or more out-earns a person with the same title with a 5-year tenure by more than $4,000.
Post-graduate education, however, had mixed results this year. In last year's survey, the gap between undergraduate and graduate degrees had shrunk. This year, top editors with an advanced degree actually reported lower salaries than their peers with a regular graduate degree. That pattern is reversed for the editor/executive editor and managing/senior editor positions, though.
Resources Challenged
While respondents highlighted the growing diversity of the kind of work they do, the people they work with and the process of creating high-quality content as rewarding parts of the job, squeezed resources continue to be a top challenge. "Adjusting to the loss in resources due to budget cuts that are the result of declining revenues," said one respondent. "Managing content across platforms; which is best for which? How do we get it all done? Holding the line on proper labeling of advertiser-controlled content," said another.
Methodology
A survey sample of 2,000 was selected in systematic fashion by Access Intelligence, publisher of FOLIO:, and Readex Research, representing 5,415 individuals. Data was collected via mail survey by Readex Research starting on May 6. The survey was closed for tabulation on May 19, 2014 with 180 responses—a 9 percent response rate. The margin of error for percentages based on 159 key respondents is +/- 7.7 percentage points at the 95 percent confidence level.
SALARY BY CATEGORY:
Editorial Director/Editor-in-Chief
Mean salary levels for top editors are up in 2014 versus 2013, except for those in the association publishing market. This is exactly the reverse trend of last year, which saw top editors in association media divisions jumping slightly over 2012 salary levels while consumer and b-to-b top editors declined a bit.
Mean salaries for b-to-b editors edged up slightly from last year by just over two percent. Top consumer editors are up 7 percent from last year's salaries and association editorial directors dipped 14 percent.
Meanwhile, publication revenue played huge factor in salary level for this position. Publications that make more than $3 million result in a higher salary by $31,200 than top editors at publications that make less than $3 million.
The same pattern holds for overall company revenue. Companies making $10 million or higher pay their top editors $45,000 more than companies that make $3 million or less in overall revenue.
The gender gap, while persistent, is the least pronounced for this position, with male editorial directors making about 4 percent more than their female counterparts.
As might be expected, experience matters. Top editors with 20 years or more of publishing experience earn salaries 30 percent higher than the same editors with 10-19 years of industry experience.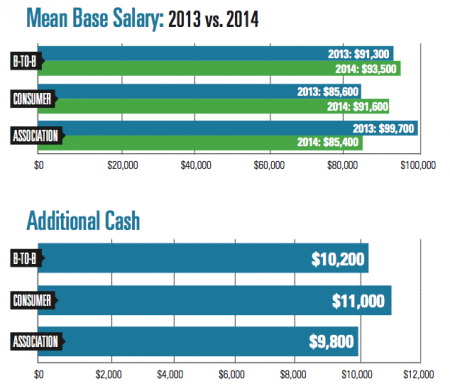 SALARY BY CATEGORY:
Editor/Executive Editor
The editor/executive editor title this year is thrown off a bit by a curious spike in the consumer category, with respondents reporting a mean salary 38 percent higher than last year's $75,600. In 2012, consumer editors reported a mean salary of $77,300.
B-to-b editors this year reported a slightly lower mean total salary of $72,600, a drop of 5 percent from 2013. But association editors jumped between 2013 and 2014, reporting a 14 percent higher salary at $83,400.
Interestingly, the number of publications worked on has a counter-intuitive impact on salary level. While this year's numbers are thrown off for this category, the pattern holds true. Editor/executive editors who work on one publication make higher salaries than their counterparts who work on multiple titles. In 2013, respondents who worked on one magazine reported a 6 percent higher salary. This year, the difference is (an exaggerated) 36 percent. Even so, editors who worked on two or more magazines in 2013 reported a salary of $74,300. This year, that salary is $74,700—basically the same.
Education for this category, unlike the top editor position, matters. In 2013, a graduate degree resulted in higher salaries, which has held steady again this year.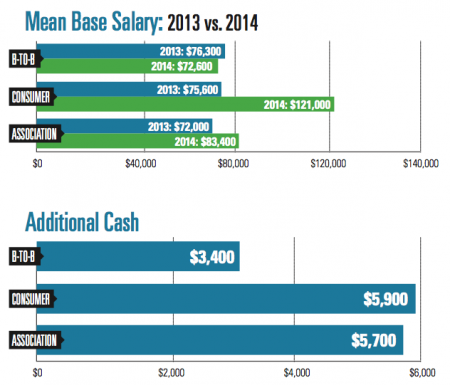 SALARY BY CATEGORY:
Managing Editor/Senior Editor
Managing/senior editor salaries were mixed this year when compared to last year. B-to-b editor salary is flat compared to 2013, but that year revealed a big jump for this position—an average of $11,550—over 2012. Managing and senior editors at associations also did well compared to 2013, reporting an 8 percent jump in mean salary for 2014. There were not enough responses at the consumer managing/senior editor level to make an accurate calculation this year.
As with the other job titles in this survey, publication revenue has a significant impact on salary level. Managing/senior editors working at a publication that makes $3 million or more earn mean salary that's 25 percent higher than their counterparts who work at a publication with less than $3 million in revenue.
And if a managing/senior editor manages a team of 5 employees or more, their salaries are up to $13,000 higher than the mean.
Another factor impacting salary levels at this position is the number of years worked at a company. Managing/senior editors who've worked 10 years or more at a company make 24 percent more than those who've worked between 5 and 9 years.
The gender gap is especially pronounced at this level. Male managing/senior editors make almost 29 percent more than their female counterparts. The difference widened by 11 percent between 2013 and 2014.