Ad page declines. Newsstand woes. Distribution messes. Postage increases. Digital growth.

It's no secret that audience development and circulation practices have been faced with a monumental set of challenges recently. As print becomes a smaller part of publishers' bottom lines, the role of those departments—and the employees in them—has shifted.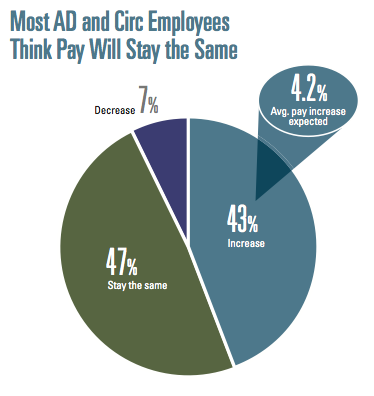 In print's place, companies are finding a slew of new responsibilities for staffers where they can. That means giving them traditional crossover roles in sales and marketing, but also can include duties related to event planning, digital product development, editorial and even general office management.
As one respondent put it: "There's too many to list."
And with revenue and job descriptions—two of the most significant factors in determining pay—under continual change, growth probably isn't right around the corner either. It didn't come last year, anyway, as average compensation fell for circulation department heads and stayed flat for audience development managers and directors.
Respondents are split on where they think pay will go from here. The majority, 47 percent, believe it'll stay the same, while 43 percent think they'll be getting a raise this year.
Interestingly, a significant portion of the latter group say their salary increases will come as a result of their wider scope of responsibilities. While more responsibilities commonly go hand-in-hand with raises and promotions, it matches up with what audience development and circulation staffers are saying about their job descriptions. They're being asked to do more, and in some cases at least, are getting paid for the extra work.
A few respondents say they're expecting overall compensation to decrease as bonuses get slashed.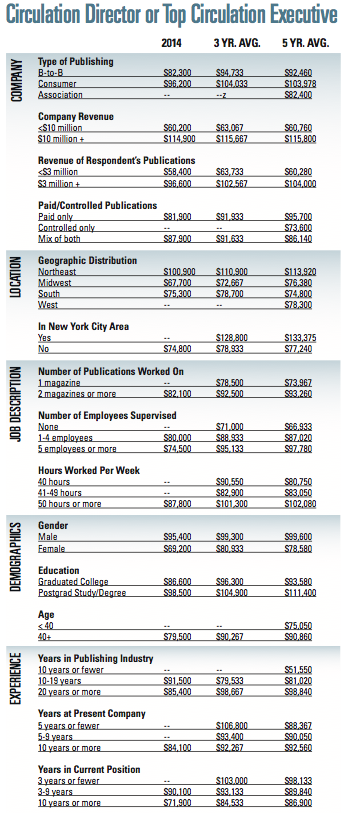 CIRCULATION DIRECTOR OR TOP CIRCULATION EXECUTIVE
Salaries for circulation directors and other top circulation execs fell off sharply in 2014. At $81,500, the overall number came in almost $8,000 lower than it's averaged in the last 5 years.
Revenue stands out as the biggest factor in compensation.
Those working for operations with more than $10 million in revenue out-earn colleagues at smaller companies by almost 48 percent, or $54,000. A similar pattern emerges when looking at publication revenue—leaders of the circulation departments for magazines with at least $3 million in revenue make 40 percent, or $38,200, more than those at smaller titles. Both gaps are consistent with patterns since 2010.
The gender gap isn't standing still though. In fact,
 it's moving in the wrong direction. Males at the top of the circulation department make 38 percent, or $26,000, more than females in comparable roles. That's well above 3-year (23 percent) and 5-year (27 percent) averages.
Experience also plays a significant role in compensation, though more time—either in publishing or in a specific role—doesn't necessarily equate to more money.
Circulation department heads with 10 to 19 years of experience make 7 percent, or $6,100, more than those who've been in the business for at least 20 years. The latter group had been more highly paid in each of the last four surveys. The same goes for experience in a given position—those who've been there 3 to 9 years earn 25 percent, or $18,200, more than their more experienced colleagues.
Compensation based on the number of employees supervised also swung in the opposite direction. Those leading departments with mid-sized staffs take home 7 percent, or $5,500, more than the heads of large departments. The shift could be reflecting the shrinking of circulation staffs.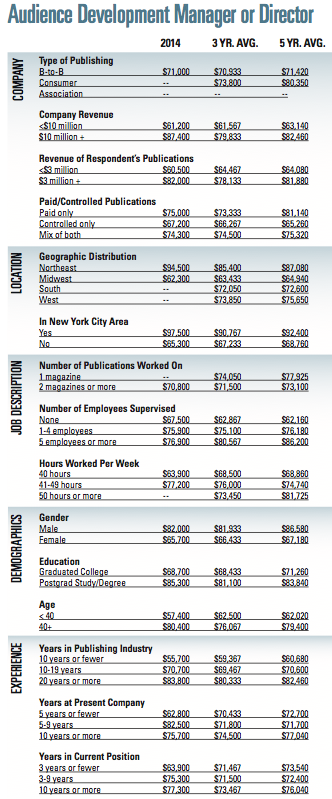 AUDIENCE DEVELOPMENT MANAGER OR DIRECTOR
Reported compensation for audience development managers and directors stayed consistent with norms over the past 5 years, averaging $72,700.
There are big differences depending on where you work though.
Respondents in the immediate vicinity of New York City earn almost 50 percent, or $32,200, more than colleagues in other parts of the country. That's a significant increase over where the gap has been in the recent past. Location has traditionally accounted for pay differences of around 35 percent.
Demographic factors—gender, education and age—also play a significant role in salary, with the latter looming larger than it has at any point over the last 5 years. Audience development managers and directors over age 40 made 29 percent, or $23,000, more than younger staffers—a difference almost 10 percent greater than the 5-year average.
The gender disparity moved in the opposite direction. While the gap between male and female audience development managers and directors had been at 29 percent over the last 5 years, it shrunk to less than 25 percent, or $16,300, in the 2014 survey.
As with top circulation execs, revenue is an important determinant of pay for audience development managers and directors. Those working at companies with more than $10 million in revenue make 30 percent, or $26,200, more than counterparts at smaller firms.
There's a similar disparity for staffers whose publications fall above and below the $3-million revenue mark. The compensation differences for each category are 5 to 7 percent above where they've been in the past 5 years.