Art directors have been lucky recently when it comes to pay. Over the last five years, average salaries have gone up by almost 30 percent, according to Folio:'s 2014 Art Salary Survey, outpacing raises for almost every other job in the magazine industry.
Salaries topped out at $78,100 last year, and while the $7,500 year-over-year pay hike stood as the largest since 2010, there have been steady gains throughout the timeframe.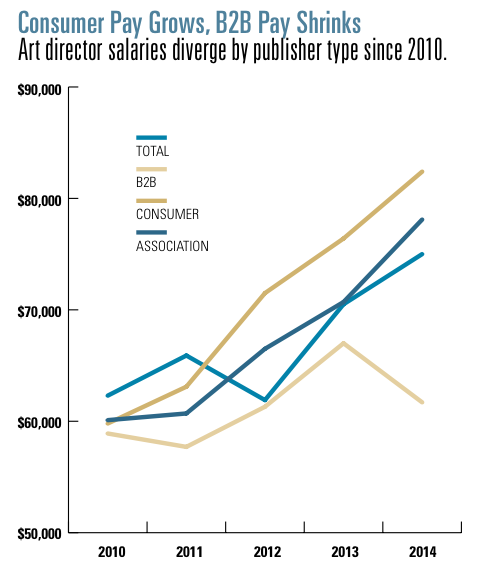 The overall picture is rosy, but sharp differences emerge when breaking respondents down by company profiles, demographics and responsibilities. Art directors are also being asked to do more than they have been, though with higher pay, it appears they're being rewarded for the additional workload.
At $20,700, the gap between the highest- (consumer) and lowest-paid (B2B) segments has gone from near non-existence to glaring. Pay for B2B art directors is flat compared to where it was five years ago—and, actually behind 2010 when factoring in inflation—while counter- parts at consumer and association magazines have gotten raises of $22,000 and $12,000, respectively, over the same period.
Age has also become more closely tied to pay for art directors. As you'd expect, the 40-and-over crowd has always earned more than their younger colleagues, but the gap has quintupled since 2010—older art directors made $38,000 more than those below the 40-year mark in 2013. Though there were spikes at both ends of the spectrum last year, the gap has steadily widened over time.
Experience fits the same pattern—the differences in pay between the most- and least-experienced art directors has gotten larger since 2010.
The scope of responsibilities for art directors has been a larger factor in pay recently as well. Historically, there hasn't been much difference between those working on one or multiple titles, but that's changed since 2012. Art directors responsible for just one magazine make about $7,000 more than those with at least two titles under their purview.
Meanwhile, disparities based on company size haven't changed, but raw earnings are still closely tied to compensation. Art directors at publishers with more than $10 million in revenue make about $10,000 more than those at smaller companies, as they have for the last five years.
Not every factor means as much as it used to though. Differences in gender and hours worked have little to do with pay now.
Salaries for male and female art directors are almost indistinguishable at this point, with an average difference of less than $500 since 2010 (women actually out-earned men in 2012).
Hours worked has become less relevant over time as well. While the difference between a 40-hour workweek and a 50-hour one translated into almost $20,000 in pay five years ago, there's less than a $2,000 gap now. Interestingly, art directors working between 40 and 50 hours per week actually reported the highest pay at $85,100—$11,000 more than colleagues with fewer hours. That's still about half the size of the gap in 2010 though.
Verbatim responses offer a peak into why how many hours you put in might not matter anymore when it comes to salary.
"Increased workload and reduced staff," says one art director of their greatest challenge on the job. "We're all being asked to do more and more with less and less."
"Keeping up with the rapidly changing technology and learning how to stay ahead (or just maintain)," says another.
As smaller staffs and continuing education become the norm, more hours are becoming an expectation instead of an indicator of who carries the most responsibility.