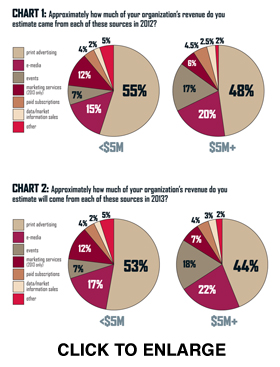 For about as long as we've been fielding this survey, digital has been labeled the fastest growing sector in b-to-b media. It is again this year, by far, according to respondents to the survey. Yet as we reported in the 2012 survey and with very similar results showing up this year, the b-to-b media mix is holding an awfully familiar pattern.
Most are Taking Small Steps
This is not to say that b-to-b publishers are not making efforts to adjust their media mix. These things take time and significant investment—and not everyone has the capital sitting around to pour into the kind of infrastructure overhaul and hiring binge needed to spur a major change in go-to market strategy. Indeed, 1105 president and CEO Neal Vitale says in our tech investment outlook that his company's evolution has been more incremental than radical: "I feel that we are in a long evolutionary process where we incrementally improve and refine our technology, as opposed to making any radical change or major one-off capital investment."
A Few Exceptions to the Rule
There have been some exceptions to this rule. Several larger b-to-b media companies—Hanley Wood, Cygnus and UBM to name a few—have been overhauling their business models to focus on digital, events and data, and spending big money to make it happen. In early 2012 Hanley Wood got a much-needed injection of $35 million in operating capital in a debt reduction deal and Cygnus has invested $4 million in tech-related enhancements over the last couple years.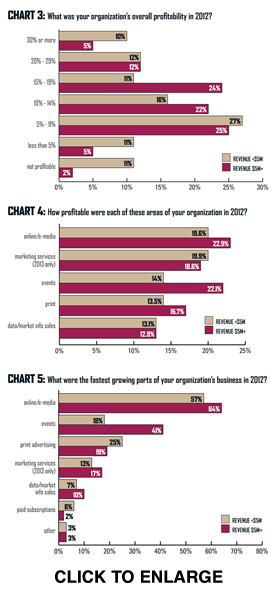 UBM has been conducting widespread strategic reviews of many of its business sectors. It's already sold off the bulk of its data services business and has been divesting or shutting down many of its print holdings to focus on digital and events. The Tech Group was the latest to undergo this scrutiny, which will result in the ceasing of all print operations by July. Its Channel Group is currently undergoing a similar review.
Hanley Wood, under the leadership of CEO Peter Goldstone, has shuffled the deck at the executive level, hiring a team of leaders that will drive a digital transformation for the company. "We've moved to a much more ambitious digital portfolio model," Goldstone told FOLIO: late last year. "We have 30 media brands and our core hub brands are multichannel—print, digital and event. Big audiences that have high value for us will get the multichannel solution, but not all brands are created equal."
And at Cygnus, the company has rebuilt its database and is using it to support an entirely new business model supported by analytics that drive content production as well as new sales, lead-generation and ROI programs for marketers.
In the meantime, the majority of the b-to-b market can be described as retaining a more traditional product and revenue mix.
The Revenue Breakdown
Print advertising revenue, still the breadwinner for this year's survey respondents, has held steady in its overall share. Depending on whether a media company makes more or less than $5 million in annual revenue, print's share has accounted for about half of the top line for at lest the last four years.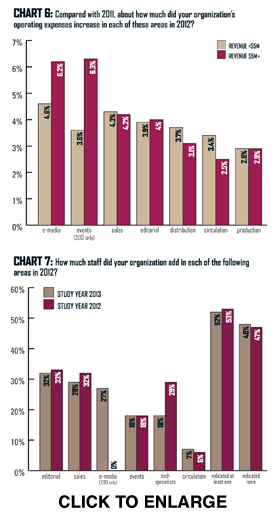 In our 2009 survey, publishers making less than $5 million in annual revenue reported print contributed 54 percent of revenue. In this year's survey that same publisher category reports 55 percent of revenues were from print in 2012. That is expected to decrease only slightly in 2013, to 53 percent.
Larger publishers making more than $5 million reported print revenues at 53 percent in 2009 and 48 percent in 2012.
The same can be said for e-media revenue share. Smaller publishers, according to this year's survey, bumped up slightly with digital revenues accounting for 15 percent of revenue, up 2 percent from 2012's survey. Larger publishers reported digital revenues at 20 percent, up three percent from last year.
In 2013, smaller and larger publishers expect a slight increase in digital revenues of about two percent each.
The event category has been a perennial surprise, with b-to-b executives reporting a small percentage of revenue in our annual survey. Publishers making less than $5 million say that events accounted for 7 percent of revenues in 2012, while larger publishers say tradeshows made 17 percent of revenues. Both results are similar to last year's survey. And publishers expect events to hold the line in revenue for 2013 as well.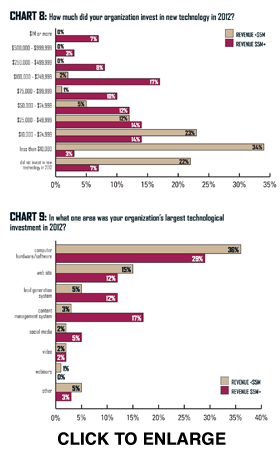 Marketing services, one of the hotter sectors in b-to-b media and one that has been almost solely responsible for driving a significant share of M&A activity over the last couple years, is an updated category this year. Prior surveys have included custom publishing as a revenue category. In this area, the larger publishers saw revenues remain the same while smaller publishers doubled their marketing services revenue from 6 percent in 2011 (where we called it custom publishing) to 12 percent in 2012.  
What's Growing, What's Not
The top three fastest-growing segments for both small and large publishers in 2012 were digital, events and print advertising.
However, there wasn't universal agreement on this. Fifty-seven percent of smaller publishers said digital was their fastest growing segment—64 percent of larger publishers said the same. This still leaves a significant portion of each, about half of smaller publishers and a third of larger publishers, who didn't report digital as their fastest growing sector.
More larger publishers, above $5 million in revenue, said events were the fastest growing segment, at 41 percent, which is in line with their larger share. Only 18 percent of smaller publishers said events were the fastest growing segment. Yet slightly more smaller publishers are seeing fast growth from print advertising—25 percent indicated this as their fastest growing sector compared with 19 percent of larger publishers.
In the meantime, a decent slice of both smaller and larger publishers are showing marketing services on the uptick. Thirteen percent of small publisher respondents said this was their fastest-growing sector while 17 percent of larger publisher executives said the same.
Data and market information sales, it should be noted, has remained at the bottom rung of revenues for years. This once-buzzed about segment has never achieved the potential many thought it had. In 2012, both large and small publishers indicated this segment's revenue share was in the (very) low single-digits.
Nevertheless, about a third (32 percent) of larger publishers expect this segment to be a source of increased revenue this year.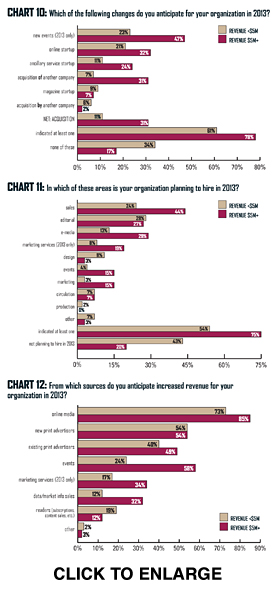 B-to-b leadership is optimistic for the year ahead. Eighty-five percent of respondents indicated revenues will increase between 2012 and 2013. Only 12 percent expect it to stay the same, while three percent are forecasting a revenue decline.
More specifically, about 63 percent of respondents expect revenues to grow somewhere between 5 and 19 percent from 2012 to 2013.
Profitability
Eleven percent of publishers making under $5 million in revenue reported no profits. Only two percent of larger publishers said the same. Conversely, 10 percent of smaller publishers reported profits of 30 percent or higher while five percent of larger publishers indicated profits in this range. The bulk of publishers reported profits in the 5 percent to 19 percent range.
More specifically, 27 percent of smaller publishers said they made profits in the range of 5 to 9 percent. A quarter of larger publishers made profits in this range. Almost the same number of larger publishers, 24 percent, made profits in the range of 15 to 19 percent.
Digital, events and marketing services were the most profitable segments for both large and small publishers. This year marks the first year that marketing services broke into that grouping, occupying a more profitable spot than print and, in the case of smaller publishers, even events [Chart 4].
Operating Expenses
Increases in operating expenses have remained fairly uniform over the last few years. Expenses related to the digital operation have stayed at the top—increasing about 5 percent for smaller publishers in 2012 and 6 percent for bigger publishers. Event operating expenses for larger publishers were at about the same level, but this has shown to be a larger segment overall for big publishers. Smaller publishers reported a 4 percent increase in event-related operating expenses.
Otherwise, expense increases related to sales, editorial, distribution, circulation and production ranged between 3 and 4 percent.
Verbatim responses indicated operating expenses were up for a variety of reasons. Staffing, digital investment and postage/production-related expenses were all cited. Staffing, in fact, was one of the more frequently cited reasons. Although, one poor soul seems to have a very confused group of employees: "No one knows what to do," said the respondent.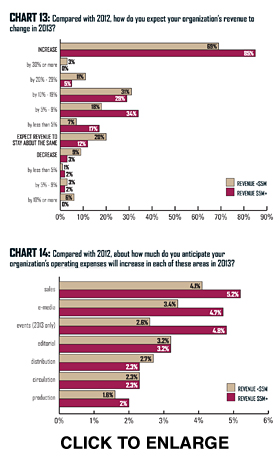 There was a significant amount of hiring going on last year. About 71 percent of larger publisher respondents said they hired in at least one category. Forty-one percent of smaller publishers said the same. Hiring in the small publisher sector centered on sales and editorial positions. But larger publishers concentrated their hiring in a greater variety of categories. About half of larger publishers indicated they hired for both editorial (51 percent) and e-media (49) positions. Thirty-two percent of larger publishers also hired for sales and 34 percent hired for events. Only nine percent of smaller publishers hired into their event departments and only 15 percent hired for e-media.
Larger publishers were also more bullish about their tech infrastructure, with 29 percent hiring tech specialists, as opposed to 12 percent of smaller publishers doing the same.
Larger publishers were also more likely to invest more in technology. Seventeen percent of respondents said they invested between $100,000 and $249,999 on tech. Meanwhile, 34 percent of smaller publishers, the largest portion, invested less than $10,000 on new technology. Twenty-three percent invested between $10,000 and $24,999.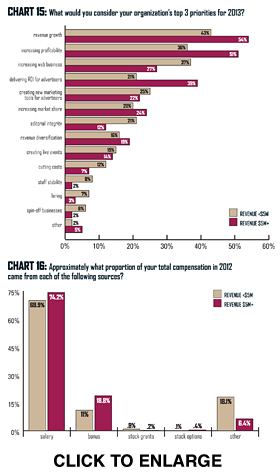 Whether large or small, computer hardware attracted the most investment, with website-related investment in the number two spot. Seventeen percent of larger publishers indicated the CMS got the most investment, while only 3 percent of smaller publishers said the same. Almost a quarter (22 percent) of smaller publishers did not invest in technology at all.
What's Next
The top two priorities, as they have been for years, for both large and small publishers are revenue growth and increasing profitability. The two groups differ on the third top priority—smaller publishers indicated increasing web business was third on their list, while larger publishers put delivering ROI for advertisers in the third spot.
Interestingly, "creating new marketing tools for advertisers" crept up into the fourth top priority for smaller publishers, reflecting the rise of marketing services as an opportunity that's getting more scrutiny.
Cost-cutting was low on the priority list, as were concerns over staff stability.
Larger publishers are more apt to make big changes this year. Almost half (47 percent) say they'll launch a new event. Thirty-two percent say an online startup is in the works and 31 percent plan to acquire another company.
Conversely, only 7 percent of smaller publishers plan to do any acquiring. Twenty-three percent are planning a new event and 21 percent are working on an online startup.
Compensation
CEOs of large and small companies are reporting a similar mix of compensation from salary, bonuses and stock options. About three-quarters of larger company CEO salary comes in the form of straight salary. Smaller company CEOs report about 70 percent of their salary in the same way. Slightly more salary, about 8 percent more, comes from bonuses for large company CEOs than small company CEOs.
 
Methodology
The survey sample of 1,000 was selected in systematic fashion by FOLIO: and Readex Research from all of FOLIO:'s domestic subscribers with executive management job titles who classified their company's primary focus as either b-to-b publishing or a mix of b-to-b and consumer publishing on the FOLIO: subscription form.

Data was collected via mail survey from January 30 to March 18, 2013. The survey was closed for tabulation with 193 usable responses—a 19 percent response rate. Results have been filtered to include only those who indicated their organization is involved in b-to-b publishing. The margin of error for percentages based on these 169 responses is +/- 6.9 percent at the 95 percent confidence level.