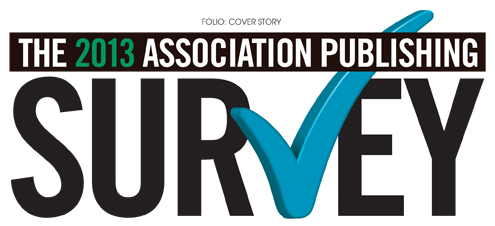 Like the rest of the publishing world, associations went through a traumatic period in 2009. Five years later, the industry is trending upward in the midst of a recovery.
The 2013 association publishing survey breaks down what close to 200 respondents are seeing right now. Some elements, like revenue sources, haven't changed much over that time. Print advertising is still the dominant source of income, followed by paid subscriptions and online/emedia.
Other aspects, like the outlook for the coming year, have shifted dramatically. Respondents didn't paint a rosy portrait—more than half of the associations surveyed say they're projecting revenue to stay the same—but it's a significant improvement from 2009 when 49 percent forecasted declines.
Other changes, like the introduction of digital editions, have altered the association publishing market as well. Five years ago, no one was producing them. Now, two thirds of respondents' organizations are.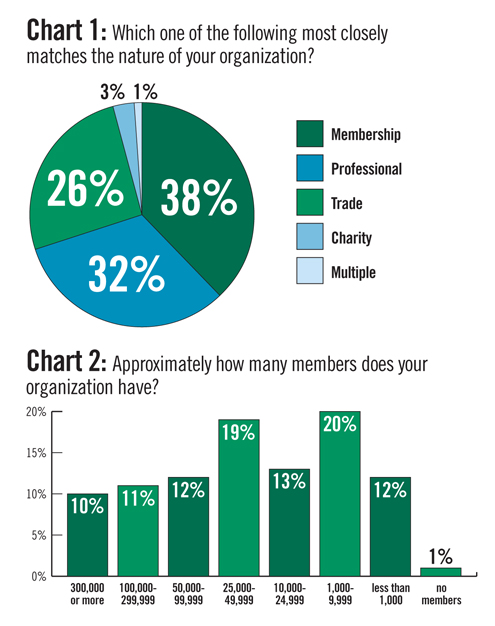 More Members, More Staffers
Association makeup has stayed constant over the last five years. Membership groups remain the largest segment comprising 38 percent of the companies represented in this year's survey. Professional (32 percent) and trade (26 percent) organizations make up the majority of the remainder.
Member totals have varied considerably during that period though. Median association size dipped from 22,600 in 2009 to just 11,000 in 2011. It's climbed back up since then, setting a new high-water mark at 28,000 in 2013.
The pattern played out visibly on the top-end of the spectrum. Zero respondents reported an association size of 300,000 or greater in 2010—this year, 10 percent did.
Mid-sized organizations have also seen notable size increases, especially over the last three years. In 2013, 19 percent of respondents' associations had membership in the 25,000-49,999 range.
The growth in membership has been accompanied by a commensurate growth in publication staff size for mid-level associations. Close to 30 percent of respondents' organizations reported having 10-24 employees this year.
Rather than the result of big groups cutting back, the increase in that mid-size category is coming from expansion at the lower levels. The number of associations with 6-9 and 2-3 employees has gone down considerably in recent years as those groups staffed up, while the number of those with 40 or more employees has stayed consistent. Median staff size has risen from 8 to 12 in the last three years.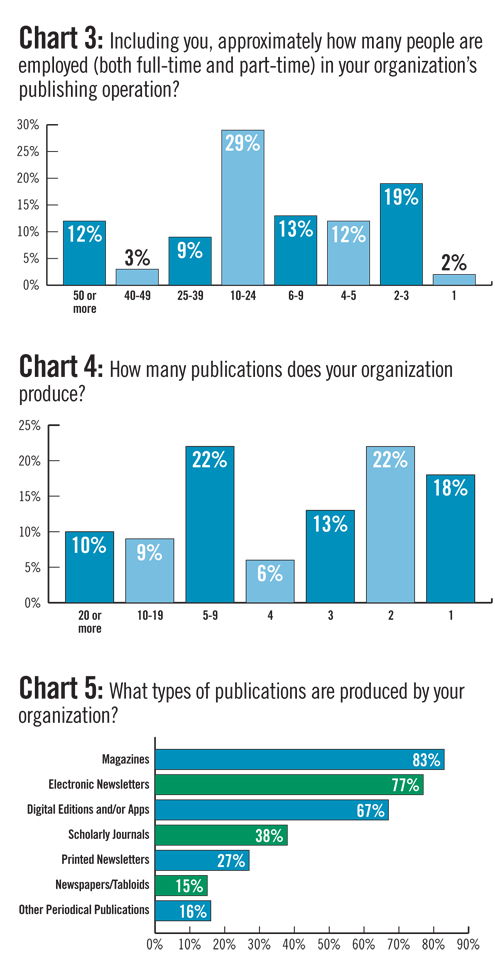 Publications Consolidate
Contrary to the gains in membership and staff size, consolidation has been the norm for association publishing products.
The average number of publications produced has been halved since 2009, going from 20.7 to just 11 in this year's survey.
Specifically at the high end, the number of groups with 20 or more publications has been reduced to just 10 percent of respondents.
Consolidation has been even more evident at the smaller levels though. Only 19 percent of the associations represented in the survey produce four or five publications, down from nearly one third of them in 2009. An uptick in the number of associations producing one or two publications has followed, as that group made up 40 percent of the respondents in 2013—almost double what it was five years ago.
Circulation has gone up across the board for the remaining products. Respondents have reported significant increases in median readership sizes, particularly over the past three years.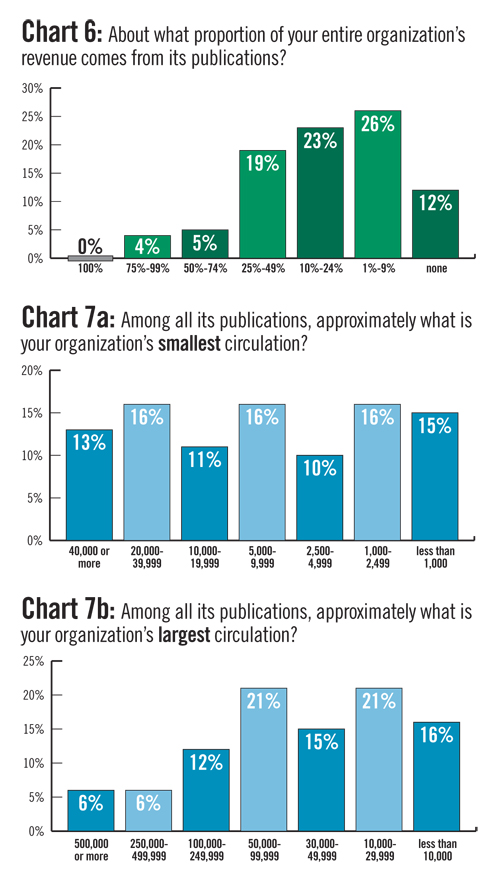 Among associations' largest publications, median circulation has gone from 28,000 to 40,000 since 2011. Top-end readership—those with 250,000 or more—remains low, making up just 12 percent of association publishers, but the 30,000-99,999 mid-level category has gotten bigger.
Associations' smallest publications have more than doubled their median size since 2011, jumping from 3,000 to 7,000. No one circulation size stood out though, as publishers were evenly distributed.
The types of publications produced have always shown a mix of frequencies, formats and mediums, but associations are gradually moving away from traditional standbys. Though still widely circulated, the presence of magazines and e-newsletters is declining. Meanwhile, digital editions and/or apps—a category not included in the survey until this year—was the third-most common product type, produced by two-thirds of respondents' associations.
Like magazines and e-newsletters, the markets for scholarly journals and printed newsletters have eroded recently. Newspapers and tabloids have stayed constant however, produced by about 15 percent of respondents' associations.
Anecdotally, several respondents note that they're expected to publish a single product on a number of different platforms now.
"Reader expectation is delivery in more ways than ever before and new delivery methods are add-ons, not replacements," one respondent says.
Other mediums are also being added to existing products.
"Keeping up with changing technology and member expectations incorporating social media and video," says another.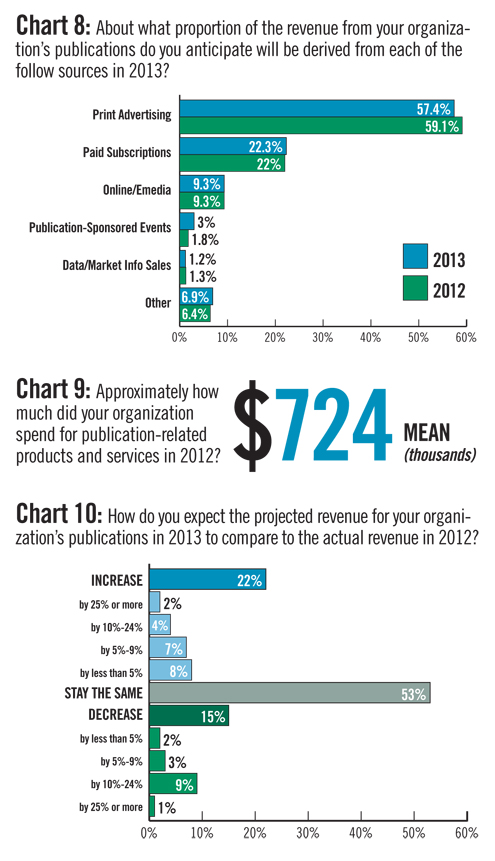 Revenue Expectations, Sources Stay Consistent
Associations' revenue expectations are in line with last year's.
More than half of those surveyed say things will stay about where they were in 2012, while about a quarter expect publishing dollars to increase and 15 percent forecast declines. Estimates within the "increase" and "decrease" camps are also similar to last year's responses—improvements are expected to be in the 5-10 percent range; declines of 10-24 percent were the most common answer.
Revenue sources also stayed fairly consistent with the 2012 survey.
Print advertising (57.4 percent) still accounts for the majority of publishing revenue, with paid subscriptions (22.3 percent) and online/emedia (9.3 percent) as the other major generators.
Those percentages have shifted slightly since 2009, reflecting a decline in print ad revenues. Print advertising has declined about 6 percentage points, with paid subscriptions jumping 6 percent and online/emedia rising 2 percent.
Events Show Promise
Events (3 percent) and data/market information (1.2 percent) have also shown modest growth over the past five years, but continue to make up minimal percentages of aggregate publishing-related revenue.
Events could be gaining in popularity however, as noted by several respondents.
"[There is] potential growth through new convention business," says one.
Another calls "generating successful meetings and events" one of their association's biggest accomplishments in the past year.
Mean publishing costs have fluctuated dramatically for respondents in recent history. From as high as $932,000 in 2009 to as low as $622,000 in 2011, average spending was reported at $724,000 for 2012.
Methodology
The survey sample of 1,000 was selected by Access Intelligence and Readex Research and included FOLIO: recipients classified with association publishing as their company's primary focus. Materials production, addressing, mailing and tabulation were all handled by Readex Research. Data was collected via mail survey from June 17 to August 28, 2013. The survey was closed for tabulation with 190 usable responses. The margin of error is plus or minus 6.7% at the 95% confidence level.