CLICK HERE FOR A FULL PDF OF THIS FEATURE WITH CHARTS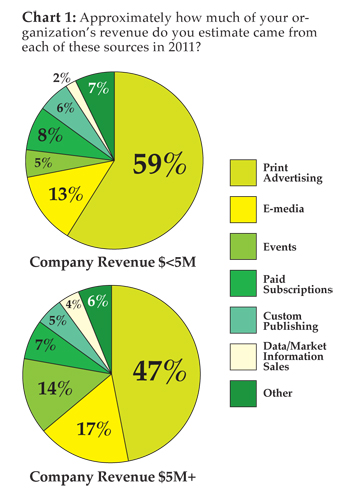 We're a couple years out from the recessionary period of 2008-2010 and you can still see its impact as b-to-b publishers are very slowly seeing modest growth in revenues and profits, according to FOLIO:'s latest annual b-to-b CEO survey. However, smaller publishers still have a way to go in more fully diversifying among revenue streams other than print. And for all the attention digital gets, publishers both large and small appear to be plateauing in growing this important segment. Print has hovered around the 50 percent of revenue level for the last three years while e-media revenues have stalled in the mid teens.
There are many exceptions. Certain publishers large and small have made much better progress in revenue diversification than the results indicate in this year's survey and can consider themselves successful in relying less on print. Beyond that, however, the numbers speak for themselves. Publishers making under $5 million in revenues are especially vulnerable to market fluctuations with such a huge portion of revenues attached to one segment, while larger publishers, those making greater than $5 million in annual revenues, actually dropped two percentage points in e-media's share between 2010 and 2011 (19 percent in 2010 and 17 percent in 2011).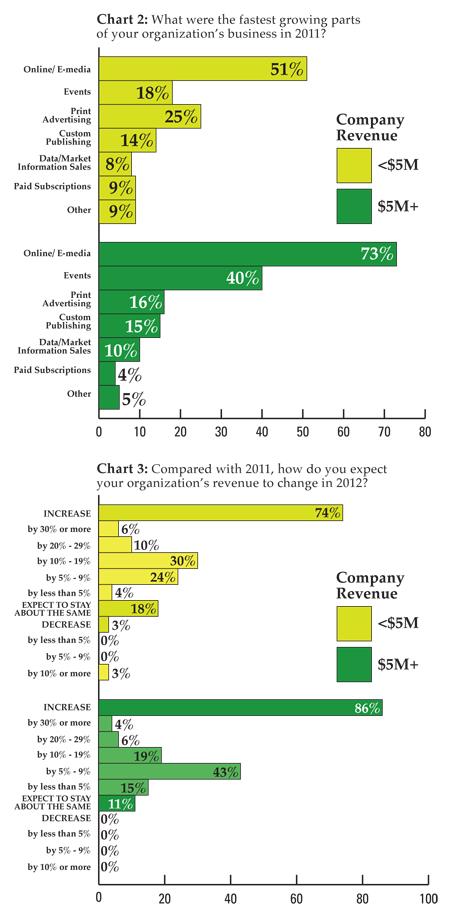 The Revenue Breakdowns
As a revenue source, print has actually been increasing its share from 54 percent of revenues in 2009 to 57 percent in 2010 and up again to 59 percent in 2011 for smaller publishers. Larger publishers are seeing incremental decreases in that segment—53 percent of revenues in 2009, 48 percent in 2010 and 47 percent in 2011.
There's an irony in those print revenue increases for smaller publishers. More revenue is certainly a good thing, but at a macro level, industry media spending is trending toward companies that have greater platform diversification. A recent report released by private equity firm Veronis Suhler Stevenson—described in greater detail on page 50—notes that spending in the b-to-b sector is projected to grow at a GDP-beating 5.5 percent in the 2011-2012 period. But that growth is contingent on whether print revenues scale down as other sources, particularly events and e-media, continue to grow.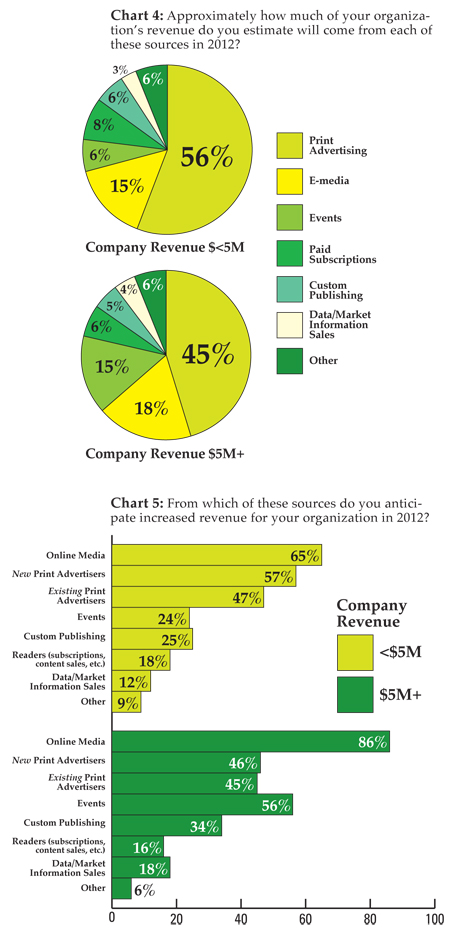 Both segments, for small and large publishers, are in a holding pattern, according to our survey. (Events, another key segment, accounted for 6 percent of small publisher revenue in 2010 and 5 percent in 2011. Larger publishers recorded event revenues at 13 percent in 2010 and 14 percent in 2011.)
According to VSS co-founder and general partner John Suhler, b-to-b spending will continue to grow at a bit more than 6 percent in the next five years. Again, much depends on growth from segments other than print. "That assumes the rate of decline lessens for print and also as print becomes a smaller portion of the total mix, and that the more positive elements of live events and digital continue to grow," says Suhler.
The print factor seems to be well in hand, altering only a few percentage points in the last three years, but the other segments have yet to realize their full potential.
In chart 1, once print, e-media and events are accounted for, revenue contributions from the other segments—paid subscriptions, custom publishing, data/marketing information sales and "other"—drop into the single digits and are almost identical between large and small publishers.
The survey also broke down each revenue segment's contribution among respondents—data that's not shown here. A shocking 36 percent of smaller publisher respondents reported zero revenues from e-media. Eleven percent of larger publishers said the same.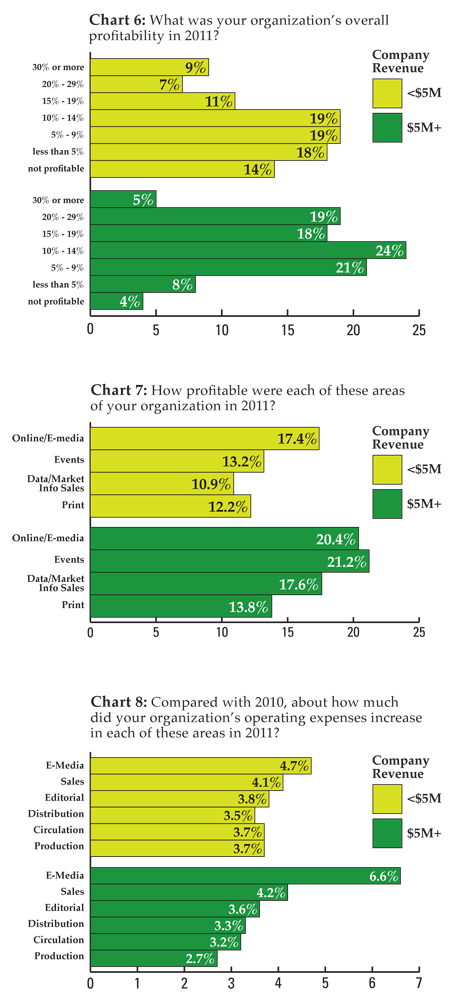 Nevertheless, as has historically been related, e-media revenues are considered the fastest-growing segment among both small and large publishers. Fifty-one percent of smaller publishers indicate e-media is the fastest growing part of their organization while 73 percent of larger publishers say the same (chart 2).
Larger publishers are also more bullish on events, with 40 percent saying it's the fastest growing. But as indicated in the revenue chart, where print revenue actually grew 2 percent between 2010 and 2011, 25 percent of smaller publishers listed this as the second fastest growing segment in 2011.
Slightly more large publishers say print (16 percent) is faster growing than custom publishing (15 percent). Smaller publishers have a similar perspective for custom, with 14 percent reporting it as the fastest growing segment.
This year both small and large publishers have optimistic revenue outlooks (chart 3). Seventy-four percent of smaller publishers say revenues will increase, while 86 percent of larger publishers expect the same.
Within that growth, 30 percent of smaller publishers indicated a 10-19 percent jump and 24 percent said they expect a 5-9 percent jump. Larger publishers are slightly more conservative in their outlook—43 percent expect growth of 5-9 percent while 19 percent expect 10-19 percent revenue growth for 2012.
As for growth between 2011 and 2012 by segment, both large and small publishers are anticipating only incremental jumps (chart 4). Smaller publishers are anticipating a slight decline in print, from 59 percent of revenues to 56 percent. Large publishers expect the same, dropping from 47 percent in 2011 to 45 percent this year. Meanwhile, large publishers expect to make that up in both e-media and events, with one percentage point jump in each. Likewise for smaller publishers, who say that e-media revenues will be up 2 percent in 2012 and events will be up 1 percent. The other segments for both small and large publishers will remain relatively stable.
Of the sources that publishers are expecting increases from this year, 65 percent of small publishers expect it from e-media, 57 percent from new print advertisers and 47 percent from existing print advertisers. A significant percentage of large publishers (86 percent) also expect increases from e-media, but they're much more bullish on events, with 56 percent expecting growth from that segment. Only 24 percent of smaller publishers are anticipating growth from events.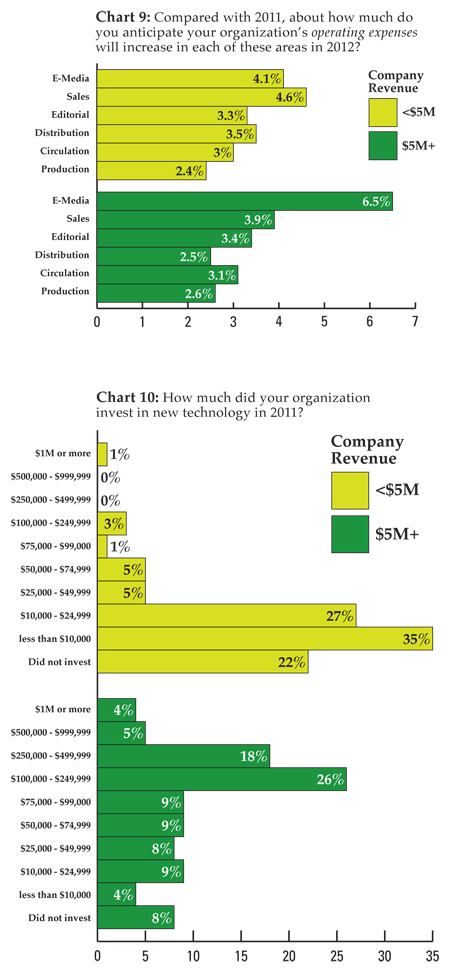 Profitability
Profits were slightly better in 2011 versus 2010, according to respondents. While fourteen percent of smaller publishers reported no profits in 2011, 19 percent said the same in 2010. Fifty-six percent of smaller publishers reported profits in the 1 to 14 percent range (chart 6).
Only four percent of larger publishers reported no profits, but 63 percent of them reported profits ranging from 5 percent to 19 percent.
Events and e-media were the most profitable segments for both small and large publishers, but slightly more large publishers (17.6 percent) said data/market information sales were profitable. About 11 percent of small publishers said that segment was profitable (chart 7).
Operating Expenses
Expenses across the operation remained fairly level between last year's survey and this year's. Once again e-media accounted for the biggest jump in operating expenses for both small and large publishers, up 4.7 and 6.6 percent respectively. Sales were behind e-media at 4.1 percent for small publishers and 4.2 percent for large publishers, and then editorial, distribution, circulation and production hovered at around a similar range (chart 8).
E-media expenses were likely related to technology investments, but verbatim responses indicated the three "Ps"—people, paper and postage—were big costs, especially postage.
This year, operating expenses will creep up by similar levels (chart 9), with a couple exceptions. Small publishers anticipate sales expenses will overtake e-media by a small margin—4.6 percent versus 4.1 percent. Production costs are expected to dip slightly, going from 2011's 3.7 percent to 2012's 2.4 percent.
Large publishers are expecting to dial down distribution costs, from 3.3 percent in 2011 to 2.5 percent this year.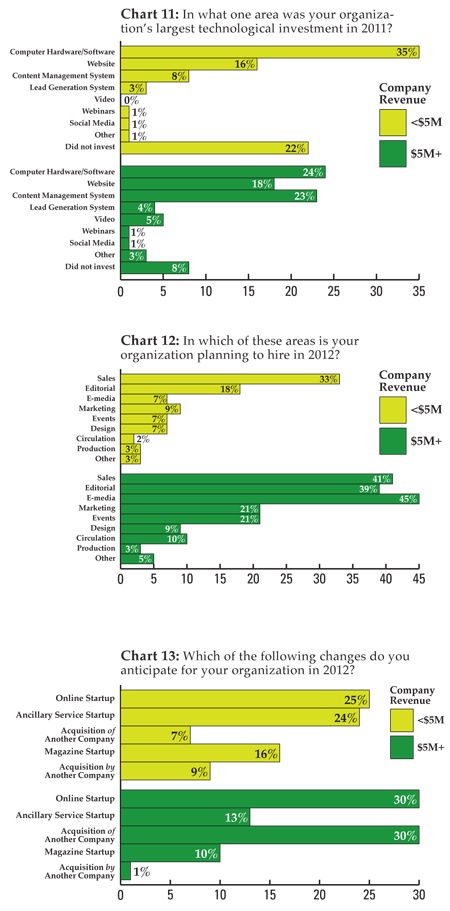 Investing in Technology
The technology investment story is very different between small and large publishers (chart 10). In 2011 almost a quarter of small publisher respondents did not invest in technology at all. About 26 percent only invested $25,000 or less. Meanwhile, 8 percent of larger publishers did not invest in tech, while 26 percent invested between $100,000 and $249,999. Eighteen percent spent between $250,000 and $499,000.
Among the small publishers that did invest in tech, 35 percent spent the capital on computer hardware and software, 16 percent on website upgrades and 8 percent on the CMS (chart 11). The pattern was similar with the large publishers,  of which 24 percent invested in computer hardware and software, 18 percent on website enhancements and 23 percent on content management systems.
What's Next
Of those publishers that are planning to hire this year, the areas differ greatly between small and large publishers (chart 12). Small publishers are expecting to focus the majority of their hiring in sales (33 percent), while 18 percent will bolster editorial ranks. Yet large publishers are expecting to be much more aggressive in their hiring. E-media will see the biggest employee growth, with 45 percent of respondents indicating they're hiring for that area. Forty-one percent of large publishers are hiring in sales and 39 percent are hiring for editorial. Events and design departments are also expanding their ranks, 21 percent of large publishers will hire for both of those departments.
There are some significant changes on the horizon for both small and large publishers for 2012 (chart 13). A quarter of small publishers say they're going to launch an online startup and a similar percentage indicate an ancillary service launch is on deck as well. Print is getting some attention as well, as a decent number of respondents (16 percent) say they'll launch a magazine this year.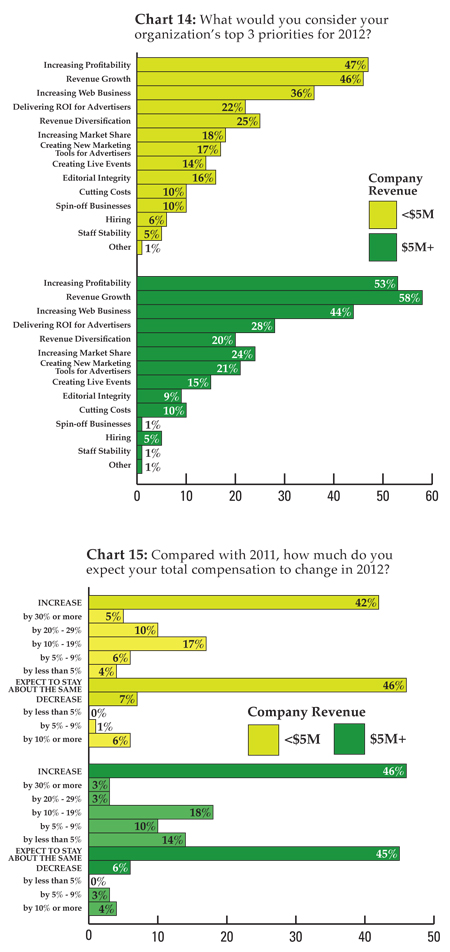 Thirty percent of large publishers are also planning online startups, but only 13 percent plan an ancillary service launch, and 10 percent indicate a new magazine is in the works.
M&A is where the large and small publishers differ greatly. Small publisher are luke warm on both acquiring and being acquired—7 percent plan to buy another company this year and 9 percent are hoping to be bought. Large publishers, however, are on the hunt. Thirty percent of large publishers indicated they're planning to acquire this year and only one percent expect to be acquired.
Top priorities for both small and large publishers in 2012 are focused on boosting revenue and profits, which are the top two. Close behind is expanding their Web businesses. Revenue diversification is fairly low on the totem pole, with a quarter of small publishers making it a priority and 20 percent of large publishers doing the same. This may be an indication that both camps feel they've sufficiently set the groundwork for new revenue sources.
In terms of salary, the responding CEOs are split between taking a salary increase (42 percent for small publishers and 46 percent for large) and keeping salary at the same level (46 percent of small publisher CEOs and 45 percent of large).
METHODOLOGY
The survey sample of 1,000 was selected by FOLIO: and Readex Research from all of FOLIO:'s domestic subscribers with executive management job titles who classified their company's primary focus as either b-to-b publishing or a mix of b-to-b and consumer publishing on the Folio: subscription form. Data was collected via mail survey from February 2, 2012 to March 8, 2012. The survey was closed for tabulation with 275 usable responses—a 28  percent response rate. Results were filtered to include only those who indicated their organization is involved in b-to-b publishing. The margin for error for percentages based on these 234 respondents is +/- 5.6 percentage points at the 95 percent confidence level.