2012 Advertising Sales Salary Survey

Exec-level salaries a mixed bag, while mid- to lower-level rep comp declines.
Those working on sales teams at publishers, like all the other disciplines, have clearly seen a big impact from the digital realm—not just in learning a new medium to sell, but a vastly increased stable of products to sell against. At first blush, this might seem like a good problem to have, but in a pinched market with print advertising spending still at modest levels, digital dollars may be commanding more marketer attention, but they're only interested in spending against a limited number of opportunities. This is in direct contrast with one of the byproducts of the recessionary period of 2008-2010 which was a desperate search for new revenue streams—webinars, spinoff events, more newsletters, a variety of integrated marketing campaigns and on and on—to add to the traditional lines of business. This created a very frontloaded array of products for sales teams to pitch. 
Salary Results A Mixed Bag This Year
All of this has created scattershot results for Folio:'s 2012 Advertising Sales Salary Survey, conducted in partnership with Readex Research. Base salaries for top-level sales directors across b-to-b, consumer and association sectors were flat to significantly up, but total compensation was flat to down. Mid- and lower-level positions were not as fortunate. Advertising managers across all three sectors saw significant drops in base salaries and total compensation was down for all but association ad managers, whose total comp edged up.
At the lower rungs, ad executive base salaries and total compensation are harder to determine due to the lower response rates to the survey. In the b-to-b sector, however, base salary is slightly down while total comp jumped up quite significantly—from $76,000 in 2011 to $90,000 in 2012.
'A Ton More Products to Sell.'
Nevertheless, it can't be stated enough how much the product array has grown for sales teams—even as personnel numbers have been cut. In verbatim responses to a question about how much the job has changed in the last three years, one respondent replied, "A ton more products to sell, digital focus high, sales cycles longer. Monthly training needed to keep [up] with newest technologies/offerings."
Another respondent noted, "Expanded to oversee audience development for website, not just sales. Sales expanded beyond Web to include print, events, custom media, online networks."
Integrated selling is another big area addressed in the verbatims, with many respondents noting the obvious transition from the long-gone focus on print. "Spending more time selling packages, not just pages. More focus on digital opportunities," says one respondent.
Looking Ahead
As for what may impact compensation going forward, responses were not too optimistic but largely agreed that the transition from print to digital will continue unabated.
Some respondents felt an improving economy will have a positive impact going forward while others note the scrutiny ROI continues to receive in the face of measurable digital marketing performance: "[The] trend of measuring ROI on all advertising continues, putting more revenue at risk during the year if it's not performing."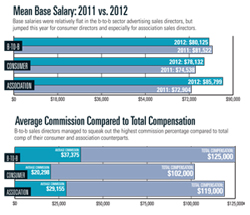 SALARY BY CATEGORY:
Advertising Sales Director/Publisher
Advertising  sales directors and publishers in the consumer and association sectors were a bit more pleased with their base salary performances this year than their b-to-b counterparts, who were the only ones to see mean base salary decrease slightly from 2011's survey to 2012. Consumer ad sales directors jumped from $74,538 in base salary in 2011 to $78,132 in 2012. Association ad sales directors, however, saw a major leap in base salary, jumping about $13,000.
However, total compensation is a different story, except, once again, for the association sales directors. In both the b-to-b and consumer sectors, total compensation slipped, from $126,000 for b-to-b in 2011 to $125,000 in 2012 and from $123,000 for consumer in 2011 to $102,000 in 2012. Association sales directors once again saw a healthy increase—from $104,000 in 2011 to $119,000 in 2012.
The gender gap, at least in terms of total comp, closed a bit from 2011's survey to this year's. Males earned $34,000 more in total comp than females last year, which shrunk to $12,000 more this year. Working in the New York City area still commands the highest levels of total compensation—$158,000 versus $110,000.
CLICK HERE FOR A CATEGORIZED COMPENSATION LIST FOR
ADVERTISING SALES DIRECTORS/PUBLISHERS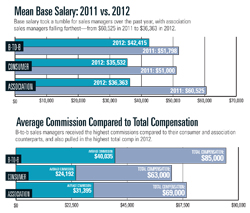 SALARY BY CATEGORY:
Advertising Sales or Regional Manager
Sales and regional managers were hit hard in the past year. Base salaries and total compensation fell sharply across the board. 
B-to-b sales managers saw their mean base salaries plummet from $51,798 in 2011 to $42,415 this year. Consumer sales manager base salaries fell from $51,000 in 2011 to $35,532 in 2012 and association sales manager salaries fell $24,000 from 2011's $60,525.
A similar story plays out with total compensation. B-to-b fell from $89,000 in 2011 to $85,000 in 2012; consumer dropped from $75,000 in 2011 to $63,000 in 2012 and association dipped $6,000 from $75,000 in 2011.
The gender gap is much wider for ad sales managers, with females making $26,000 less than their male counterparts in total compensation.
Years at the job still matters, with sales managers with 20 years or more in the publishing-related sales making $19,000 more than managers who have worked between 10 and 19 years in the business. Interestingly, the number of magazines worked on doesn't impact compensation all that much. This may have to do with the broader array of products that are being sold, as well as the cross-platform nature of those sales.
CLICK HERE FOR A CATEGORIZED COMPENSATION LIST FOR
ADVERTISING SALES OR REGIONAL MANAGERS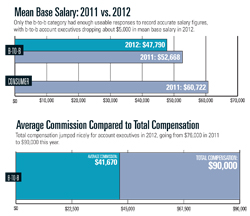 SALARY BY CATEGORY:
Advertising Salesperson, Account Executive or Category Manager
This category did not receive as many usable responses to the survey as the other categories. There were enough b-to-b account executive responses, though, to see that base salary also declined for this group—dropping about $5,000. Total compensation, however, jumped significantly, going from $76,000 in 2011 to $90,000 in 2012. Not shown here, consumer total comp was $97,000 in 2011's survey. 
The average commission compared to total compensation also jumped. In this year's survey, it's $41,670, or about 46 percent. Last year, average commission for b-to-b account executives was $22,116, or about 29 percent of total compensation.
Cross-tabulation is difficult to determine based on the low number of usable responses this year, but as in the other categories, the gender gap is significant, recording the highest difference at $29,000 less for female account executives.
Company revenue seemed to have no impact on salary, with account execs at companies with less or more than $10 million both making $92,000 in total compensation.
CLICK HERE FOR A CATEGORIZED COMPENSATION LIST FOR
ADVERTISING SALESPERSONS, ACCOUNT EXECUTIVES, OR CATEGORY MANAGERS
METHODOLOGY:
The mailing list of 624 was selected by Red 7 Media and Readex Research and represented all of FOLIO: domestic subscribers classified as sales management at the time of list selection. The survey was closed for tabulation on May 4, 2012 with 193 usable responses, a 31 percent response rate. Responses were filtered to include only the 153 who completed the survey and indicated their job titles matched what's used in the survey. The margin of error based on these respondents is +/- 6.9 percentage points at the 95 percent confidence level.
 
Meet the Author
---