The 2011 FOLIO: 40

Honoring the individuals creating a new chapter for the magazine industry.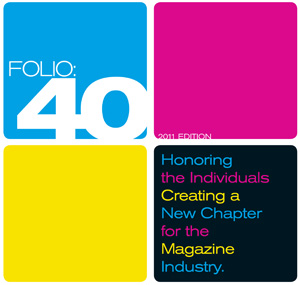 Welcome to the 2011 FOLIO: 40, our list of some of the most distinguished magazine and media professionals from every corner of our industry.
Each FOLIO: 40 has its unique themes, but this year we've found some truly inspirational success stories that emerged from a very rough period. We hope you have as much fun reading it as we did compiling it.
C-LEVEL VISIONARIES
David Carey | President, Hearst Magazines   
Sara Gutterman | CEO & Group Publisher, Green Builder Media
David Bradley | Owner, Atlantic Media
Lewis DVorkin | Chief Product Officer, Forbes Media
John Lerner | CEO, Breaking Media
Matt Yorke | President, IDG Global Solutions
Charlie McCurdy | CEO, Apprise Media
Fran Hauser | President, Digital, Time Inc. Style & Entertainment and Lifestyle Groups
Tony Uphoff | CEO, UBM TechWeb
Vivek Shah | CEO, Ziff Davis Media

DIRECTOR-LEVEL DOERS
Steve Reiss | VP and Publishing Director, Salon Group and Woodworking Group
Gregg Hillyer | Editor-In-Chief, The Progressive Farmer
Rob Grimshaw | Managing Director of FT.com
Kate Byrne | Vice President, Technology Group, Future US
Megan Miller | Program Director, Bonnier Corporation Research and Development
Hugh Wiley | Publisher, Bloomberg Businessweek
Heather Holmes | Senior Vice President, Audience Development, Technology Review
Abraham McLaughlin | Manager of Content Products, The Christian Science Monitor
Cheryl Long | Editor-in-Chief, Mother Earth News
Robert Michael Murray | Vice President, Social Media, National Geographic

INDUSTRY INFLUENCERS
Arianna Huffington | Founder, Huffington Post
Chris Wilkes | Vice President of Hearst Magazine App Lab
Google's Algorithm Change
Jay Carney | White House Press Secretary
Pete Cashmore | CEO, Mashable
Apple
Joe Pulizzi | CEO, Junta42
Editorial Entrepreneurs
The New York Times
Nielsen Media and Reed Business Information
 
UNDER THE RADAR
Colleen Holland | Associate Publisher, VegNews Media
Samuel Solomon | Creative Director, Designs in Machine Embroidery
Cameron Strang | CEO, Relevant Media
Felix DiFilippo | Associate Publisher, The Atlantic
Cassie Troiano | Director of E-Commerce, The Knot
Matt Brown | Editor, Nevada Magazine
Wallace Ryland | Director of digital business development, Kiplinger
Bryan Sims | CEO, brass|MEDIA
Ron Lindeboom | Publisher, CEO, Creative COW
Deborah Fellows | President, MyNorth Media
Meet the Authors
---