The 2011 Eddie and Ozzie Award Winners

Recognizing excellence in magazine and digital editorial and design.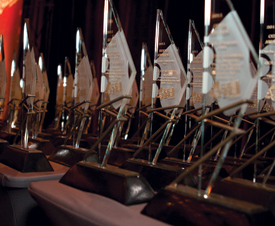 FOLIO:'s Eddie and Ozzie awards competition is the largest of its kind for magazine publishers. It also has the proud distinction of being the only awards event open to magazines and websites of all kinds—consumer, b-to-b, association, custom and regional, big and small. The Awards span print and digital, with the Eddies honoring the best in editorial and the Ozzies the best in design. In the following pages we're happy to present you with the full breadth of Gold winners in their respective categories.
Click here to view the complete list of Eddie Awards winners. [pdf]
Click here to view the complete list of Ozzie Awards winners. [pdf]
EDDIE GOLD WINNER PROFILES
• Bloomberg Businessweek/Bloomberg Markets
OZZIE GOLD WINNER PROFILES
Meet the Author
---