Last year, the consumer magazine publishing world was defined by a surge of high profile executive management and ownership changes (David Carey replacing Cathie Black at Hearst Magazines, Robert Sauerberg becoming president of Condé Nast, Jack Griffin leaving Meredith as president of its national media group for the CEO slot at Time Inc.—only to be shown the door a few moths later due to "culture clash").
That trend continued in 2011 (most notably with Hearst completing its acquisition of Lagardere's magazine titles). However, this year consumer publishers are focused on implementing new strategies and trying to make them work (55 percent of larger consumer publishers and 40 percent of smaller consumer publishers said revenue diversification was a priority this year—see Chart 8].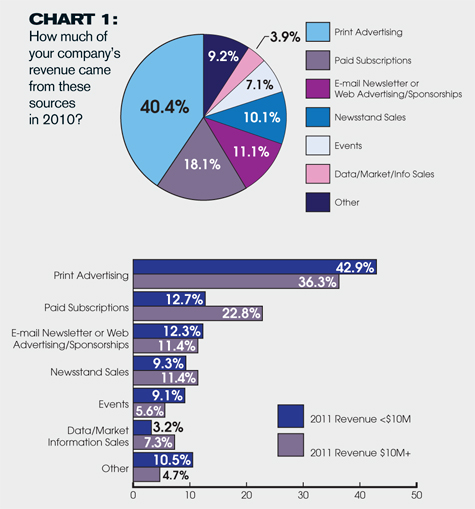 Condé Nast launched a new marketing services division called Ideactive, taking aim at the non-media budgets of current advertisers, as well as new clients. Meredith introduced a new social commerce network on Parents.com, offering group buying opportunities, as well as a "Premium Partner Program," supplying select vendors with exclusive opportunities to reach subscribers through the social commerce network.
Ebony and Jet publisher Johnson Publishing sold a minority stake to J.P. Morgan Chase & Co. that will fund the publisher's growth plan, including the development of an e-commerce business.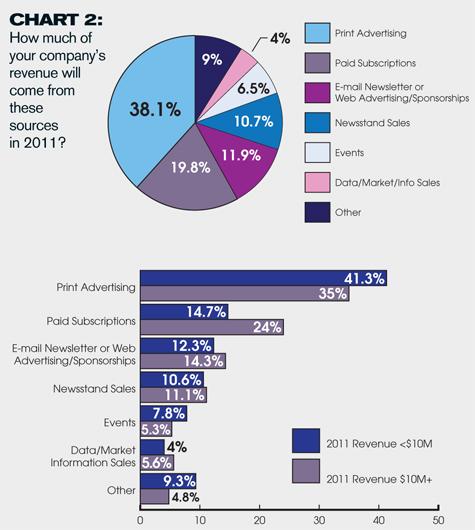 Revenue streams are shifting dramatically. Overall, consumer publishers report that print advertising slipped from 40.4 percent of revenue in 2010 to 38.1 percent in 2011 [Charts 1 and 2]. Larger publishers (those with more than $10 million in annual revenue) are posting a more dramatic shift with print accounting for 35 percent of overall revenue, compared to 41.3 percent for publishers with less than $10 million in annual revenue.
In July, Meredith introduced the Meredith Engagement Dividend, a product that offers advertisers guaranteed ROI for their investment in Meredith magazines. Participation requires a 12-month advertising commitment.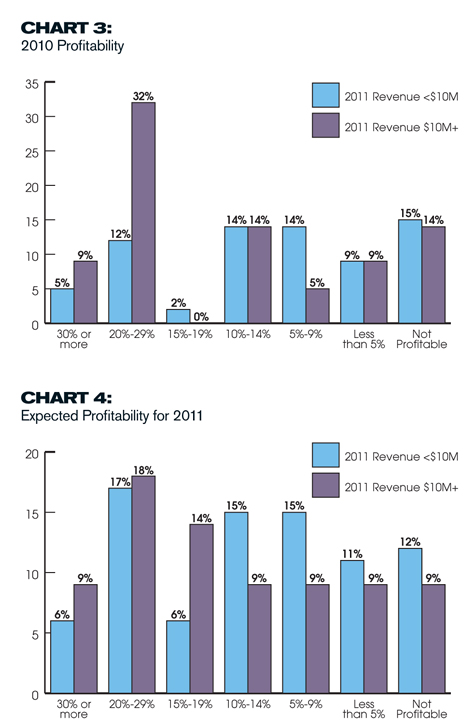 Paid subscriptions were the second largest revenue stream for consumer publishers in both 2010 and 2011 (at an overall percentage of 19.8 percent).
E-media exceeded newsstand sales as a percentage of overall revenue in 2011, at 11.9 percent versus 10.7 percent.
A slightly improving ad market and continued cost containment are driving profits for consumer publishers. While just 9 percent of larger publishers and 6 percent of smaller publishers report profitability of 30 percent or more in 2011, 17 percent of smaller publishers and 18 percent of larger publishers say they're seeing profitability between 20 percent and 29 percent [Chart 4].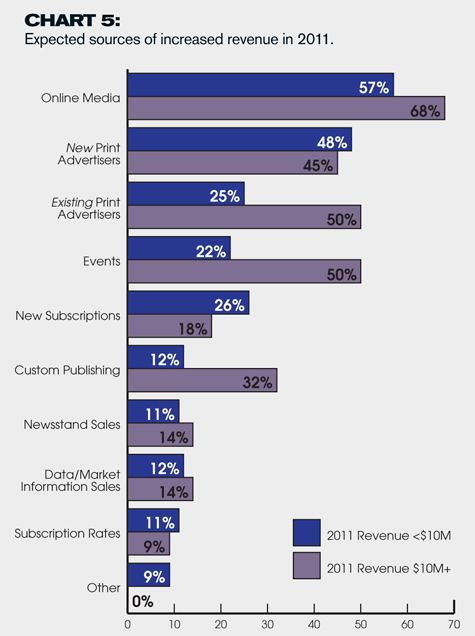 On the other end of the spectrum, 12 percent of smaller publishers (who have razor thin margins to begin with) say they aren't profitable this year, compared to 9 percent of larger publishers who have dipped into the red. Still, that's down from 15 percent of smaller publishers and 14 percent of larger publishers who said they weren't profitable last year.
Revenue growth has been the top priority for larger publishers (64 percent). Meanwhile, 51 percent of smaller publishers said that profitability is their top priority this year as well as revenue growth (respondents could choose multiple answers).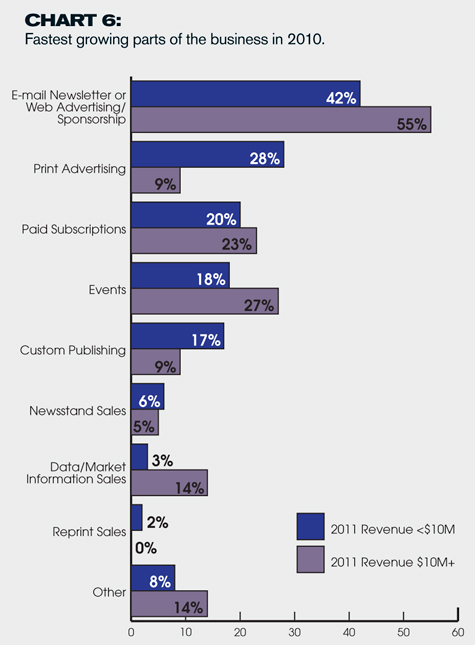 Fastest Growing Parts of the Business
E-media remains the fastest growing part of the business for consumer publishers (although that doesn't necessarily translate into significant amounts of hard dollars). Surprisingly, print advertising was the fastest growing part of the business for 32 percent of larger publishers and 25 percent of smaller publishers—equal to or exceeding events as a fast-growth channel.
"We're surviving as many competitors go out of business," says one respondent. "We are launching and growing print properties."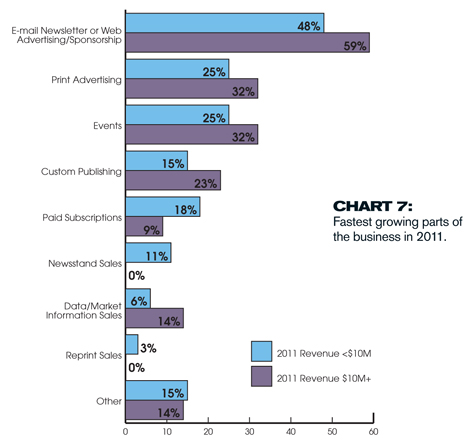 The "app age" is taking the consumer publishing world by storm and while the iPad remains synonymous with "tablet," publishers are fi nding new outlets that don't require as signifi cant a revenue share as Apple (or as convoluted an approval process).
Hearst, which last month announced it had more than 300,000 paid circulation on tablets and e-readers (thanks in part to the infusion of former Hachette titles) claims it's the only publisher to currently have its titles for sale on every device currently in the market. Amazon's new Kindle Fire—which may ignite a tablet price war with its $199 starting point—had deals inked with Hearst, Meredith and Conde Nast at launch.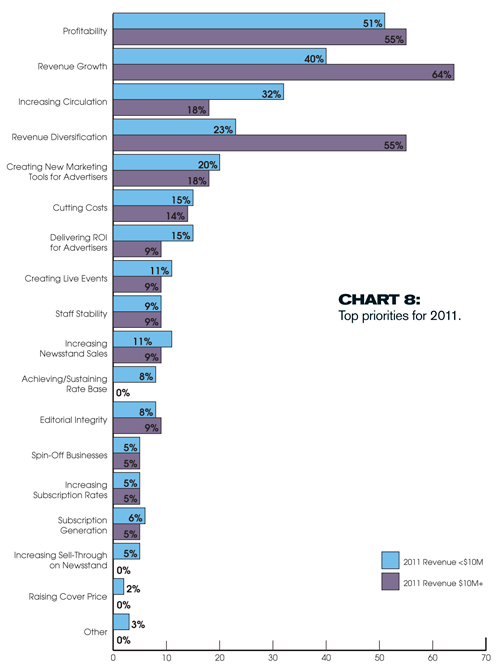 Financial Times—which exited iTunes completely with its subscription-based apps in August (its advertising-driven driven apps are still in iTunes)—says that now more than 700,000 people use its Web-based mobile app, making it more popular than the version sold in Apple's App Store.
Apps aren't the simply the domain of larger publishers, either. Loveland, Colorado-based enthusiast publisher Interweave, which launched its own series of eMags last year on its own e-commerce sites, is now bringing the eMags to the App Store. "The eMags have been very profi table for Interweave," says Interweave vice president John Bolton. "Originally we had hoped these would be a break-even product that was an investment in our future, but they've turned out to be an important part of our present plans. Currently, they contribute to our top and bottom line in a substantial manner. More than 90 percent of our eMag revenue comes from single issue sales."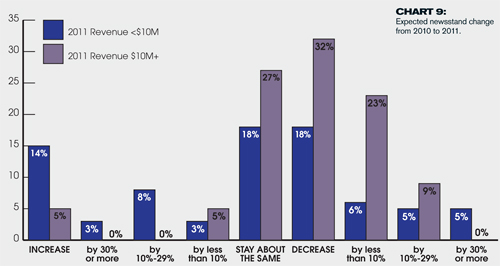 Newsstand: Most Publishers Expect Continued Declines
The prospects of the print newsstand remain bleak. More publishers say they expect newsstand sales to drop in 2011 (32 percent of larger publishers, 18 percent of smaller publishers) than expect sales to either stay the same or increase [Chart 9, page 59]. On the bright side, most publishers expecting a decrease say it will be less than 10 percent.
In the fi rst half of the year, unit sales of audited consumer magazines fell 10.7 percent and retail revenue declined 10.6 percent to $1.27 billion. Since 2001, unit sales have declined 47 percent and retail revenue has fallen 30 percent, according to magazine consultant Baird Davis. The six major newsstand publishers (Time Inc., American Media, Bauer, Hearst, Wenner and Conde Nast) now control 78 percent of all unit sales of audited consumer titles, up from 71 percent a year ago.
Still, there is hope of improved effi ciency. "Publishers are discovering new opportunities for improving efficiencies by using computer-assisted distribution systems assisted by MagNet and/or wholesaler direct data," says Davis. "These systems are available at all national distributors and in some cases used directly by publishers. Their use is in its infancy, but they hold out the real possibility of significantly increasing the industry effi ciency levels, which could be a huge boost."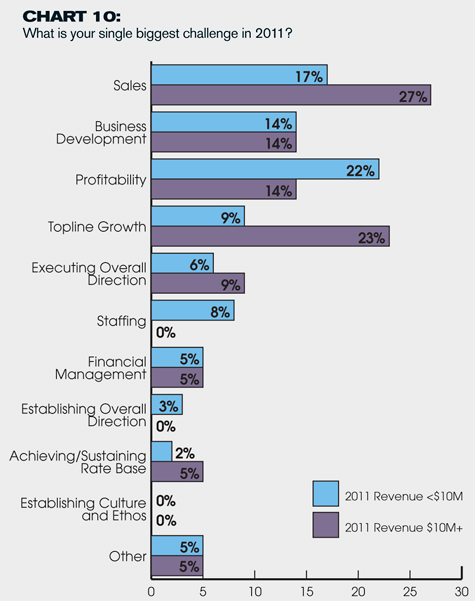 Challenges and Priorities
Sales, business development and profi tability are among the biggest challenges for consumer publishers in 2011 [Chart 10]. Apparently, corporate culture isn't a concern for anyone in the "just be glad you have a job" age, with no respondents saying that's a challenge.
Maintaining audience and overall circulation is a trouble-spot as well. "Circulation maintenance is our biggest disappointment," says one respondent. "We're in a mature market that continues to compress in audience size."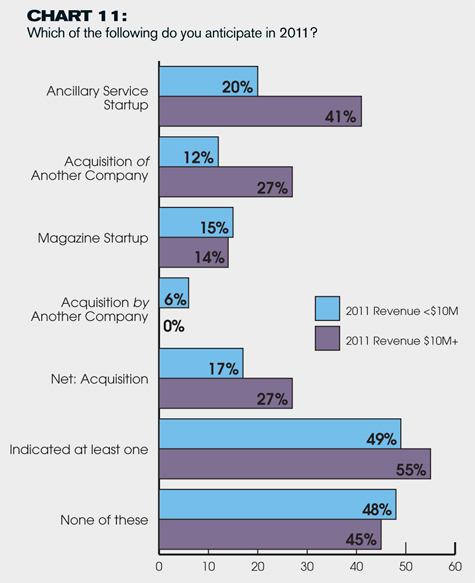 When it comes to new opportunities, 41 percent of larger consumer publishers anticipated an ancillary service startup this year, compared to 20 percent of smaller consumer publishers [Chart 11].
Twenty-seven percent of larger publishers expected to acquire another company (no larger company expects to be acquired this year). In the fi rst half of the year, consumer magazines generated 16 transactions (up 33 percent from the fi rst half of 2010) worth $2 billion, driven primarily by Hearst's acquisition of Lagardere's magazine portfolio but also TPG Capital's purchase of Primedia for $525 million and American Media's acquisition of OK! for approximately $25 million, according to the Jordan Edmiston Group.
While many consumer publishers say print products have stabilized (if not grown) this year, interest in magazine startups has fallen. Just 14 percent of larger publishers and 15 percent of smaller publishers said they plan to launch a magazine this year, compared to 24 percent and 15 percent respectively in 2010.
METHODOLOGY
The survey sample of 1,000 was selected by Red 7 Media and Readex Research and included FOLIO: recipients classified as executive management titles at consumer publishing organizations. Materials production, addressing, mailing and tabulation were all handled by Readex Research. Data was collected via mail survey from July 7 to August 11, 2011. The survey was closed for tabulation with 170 usable responses. The margin of error is plus or minus 7.1% at the 95% confi dence level.