When the mass market magazine industry plunged into recession in 2008, city and regionals were an oasis in the waste land of magazine advertising, thanks in part to a clientele that wasn't as eager as national advertisers to jump into digital.
However, by 2009-2010, city and regional magazines were no longer immune. Historically, the ideal target margin for a city and regional magazine was around 20 percent. That's shrunk in recent years (along with revenue and staff).
The majority of respondents (39 percent) to the 2011 FOLIO: City & Regional Magazine survey are single title publishers; 15 percent publish two titles while 10 percent publish seven or more [Chart 1]. Another 15 percent offer four to six titles, while 11 percent publish up to three magazines.
The majority of respondents (33 percent) describe their circulation as paid with newsstand sales, while 22 percent are controlled, not requested [Chart 2].
Most respondents (a combined 26 percent) identify their magazines as serving the luxury lifestyle and tourism/travel categories, with 7 percent focused on daily news and 5 percent targeting business. Other categories represented included family/parenting, arts/entertainment, shelter, bridal and food/drink.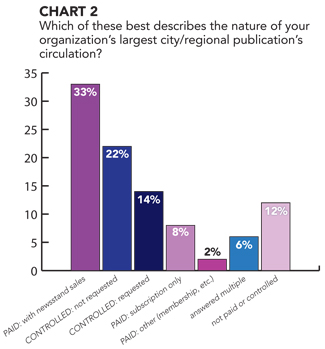 Consolidation of City & Regional Titles?
In 2010, the city and regional magazine market experienced a flurry of ownership changes: CurtCo Publishing divested its regional magazine stable by selling San Diego to Desert Publications as well as Sarasota and Gulfshore Life back to former owner Dan Denton. Zivyak Media Group, publisher of three titles—Berkshire Living, Home & Garden and BBQ: Berkshire Business Quarterly—dedicated to an area of western Massachusetts, expanded cross-country with the acquisition of the assets of defunct San Jose Magazine, which it intended to re-launch in 2010.
Even the biggest players were affected, with Emmis Communications Corp. CEO Jeff Smulyan attempting to acquire the regional magazine publisher and broadcaster with plans to take it private (that deal fell through).
In 2011, the nature of M&A within the city and regional market is changing. As the recession continues to take a toll, many publishers are buying out the competition and eliminating those brands. In April, Denver, Colorado-based regional magazine 5280 acquired the intellectual property of its main competitor, Denver Magazine, including Federal trademark of the brand name, Internet domains and Denver's Twitter account and Facebook pages.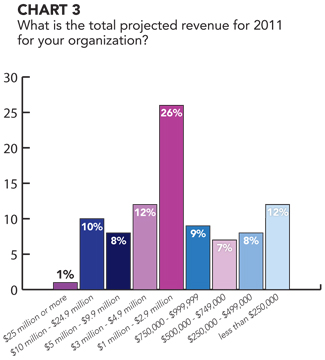 Meanwhile, Denver Magazine, which launched in February 2008, folded. 5280 (which refers to the city of Denver's elevation of 5,280 feet above sea level) did not assume any of Denver's liabilities or obligations. Sandow Media bought 944 Magazine (publisher 944 Media filed for bankruptcy last year), ultimately folding the title in June.
Other city and regional publishers are seeking new investment. Zivyak Media suspended publication of its three titles in late 2010 and started negotiating with Today Media, which publishes titles such as Westchester, Hudson Valley, Main Line Today and Delaware Today. That deal fell through.  
Is Digital Really Imperative?
Most respondents to the 2011 City and Regional Survey (26 percent) say the total projected revenue for their organization is between $1 million and $2.9 million in revenue this year [Chart 3]. On opposite sides of the spectrum, 1 percent of respondents say their organization will do $25 million in revenue this year while 12 percent say they'll do less than $250,000. Ten percent are producing between $10 million and $24.9 million, while 12 percent see between $3 million and $4.9 million.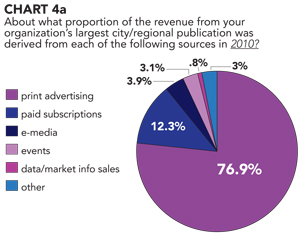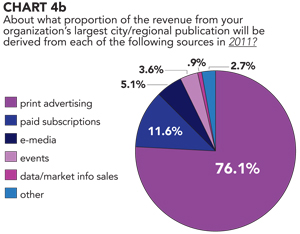 When it comes to individual magazines, 26 percent of respondents say their largest publication generates between $1 million and $2.9 million in revenue, while the next biggest group (12 percent) say their largest magazine generates between $500,000 and $749,000 per year. Three percent of respondents say their largest publication generates $10 million or more in annual revenue while at the opposite end of the spectrum, 9 percent of respondents say their largest magazine will produce less than $100,000 in 2011.
Print advertising remains the dominant revenue stream for city and regional publishers, more so than for publishers in the broader consumer and b-to-b categories.  In 2010, print advertising accounted for about 76.9 percent of total revenue; in 2011, print accounts for 76.1 percent of total revenue for city and regional publishers.
The second largest revenue stream is paid subscriptions, which fell from 12.3 percent of total revenue for city and regional publishers in 2010 to 11.6 percent in 2011. E-media accounts for an average of 5.1 percent of total revenue for city and regional publishers in 2011. While that's up from 3.1 percent of total revenue in 2010, it's still dwarfed by the 15 to 25 percent average e-media accounts for at mass market consumer and b-to-b publishers.    
But where to invest? Style Media is a regional publisher targeting three exclusive markets near Sacramento, generating between $2 million and $5 million in revenue. The publisher offers online products such as Two Clicks to Save and the Style Savings Guide.
"Anybody getting into this now has to be multi-platform," CEO Terry Carroll told FOLIO:. "If you think you can make it on print alone, it's tough. If the only way you can compete is by cost and price breaks, you don't belong in the market. You need to offer value."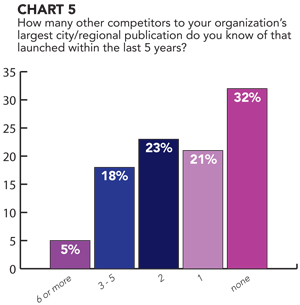 However, print continues to hold strong for many publishers. Regional title Hamptons Magazine claims its July 4 issue was the largest not only in the magazine's history but also the largest in the history of publisher Niche Media, with advertising up 25 percent.
For smaller publishers like Berkshire HomeStyle, focusing on print (while keeping an eye on digital) is still the best bet.
"All the buzz these days is about Facebook, Twitter, LinkedIn and many others, all under the umbrella of the social network," wrote Berkshire HomeStyle editor and publisher Henry Meininger in a recent column for FOLIO: [June 2011]. "This is certainly a humongous change in communication technology. It is so vast and so varied that the chances of a small, regional magazine to be on top of those developments and to harness them are very slim. Besides, if our print advertising can grow at 10 percent, say from $35,000 a month to $38,500, that's a lot better than a 20 percent growth in Internet advertising, from, say $3,000 to $3,600."