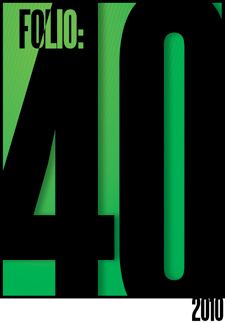 Welcome to the 2010 FOLIO: 40, our list of some of the most distinguished magazine and media professionals from every corner of our industry.
Every FOLIO: 40 has its unique themes, but this year we've found some truly inspirational success stories that emerged from a very tough period.  We hope you have as much fun reading it as we did compiling it.
C-LEVEL VISIONARIES
Martin Reidy | president, Meredith Integrated Marketing
Phyllis Hoffman DePiano | president and CEO, Hoffman Media
Steven Kotok | president, The Week
James Meyers | founder/CEO, Imagination Publishing
Pete May | president, Greener World Media
Kevin Worth | president and CEO, The Deal LLC
Jeff Killeen | CEO, GlobalSpec
Dave Belanger | owner/publisher, Countryside Publications
Sara Miller McCune | founder, Miller McCune-Magazine
Christopher Ruddy | founder and CEO, Newsmax
 
DIRECTOR-LEVEL DOERS
Vicki Wellington | publisher, Food Network Magazine
Sean Nolan | VP, online operations and external online marketing, Rodale
Scott Vaughan | VP marketing, InformationWeek
Dan Blank | director of content strategy and development, Reed Business Information
Josh Heitsenrether | senior vice president of strategic services, Ziff Davis Enterprise
Scott Dadich | creative director, Wired
Josh Macht | group publisher, Harvard Business Review
John Harris | editor-in-chief and co-founder, Politico
Barry Levine | executive editor, National Enquirer
Sean Brooks | VP, social media, TechTarget

INDUSTRY INFLUENCERS
David Parry | president, The News Group U.S.
Risa Crandall | vice president, Scholastic Parents Media
Bankruptcy Court
Steve Brill & Gordon Crovitz | co-founders, Journalism Online
The San Francisco Chronicle
Rupert Murdoch | chairman and CEO, News Corp.
The Tablet
David Nussbaum | CEO, F+W Media
Publisher Partnerships
Newsstand Drivers

UNDER THE RADAR
Alison McPartland | search manager, Questex
Eric Kammerzelt | IT director, Cygnus Business Media
Rick Schumacher | editor and publisher, LBM Journal; president, Certified Green Dealer LLC
Todd Baker | managing partner, TCC Media
Fred Parry | publisher, Inside Columbia
Kathleen McLaughlin | community manager/SEO editor, WATT Publishing
Andrew Kirshenbaum | director of database marketing, Hearst Magazines
Philip Charles-Pierre | vice-president of digital media, Guideposts
Daniel Meehan | founder and CEO, Haven Home Media
John White | owner, Associated Construction Publications
These reports were compiled by FOLIO: staff editors Matt Kinsman, Jason Fell, Bill Mickey, Chandra Johnson-Greene and Tony Silber.