The embattled list industry may see a bit of relief in the months ahead, as consumer magazine direct mail volumes are expected to rebound somewhat. Still, with an emphasis on fully mining internal databases and "growing your own" prevailing in both the consumer and b-to-b sectors, no one is predicting a dramatic upsurge in traditional rental activity in 2010. Instead, exchanges, appends, and building integrated cross-media databases for internal marketing and lead gen revenue opportunities continue to draw increasing focus and resources.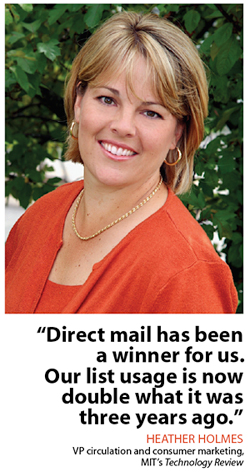 Consumer: Getting Back in the Mail 
Significant cutbacks in consumer magazine direct mail began late last year, and the ongoing ad sales slump has continued to affect mailings through 2009.
Some large titles, as well as smaller ones, have reduced volumes or skipped mailings. List pros estimate that total consumer magazine mail volumes have declined anywhere between 10 percent and 20 percent since last fall. "When ad sales went south, publishers shifted more toward less expensive sources, like partnerships and agents," sums up one brokerage executive.
"We're on an austerity budget, and haven't mailed all year," says the consumer marketing director for one mid-sized magazine that doesn't use agent sources. "I'm supposed to somehow make up for that with online sources."
Of course, publishers' push to maximize online sources—including direct-to-publisher and agent partnerships—predated the recession and actually helped set in motion the direct mail cycle that's now feeding on itself. That is, less mailing means fewer new direct mail-sold magazine subscriber names coming onto lists, leading to growing list fatigue, lower response rates and higher costs per order.
Since the recession, mail volumes also have declined as a result of magazine closings. Not only are there fewer magazines, but the publishers that acquired or transferred those names to other publications have less reason to mail, as well.
On top of all of this, consumer cutbacks on discretionary purchases and increased price sensitivity depressed response rates for many magazines in late 2008 and early 2009, making those titles all that much more inclined to forgo mailings later in 2009.
"For consumer marketers today, it's often much harder to sell management on investing in a direct mail package or campaign than an integrated campaign, for the simple reason that direct mail generates a loss in its first year," adds Mike Popalardo, principal in audience marketing consultancy Next Steps Marketing. "Still, by and large, nothing has been able to replace direct mail's ability to bring in a large, more or less predictable volume of high-quality subscribers within a reasonable timeframe." Publishers think that online is "free," but everything—even SEO—takes some investment to make it pay off, adds Next Steps co-principal Thea Selby.
Indeed, most magazines continue to rely on direct mail, and many have continued to mail at budgeted levels this year, according to list industry sources. And in a classic direct mail phenomenon, as the year has progressed, many of these have found their own response rates rising as a result of less competition in the mailbox.
"A lot of magazines were out of the mail this spring and summer, and that's been great for those of us who were in the mail. Our response rates have been terrific," confirms Susan Allyn, VP, customer acquisition for Hearst Magazines.
"Direct mail has been a winner for us," reports Heather Holmes, VP circulation and consumer marketing at MIT's Technology Review. TR's direct mail, which had been reduced for a few years as a result of a decrease in rate base and a period of heavy focus on developing its Web site and enewsletters, was revved up again this year. "Our list usage is now double what it was three years ago," Holmes says. Gross response to the paid publication's 9" X 12" package, which has been its control for more than five years (with some tweaks along the way), has risen from about 2.75 percent to 3.3 percent to between 3.75 percent and 4.1 percent.
Now, the signs are pointing to more consumer magazines returning to the mail. "You can only go so long relying on agent sources, verified and sponsored—you have to go back to the mail to rebuild that base of strong-renewing subscribers," says one consumer marketer.
"While the forecasts don't call for an advertising rebound next year, it appears that all of the cost-cutting that's gone on is enabling publishers to resume more normal direct mailings," says a broker. "Let's hope so, because direct mail is important to lifetime value."
Mailers and brokers alike are reporting that magazines that haven't mailed for a year—and even some that haven't mailed for several years—are going to be dropping packages during the traditional December/January mailing period, and that next year's budget plans include more mailings.
At this stage, list quality concerns are more likely to be a deterrent than list prices per se. The average consumer magazine list CPM is down by nearly 14 percent this fall compared to last fall, to $93 (from $108), according to Worldata's List Price Index—a trend that mailers say reflects the declining demand of the past two years, in particular. Mailers also continue to report that consumer lists are "rubber rate card" territory, with select charges and even base prices routinely negotiated.
The fact that postal rates, a bigger portion of mailing costs than lists, won't be going up next year also means one less deterrent to mailing—although stable postal rates generally don't in and of themselves drive jumps in magazine direct mail volume.
Owning Versus Renting
Whether a magazine is returning to or continuing a mailing program, no one's taking any chances on the lists being used. "People are mailing, but only to very targeted lists with 'guaranteed' returns," sums up Nicole Bowman of the Bowman Circulation Marketing consultancy. "I've mostly seen magazines cut back rather than actually discontinue mail, and they're doing this by focusing on their best rental lists and their house lists," concurs Popalardo.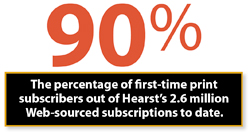 In fact, even when mail volume rises, it remains to be seen how much postal list rentals will benefit. Not only are magazines sticking to the tried-and-true when they do rent; they're also  using list exchanges rather than rentals whenever possible. That includes not just individual title file exchanges, but database exchanges between competing companies (including some of the biggest publishers in the business), as well as participating in the database co-ops that have helped make it possible for smaller publishers or titles to cost-effectively model against outside lists. One result is that modeling and exchange-related work for clients has become an increasingly important revenue stream for some brokers, as rental-driven revenue has declined.
In large part because of list fatigue, multi-title publishers have been "less focused on activating new [print-generated] names than on reviving existing ones" via regression modeling and appending during the last couple of years, notes Steve Aster, former president, consumer marketing for Source Interlink Media. "These activities are all about incremental gain—trying to pull in as many as possible of those people who fall between the diehard, loyal subscribers to your magazine and the ones who will never subscribe."
Exchanging and appending also tie into and advance publishers' ever more dominant goal of enhancing, cross-pollinating and cross-marketing to the names generated via traditional and online sources within integrated databases.
A core prerequisite for success is acquiring as many current and prospective customer email addresses as possible. Obtaining these cost-effectively has proved challenging, but publishers have become progressively better at it. Sweeps and downloadable content that require registrations are widely used, effective tactics. Publishers have worked hard at mastering SEO and SEM to drive and convert site traffic, and are also tackling the next frontier of social and mobile media.
Few consumer marketers report renting email lists. The compiled ones that are most available yield poor response and are rarely if ever cost-effective, and publishers have by and large been unwilling to rent out their own email lists, which could be considerably more effective.  Some publishers recently made some email names available for rental (probably a factor of steep declines in list rental revenue). However, in such cases, the owner invariably controls the blast, which adds to the cost.
"We continue to invest in appending emails, particularly for renewals, but it's not cheap," reports one consumer marketing director. "The other problem is that you can't then rent out the ones that respond, because there's no third-party communication opt-in." Next Steps' Selby reports that her clients have had mixed experience with email appends, with about half reporting that the investment was worthwhile and the rest reporting poor response from the appended names.
"Email addresses open up the potential for a whole new universe. But by themselves, they're no better than pulling names at random from a phone book," says Aster. "You have to use emails as a jumping off point, and do modeling and append data. The good news is that people are far more willing to answer questions and share information about themselves online than they are in print promotions. Plus, you can gather behavioral information in real time when people come onto the magazine sites. You need to know what you're doing in setting up a database, because the data from behavioral tracking alone can be overwhelming. But once you figure out how to combine Net and tracking behavior with the customer data on the print side, you can link that to creative, and successfully mail to pockets that you couldn't make work in the past."
Integration's the Game for Large and Not-So-Large
Hearst Magazines is demonstrating that integrated databases can not only yield substantial leaps in traditional direct marketing efficiencies—reducing the size of mailings and the numbers of names that need to be rented—but also enable building an ample new pool of online-generated customers.
Last September, Hearst inaugurated a new database that integrates all offline and online customer information and touchpoints—including sweeps, enewsletters, visits to brands' sites and the customer service site, regular and gift sub purchases and more. Email addresses (now up to 25 million) are gathered at every touchpoint.

Building a "holistic, integrated, real-time view" of the customer has, for starters, enabled Hearst to customize its marketing both online and off, EVP and general manager John Loughlin reported in a keynote at the recent CircDay LA. Online, the system is increasingly able to recognize existing subscribers coming in through any of the 25 brand sites. It's then able to generate a renewal price offer reflecting the individual customer's history (avoiding the common challenge of customer exposure to discounted intro offers on the site), or make an offer for another magazine that's likely to be of interest based on behavioral and other data on the individual. "Or, if you owe us money, we might send you a gentle message saying, 'If you pay now, we'll extend your subscription," he said.
As for direct mail, Hearst is using modeling and insights gleaned from the integrated customer data to zero in on prospects, resulting in response rate lifts of nearly 25 percent thus far. Loughlin shared examples of tests in which it's been possible to mail half the normal number of pieces, generate nearly the same number of subs, and nearly quadruple profit per sub.
Now, Hearst is starting to use behavioral data to drive customized creative generated via data-variable inkjet technology, such as personalized response cards and pieces that call out specific types of magazine content known to be of interest based on a person's online browsing behavior.
Like other aggressive publishers, Hearst is clearly mastering search engine optimization as one key acquisition component. Loughlin reports that 90 percent of the 2.6 million online-sold print subscribers to date (Hearst's largest DTP new business source) had never before subscribed to any Hearst magazines. "They're younger, they pay their bills and the renewal rates are good," he said.
That's the path for all publishers. "The next evolution is driven by the intersection of digital media and databases," Loughlin said, adding that new solutions are putting integrated databases within reach of smaller publishers, as well.
Many smaller publishers with a growing array of brand extensions are in fact developing such databases, often through one of the new breed of fulfillment bureaus. Technology Review, for instance, is working with ESP Computer Services to build a database that will incorporate data gathered from about 800,000 unique site users per month, seven free enewsletters, blogs, videos, RSS feeds and other channels, according to Holmes.
TR—which attracts technology-passionate readers of all stripes, including a significant number of senior business executives—hasn't been able to make standard email list rentals work. However, it's succeeding with qualified, lead-gen names that cost anywhere from $5 to $15 per successful lead.
"We're converting names by offering white papers and other content on specific topics," says Holmes. "We get the email and opt-in in return for the download, and go back to them a week later with an offer. We then have that email name and can go back and market to them repeatedly over the long haul. It's a longer-tail approach."
Whatever the source of the email, "trigger" emails—specific cross-marketing or renewal offers triggered by the specific type of behavior exhibited by the consumer—are becoming an increasingly common method of driving transactions.
B-to-B: New Business Models Decrease Need for Outside Lists
In the b-to-b sector, many audience developers report that their budgets for email and telemarketing lists have been slashed this year, particularly on controlled titles.
However, list managers report that b-to-b rentals have been holding up relatively well despite the economy, largely due to the segmentation and targeting possible on email lists generated through vertical b-to-b Web sites.
The average CPM for permission-based b-to-b email lists remains the highest of all types of lists tracked in the Worldata index: $285 (down just 0.07 percent versus last fall). Controlled and paid business magazine list prices have also held their own, with current average CPM's of $145 and $135 (down 1.4 percent and 5 percent, respectively, versus last fall).
Even IT publisher Ziff Davis Enterprise continues to rent some email and telemarketing lists when it comes to acquiring subscribers for the three controlled magazines under the eWeek, Baseline and CIO Insight brands. In fact, the company hasn't changed its list rental usage much in recent years, reports senior director, audience marketing Kelsey Voss.
However, ZDE has been heavily engaged in full-throttle Web marketing for more than five years, and virtually all of its audience recruitment and retention are done online. "We're not using lists and exchanges to the degree we did 10 years ago," even for the print products, acknowledges VP audience development Peter Westerman. "We've built a large internal prospecting database that can generally provide us with sufficient quantities of names within the areas that we need."
In name quantity terms, the magazines, with qualified circulations ranging from about 50,000 to about 400,000, are dwarfed by the more than 40 enewsletters, 20-plus Web sites, 25-plus e-seminars per month and other inputs to the 8 million-name customer database.
All of which reflects ZDE's business model. That model is driven by rapidly growing lead gen revenue (the largest stream, encompassing more than 60 programs per month for more than 300 tech companies) and user-generated revenue, which Westerman describes as "the future of our business." As is true for virtually all b-to-bs, print advertising is declining.
Rather than rely on email list sources that are cutting their own acquisition budgets, at a time when job churn has never been higher, ZDE uses relatively inexpensive information technology to build its prospecting database.
In outbound promotions, pass-through authentication programs establish the user's identity and topic of interest. Give/get programs—which offer online users valuable content in various formats and channels in return for registering and providing advertiser-relevant information about their businesses—are cornerstones. Once users enter this give/get "funnel," layers of information can be added with each subsequent contact or online session.
Bottom line: As on the consumer side, changing business models and databases in the b-to-b sector appear to point in the direction of a diminishing need for traditional list rentals over time.