2009 FOLIO: Awards Announced

Nearly 200 Gold awards handed out, recognizing excellence in edit and design.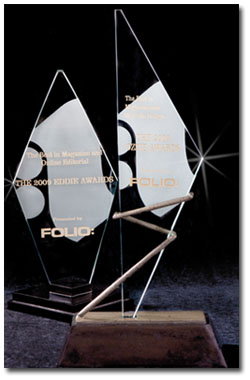 After weeks of painstaking consideration, FOLIO: today has unveiled the Gold winners of its annual Eddie and Ozzie Awards contest, recognizing excellence in magazine editorial and design.
Our panel of 60 expert judges sifted through more than 2,000 entries this year and have selected the most deserving entries among nearly 200 categories.
Taking top honors in the best overall design and best cover categories for a consumer magazine with a circulation above 250,000 was Bonnier's Field & Stream. "It was like a granddad," former Field & Stream art director Neil Jamieson said of the magazine's design needing an upgrade. "We wanted to make it more like a cool older brother or uncle. He's more approachable and you've got more in common with him."
On the editorial side, Hanley Wood Business Media took home a Gold Eddie this year for best series of articles, b-to-b. The award recognized Builder magazine's annual Trade Secrets feature series. In a down housing/home construction market, the magazine this year tackled the topic of approaching and surviving bankruptcy. "This gave the rest of our readers some hope," editor-in-chief Denise Dersin told FOLIO:.
Click here for the complete list of gold Eddie winners.
Click here for the complete list of gold Ozzie winners.
For a complete list of winners (including silver and bronze winners) check back to FOLIOmag.com early next month when the December issue is posted.
Meet the Author
---