The 2009 Eddie and Ozzie Award Winners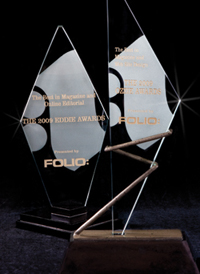 The Eddie and Ozzie awards recognize excellence in magazine and online editorial and design. In 2009, the awards drew more than 2,000 entries. That volume reveals two things: Our awards draw, by far, the widest variety of publication types—from b-to-b to consumer to association and custom—and our industry is particularly proud of its creative output. Here we profile 12 Gold FOLIO: Award Winners and the links to the full listings of the 2009 winners.
CLICK HERE FOR A FULL LISTING OF THE 2009 OZZIE AWARD WINNERS
CLICK HERE FOR A FULL LISTING OF THE 2009 EDDIE AWARD WINNERS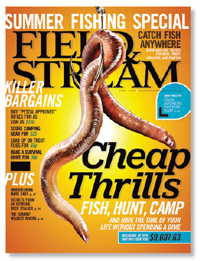 Field & Stream
Ozzie Winner: Best Overall Design and Best Cover, Consumer Above 250,000 Circulation
The 114-year-old Field & Stream has worked its way through a series of redesigns to keep up with generational preferences. The latest redesign, completed in early 2008, earned a Gold Ozzie for Best Overall Design and another for Best Cover for a consumer magazine above 250,000 in circulation.
Art director Neil Jamieson, who has since become deputy design director at People, says the magazine needed to upgrade its coolness factor. "It was like a granddad. We wanted to make it more like a cool older brother or uncle. He's more approachable and you've got more in common with him."
Jamieson says the overall design approach hewed to three characteristics: Clarity, organization and voice. "That means, who are we, how are we trying to talk and who are we talking to?" he adds.
The new design focused on reorganizing page elements and giving them a clearer presentation. "We did a lot of scale shifts with our typography," says Jamieson. "We used big headlines and smaller sub-heads and captions and so on. We could get more on the page, but in a much more organized way."
The winning cover, the June 2009 issue [see image at top of this page], reflects the shift to contemporize Field & Stream's hipness. The cover is traditionally a fishing theme, and has supported that tradition with a staid image of a fish or a man holding a fish. "We reversed the whole idea," says Jamieson, "and took the avenue of getting the fish."
The image carried forward the issue's theme of outdoor sports on the cheap by stripping the pursuit of fishing down to its bare essentials—a worm and a hook. There were two details, however, that editor-in-chief Anthony Licata insisted on. "The mandate came down that it had to be technically accurate—the way the worm was placed on the hook—and it couldn't be too gross," says Jamieson.
Pushing the design for such an enduring title is key. "The most important thing for an art and photo department, especially when you're as old as Field & Stream, is to keep being ambitious and surprising and give the reader something they don't expect or can't get anywhere else," says Jamieson.
Discover
Ozzie Winner: Best Supplemental Annual or One Shot/Best Feature Design, Consumer Above 250,000 Circulation
The Ozzie-winning one-shot, Discover Presents the Body, targets 100,000 members of Discover's 900,000 circ. with a perfect-bound, newsstand-only issue.
According to Discover creative director Mike Di Ioia and art director Erik Spooner, there are fewer people involved with the one-off process, which gives the team more artistic license. "We try to get approvals done in our specials, and then use them for a larger issue later on," says Di Ioia. "Basically, these one-offs are a launching pad for our ideas."
The tight edit concept behind the Body issue was one of the main drivers for the art direction. "It clicked because of the edit," says Spooner. A favorite piece in the issue, "Why Is Exercise Good for You?" features old-fashioned line drawings.
For Discover Presents the Body, the team purchased font Leitura Family by DSType (Dino dos Santos), which has since been carried over into the monthly issues of Discover. "We've used it over and over," says Spooner. "It took a few issues to phase in, but is definitely a staple now."
Capturing the Grid
Discover's June 2009 issue, which won a gold Ozzie for best feature design on "The Future of Energy" (Consumer Above 250,000 Circ.), broke down into multiple sections in order to tackle this subject matter. The first was all about mechanics and transmission, another focused on how to back up the grid, and a third looked at how energy can be stored properly.
"We broke it into three sections," says Di Ioia. "We were working on sketches together for a few days. Generally when editorial presents us with information, it's overwhelming to process, so we try to simplify it for the readers without being too capricious with our designs." He says the opening spreads are very graphic, and compress a great deal of information into one package. "If we bombard them with too many sidebars and information, it's too intimidating to process," he adds.
The feature also utilized a framing scheme around each page. "Because there was a sidebar attached to each story—sometimes even a full page—it was helpful for readers to see the connection, as well as the differentiation," says Spooner.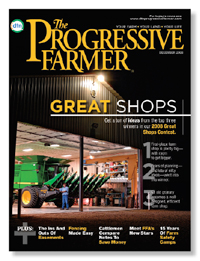 DTN/The Progressive Farmer
Ozzie Winner: Best Cover and Best Feature Design, B-to-B above 100,000 Circulation
At The Progressive Farmer the name of the game is to erase the notion that an ag title is limited in its design opportunities. Instead, whether on its cover or in its feature well, the 550,000-circ. magazine leverages what director of art and production Donovan Harris calls a "limitless universe" of images to support the editorial message of each story.
The winning cover from the December 2008 issue is a testament to the magazine's effort to locate the right image. The cover illustrates a feature story that profiles the winners of a farm shop contest. "Farm shops are a hot-button issue for our audience," says Harris. "They're a source of pride and joy for a lot of our readers and we took it upon ourselves to scour the countryside for the best and most functional farm shops."
The variety of shops, their set-up, and lighting issues were a challenge. "Your lighting is all over the board," says Harris. "And sometimes the shop is neat and the lighting is good, while other times it's not a new shop and the lighting is more challenging."
Harris refers to the cover image as the "glowing pumpkin." The shop is illuminated from the inside, creating an easy focal point and giving it immediate recognition. "The light balance is exactly where it needed to be to illuminate the interior, but not so much that it overwhelmed the outside," says Harris.
Progressive Farmer is not sold on the newsstands, but Harris treats the magazine like it is, noting that farmers, like any other consumer, are inundated with competing publications and information. "If you don't have compelling images in your book or on the cover, they're probably never going to pick it up," he adds.
The winning feature also relies on imagery to convey meaning. A story on a crumbling rural transportation infrastructure—the roads and bridges that farmers and their equipment have to navigate daily—opens with an image of a bridge in need of repair. "The typeface is a distressed font and blends in with the image of the rusty bolts coming off the bridge," says Harris. "We thought that was a great image to lead off the story so you immediately know what's going on."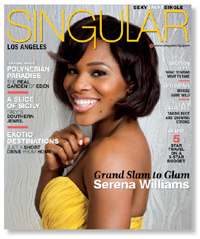 Singular
Ozzie Winner: Best New Design, Consumer
When freelance journalist Kim Calvert launched Singular in September 2008 she wanted to produce a magazine with a clean and modern design, eye-catching photography, lots of white space and easy-to-read fonts. Singular—a Los Angeles-area magazine targeting singles—won this year's Gold Ozzie for best new consumer design.
"I spent weeks deciding on the body copy font and finally selected one specifically designed for ease of read," says Calvert, who serves as editorial/creative director and co-publisher. "I come from a Web usability and strategy background. As an editor, I was committed to creating a magazine that was not just something to look at but something people would enjoy reading."
Calvert initially collaborated with consultant Keith Ewing to develop the magazine's prototype and logo and eventually hired longtime Los Angeles Times Magazine associate art director Carol Wakano to serve as art director.
For the front-of-book section, Calvert says the art "drives the page, and dictates in which order the stories will run—not the editorial. The section leads off with the strongest piece of art and secondary art is selected to complement it.
Feature well design also is significantly influenced by a photo or illustration Calvert and Wakano choose to lead each package. "The headline and other incidental type are treated like an additional piece of art on the page, and type styling is crucial to stop the reader in their tracks and engage them in the story."
Calvert compares designing the back-of-book section to editing a film. "When we have the issue on the wall in the design studio, we look for a flow, how the energy moves from one page to the next," she says. "The point for us has always been to engage people from the front cover to the back cover—to deliver a sensory experience that magazines, when done well, can deliver in their own unique and wonderful way."
And while Calvert and Wakano continue to make design tweaks and adjustments along the way, the pair, along with Web designer Dan Gilkey, have also taken steps to translate the magazine's "clean, uncluttered" design to SingularCity.com and e-newsletter.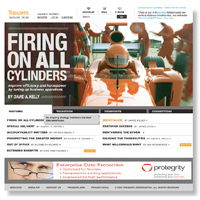 Tocquigny (Teradata Magazine Online)
Ozzie Winner: Best Web Site Design, B-to-B
Corporate Web sites abound but for interactive agency Tocquigny and its client Teradata—a data warehousing company—the key was making Teradata Magazine Online accessible and even fun. "One of the things a lot of tech marketers miss is that their audience are the same guys going to Amazon or buying Fritos," says CEO Yvonne Tocquigny. "They're consumers and they crave a tasty experience with their online information. A lot of the tech marketing is so dry and boring."
The Web site complements a quarterly print product that reaches 200,000 readers. "It wasn't good enough to just create a flipbook," says senior account director John Suskind. "It's fully social media enabled, there are big, attention-getting visuals and readers can link to other thought-leadership articles. Content runs from C-level thought pieces to very technical information. With a purchase this significant, there are a lot of players involved, from heavy duty IT guys to the CFO and CEO. Each has a different area they're concerned about."
The most popular features include the Tech2Tech section, which offers articles and a chance for Teradata staffers to talk to readers, as well as archives and interactive games and polls.
The site draws more than 50,000 readers per issue. "This audience is Fortune 1,000 companies, and if you can get 50,000 readers from that audience, we're happy with that," says Teradata director of marketing communications Erin Fagan. "The role of the magazine each issue is to extend the brand globally. We find that as we are working with other countries, extending the online piece rather than just the quarterly magazine is part of the branding strategy."
While Teradata Magazine Online is not positioned as revenue generator, it does feature a robust lead generation component, according to Fagan. "We do get a fair number of leads and we have cross-pollination with the Teradata.com corporate site."
Next up the site will add video and Twitter components. "We think there's a much bigger opportunity to integrate more video to the online component and more social media aspects" says Fagan.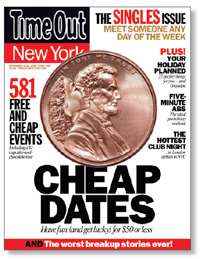 Time Out New York
Ozzie Winner: Best Use of Digital Imagery, Consumer
Time Out New York's design team has a lot to consider when coming up with the images that will appear on its covers each week (and not a lot of time to do it).
"Our readers are New Yorkers in their twenties and thirties, they have a certain sense of humor and they are amused by certain things," says design director Adam Fulrath. "Therefore, a serious tone isn't always effective. We're also catering to a group that isn't earning big bucks, so we always try to offer things to do that are affordable."
For the Dec. 4-10, 2008 issue's "Cheap Dates" feature, which gave readers advice on how to keep costs low when courting their significant others in the Big Apple, the team came up with an image that both screamed "cheap" and was tongue-in-cheek—or should we say tongue-in-ear. The cover features a large shot of a penny, but with a twist: a woman is licking President Lincoln's ear and the top of the penny reads, "In TONY we trust."
"It was basically just the editor-in-chief and I sitting down and trying to come up with an inexpensive way to illustrate the idea of a cheap date," Fulrath says. "We spent the majority of our time focusing on the process of making it look as realistic as possible."
Digital imaging specialist Nikki Miller used a stock image of a penny, and then took a shot of a TONY [Time Out New York] employee sticking her tongue out. Using Photoshop and Illustrator, Miller was able to put the two images together. And to make it look even more authentic, she replaced the woman's real hair with the hair of  Thomas Jefferson on the nickel—as well as little bit of hair from Abe.
Fulrath says his team is always focused on coming up with good concepts that strike a chord with readers. "We found that coming up with one good image that draws the reader in and tells a story is the best way to approach it as opposed to using a bunch of words," he says. "But it's also about doing it in the shortest time possible, since we're a weekly magazine. But we have a team that's good at getting things down and then putting an extra gloss on everything."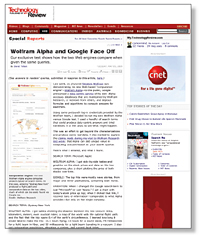 TechnologyReview.com
Eddie Winner: Best Online News Coverage
There's quite a bit of competition when it comes to Web sites that cover technology, which is why online managing editor Will Knight was ecstatic to hear that TechnologyReview.com had been recognized for its news coverage this year. "I joined Technology Review just over a year ago and when I arrived, we decided that we really wanted to focus on news coverage that was of quality rather than quantity," he told FOLIO:. "We try to bring a lot of analytical insight into each topic we do as well as provide lots of video, attractive graphics, audio reports and behind-the-scenes accounts."
The TechnologyReview.com staff currently has seven employees, each focusing on a different topic, including energy, IT and biomedicine. "We're always careful to match the level of insight that is offered in the print magazine with the Web site," Knight says. "Our readers demand that."
Perhaps the best example of the team's dedication to quality was chief correspondent David Talbot's exclusive coverage of physicist Stephen Wolfram's "computational knowledge engine"—Wolfram Alpha—and its attempt at rivaling Google. Talbot was able to get a behind-the-scenes look at Wolfram's development lab, and covered what he saw in several online news stories and blog posts.
He followed the story through to the launch of Wolfram's engine and continued to provide analysis during each stage of development. "Our coverage went beyond straightforward news articles to include behind-the-scenes video footage, audio interviews and photography," Knight says. "Talbot's audio 'reporter's notebook' provides another unique dimension to the story. We offered our readers a unique role in shaping our coverage, by inviting them to contribute queries that were used to test the quality of results produced by Wolfram Alpha before it went live."
Knight says that the team will work hard to continue TechnologyReview.com's string of quality content into 2010. "The main thing for us is to just continue pushing this more analytical content while also adding that 'something extra,'" he says. "We're also looking to produce some quirkier content that allows us to stand out from our competition without alienating our core audience."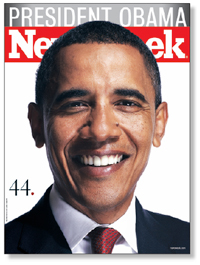 Newsweek
Eddie Winner: Best Consumer News/Commentary/General Interest Full Issue
The November  17, 2008 issue of Newsweek hit national newsstands well before the magazine unveiled this past May a redesign and a shift from straight news to news analysis. The issue, however, was still a poignant one that garnered the highest esteem from FOLIO:'s panel of judges this year.
Newsweek entered that particular issue into this year's contest because they said it had "the most in-depth, revealing and illuminating story" of the 2008 Presidential campaign. The issue includes a 50,000-word narrative written by editor-at-large Evan Thomas that went to press on election night. The story, according to Newsweek, provided an inside look at the campaign that was never "spun or leaked" to other media.
"You are there when Barack Obama wonders aloud why he is running for president," a Newsweek spokesperson says. "You're there when Hillary Clinton wonders the same thing; when John McCain wrestles with what to do about the New York Times accusation that he is an adulterer; when the FBI tells the Obama and McCain campaigns that their computers are being hacked by foreign spies; when Sarah Palin greets McCain's top staffers dressed only in a towel (and as those same staffers discover that she has spent over $150,000 on her styling and wardrobe)."
It was the magazine's seventh presidential election project dating back to 1984. In September 2007, Newsweek sent five reporters (Daren Briscoe, Eleanor Clift, Katie Connolly, Nick Summers, and Mike Hastings) to report on the 2008 presidential campaign—"not for the week-to-week coverage of the magazine, but for a single article that would not appear for over a year," the spokesperson says. The issue stood out in a field of "organic" coverage. "We showed there is an important place for old fashioned reporting in the age of new media," says Thomas.
In addition to Thomas' big feature, the issue also included a story on Obama's "inner circles," an article called "The Generation That Built Obamaworld," and a story by Fareed Zakaria called "Beyond Obama's Victory: A Chance to Realign the West." The issue sold 350,000 copies on the newsstand, almost overnight, the spokesperson said.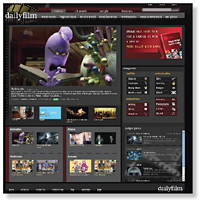 StudioDaily.com
Eddie Winner: Best Online Community
Like most publishers, Access Intelligence went through a steep learning curve with its online community efforts. A relaunch of StudioDaily.com in 2005, coinciding with a redesign of the magazine, incorporated a community forum that devolved into a resource pit that had site editors spinning their wheels trying to get visitors to participate. Fast-forward to March 2009 and the launch of DailyFilm.tv has finally hit the sweet spot of engagement and participation.
"The greater community did not care to interact," says Bryant Frazer, editor of Film & Video, of the initial forum launch. "The editors were having nice conversations with themselves and not getting anywhere. We had [the forums] up for about a year and then took them down. Then we spent time thinking about how to get people involved again."
What StudioDaily discovered was visitors already had a number of other more mature sites to visit and talk shop. "We were just late to the party," says Frazer. "We had to think about what could be a different environment, something that didn't already exist."
The forum site morphed into DailyFilm.tv, a Drupal-based community site that's centered on a user-generated content model. Members can upload their own film projects and have other members critique their work, rank films and network with other filmmakers. Editors vet the content for films with higher quality production work and "serious intent"—separating the backyard-blooper-style submissions.
Since launch, the site has amassed more than 900 registered members who've uploaded about 700 videos. "You don't have to register to just watch the videos, but you do have to register to rate and comment," says Frazer, who adds that the March debut was a soft launch, with promotion beginning in earnest in July. By October, the site recorded almost 30,000 video plays.
One promising feature of the site is its "film festival." DailyFilm has had one so far with another still collecting entries. Frazer sees the festivals as an opportunity to deepen engagement and encourage more submissions, not to mention revenue. Each entry has a $50 fee, and the festivals are sponsored.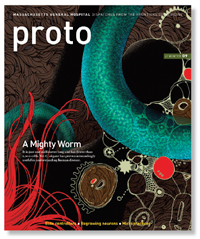 Proto
Eddie Winner: Best Full Issue, Single Article, Custom Magazine
Proto, a custom title created by Time Inc. Content Solutions for Massachusetts General Hospital, is published four times annually with a 75,000-circ. The custom content also extends to the online world at Protomag.com (6,600 monthly uniques). Both print and online are targeted at doctors, researchers, policy-makers, and thought leaders, with the goal of creating a different kind of custom title acting as a content resource to raise visibility of MGH outside of the Northeast. This year, Proto took a gold Eddie for its Winter 2009 issue, as well as the Eddie for single article, "Yes. No. Maybe."
Proto creates content so that a doctor in one specialty can read and understand medical issues that are going on in a different medical area and targets the sophisticated lay reader, as opposed to being a medical publication full of "doctor speak," as senior editor Sarah Alger puts it. The Proto/Time Inc. Content Solutions team also meets with a hospital editorial board each quarter to plan out the following issue, says Alger. "They don't dictate our content, but rather, act as guides; they allow us to follow our journalistic instincts in finding the best stories."
The Winter 2009 issue, Alger says, "is a really ideal mix, looking back at the table of contents. It epitomizes what we've tried to do with Proto."
The winter cover story, "A Mighty Worm," was a comprehensive survey of the history of a tiny worm—C. elegans—which has explained cell suicide, helped launch genomics and may revolutionize drug development. "Right away, illustration seemed conducive to this story," she says, which were "crazy abstracts" of these worms. The issue also tackled the "Rare Few"—or, elite controllers: those who have HIV but for some reason never see the disease progress to AIDS. While the issue's content was intriguing in its own right, Alger also says that the portraits, care of photographer Gregory Heisler, really captured the mood. "It was Heisler's idea to shoot one elite controller in an open, empty field to signify the rarity of this condition," she adds.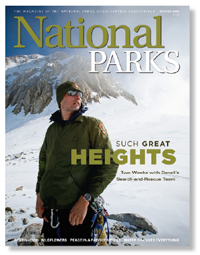 National Parks
Eddie Winner: Association/Non-Profit, Frequency less than 6 times a year, Best Full Issue
Launched in 1919 with the founding of the National Parks Conservation Association, National Parks serves as a voice for the Park Service beyond government.
Since then, the mission of the magazine has evolved from a strict wildlife focus to "more of a balance with issues, management, policy and politics versus things that just make the parks amazing," says editor-in-chief Scott Kirkwood.
The Winter 2009 issue represented that balance with feature stories that included a cover item on rescues in Denali as well as an article about water challenges for the Park Service. "It's about balancing the conservation ethic but making sure 250 million people can still visit every year," says Kirkwood.
Assistant editor Amy Marquis worked with a local photographer who had approached the magazine several times about featuring his work. "He wanted to get out into the Great Falls Forest and shoot for us and we got back to him and said Okay, where's the story?" she adds. "We pushed him to think harder about shaping this into something of interest."
The photographer then discovered a program in the park where injured Iraq war veterans kayak as part of their therapy. "It was a cool story where we could get out with the photographer on the river and meet these people," Marquis says. "It also tied into the theme that the parks can be relevant to bigger topics."
National Parks tries to present the unexpected. "Amy did a piece on the White House—a lot of people don't realize that's a national park," Kirkwood says. "We also did a piece on solar energy. People assume if you're part of an environmental organization you approve of solar but it's a complex topic. It engages readers to tell the story they might not expect."
While the NPCA has about 150 full-time employees, the magazine has two full-time editors with Marquis and Kirkwood, as well as a graphic designer in Sarah Rutherford.
The budget runs about $10,000 per issue for photos and $4,00 to $5,000 for freelance designers. Freelance writing budgets are $1,800 (the magazine typically has three per issue), with Marquis and Kirkwood usually writing front-of-book departments.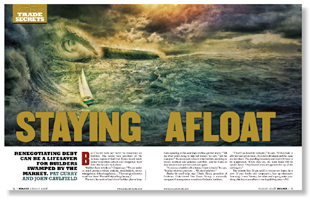 Builder
Eddie Winner: Best Series of Articles, B-to-B
Most b-to-b publishers are offering tips for how their readers can survive the downturn. But for Hanley Wood's Builder, which covers the home building industry, that's become even more essential.
Each year Builder does a feature series called Trade Secrets that offers a deep dive into a behind-the-scenes aspect of the building business. This year, the article was called "Staying Afloat" and focused on surviving bankruptcy.
"This is a really bad time for builders and we've seen some very high profile companies declare bankruptcy," says editor-in-chief Denise Dersine. "We also heard builders were paying bills out of their own pockets. Once their community stopped selling, they were on the hook for loans because banks required builders to put their own assets on the line. We knew we had to offer some information to everyone else to be able to put themselves in a better position so they wouldn't have to declare bankruptcy."
Builder wanted to talk to some builders who were in this position but not surprisingly, few wanted to talk on the record about their financial woes, necessitating a different approach.
"John Caulfield and Pat Curry are excellent reporters and to find out neither one could make builders talk was a big problem," says Dersine. "So I thought, let's go to the banks. It's in their best interests to get that information out. They could get us names of people who had success with this."
That started the ball rolling. The feature was primarily print-driven, with one case study posted online that demonstrated the work-out process. The print component included break-outs such as a step-by-step sidebar called 'Things to Consider" for approaching a lender (including the importance of having a plan before talking to the bank) and another on how to refinance.
"This gave the rest of our readers some hope," says Dersine. "Several builders wrote me and asked my opinion about their situation and what we should do. We were able to steer them in a direction that was helpful and one builder in particular went in with a plan he didn't think would work on his own and he is still in business and successful today."
Meet the Author
---