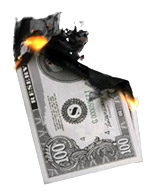 For many magazine publishers—and the media industry in general—2008 was certainly a year to forget. For the media M&A market, 2008 was the worst year for media deals of the century in terms of volume and value, according to the DeSilva + Phillips 2009 M&A Report, slated to be released this week.
According to the report, there were just 109 deals totaling slightly more $2 billion in value in 2008, down some 20 percent from 135 (totaling $9.6 billion) in 2007 and 151 ($20.5 billion) in 2006.
But the report noted that the 20 percent decline "may be misleadingly rosy"; the fourth quarter, which usually represents at least 25 percent of annual media deals, saw only 18 deals announced—16.7 percent of the year's total volume.
Of course, the most notable deals in 2008 were the ones that never happened. DeSilva pointed out that the combined dollar value of failed divestitures, such as Reed Business Information ($1.0 billion), and Cygnus Business Media ($200 million), dwarfed the dollar volume of the deals that went through.
M&A Trends in '08
There were more strategic buyers than financial buyers in 2008, the report said, "unsurprising in this year of credit implosion" which paralyzed bank debt. "On the other hand," the report said, "anyone has to admire the tenacity of private equity in the face of the debt crisis, closing nearly as many deals as the strategics, including two in the fourth quarter, when the credit crunch went from severe to merciless."
B-to-b media deals, like Randall Reilly's sale to Investcorp for $180 million, outnumbered consumer in 2008, according to the report. In 2007, consumer media dominated the deal market, representing 10 of the top 15 deals and over 72 percent of the dollar volume. In 2008, b-to-b represented nine of the top 15, and about two-thirds of the dollar volume. Heathcare media, the report noted, showed the most resilience in 2008.
In the digital sector, the value share of deals—17 percent—stayed flat over 2007.
Traditional media companies, like Hearst and Meredith, continued the steady accumulation of digital properties which began the year before, albeit on a much smaller scale.