2007 M&A Wrap-Up: Overall Deal Action Shatters 2006 Numbers

Record numbers tainted, however, by a second-half slowdown and b-to-b decline.
At first glance, last summer's credit crunch seems a distant and negligible memory in the face of 2007 M&A numbers compiled by investment banking firm Jordan, Edmiston Group, Inc. According to its end-of-year report released today, 838 transactions were recorded across 11 industry sectors with a total value of almost $109 billion. Overall deal volume is up 32 percent and value is up a whopping 79 percent.
A closer look at the numbers, however, reveals another declining year for b-to-b magazine deals and that the credit mess did, indeed, impact the deal pipeline. B-to-b activity was down almost 10 percent in volume and 47 percent in value, and $75 billion of the $109 billion in overall deal value was reported in the first half of the year.
Billion-Dollar Deals Lift Boats
There were some big, billion-dollar deals that got done, despite the tighter credit market, and these helped propel their respective categories well beyond 2006 numbers. Online media and marketing services deals led the way with 555 recorded transactions valued at $43 billion and buoyed by ad network deals from Google, Microsoft, Yahoo and AOL.
Consumer magazine deal value more than tripled over 2006 numbers to $7 billion, thanks largely to late-year deals by Macrovision and Bauer, which bought Gemstar-TV Guide ($2.8 billion) and Emap's consumer magazine division ($2.3 billion) respectively.
JEGI's report adds that the 54 consumer magazine transactions-a 20 percent increase over 2006-included "significant" activity from private equity, highlighting the sale of Dennis Publishing to Quadrangle and Primedia's enthusiast group to Source Interlink.
B-To-B Magazine Deals Down
Deal volume in the b-to-b magazine sector did not fare as well. Volume performed just as it did in 2006, sliding slightly by just under 10 percent in 2007 to 38 transactions. Total value fell as well last year to almost $3.2 billion, a 47 percent decline from 2006, which, admittedly, saw the $11 billion sale of VNU. The highlight b-to-b deal for 2007 was the $630 million sale of ALM to Incisive.
Media and Information Industries M&A Activity (January – December 2007 v. 2006)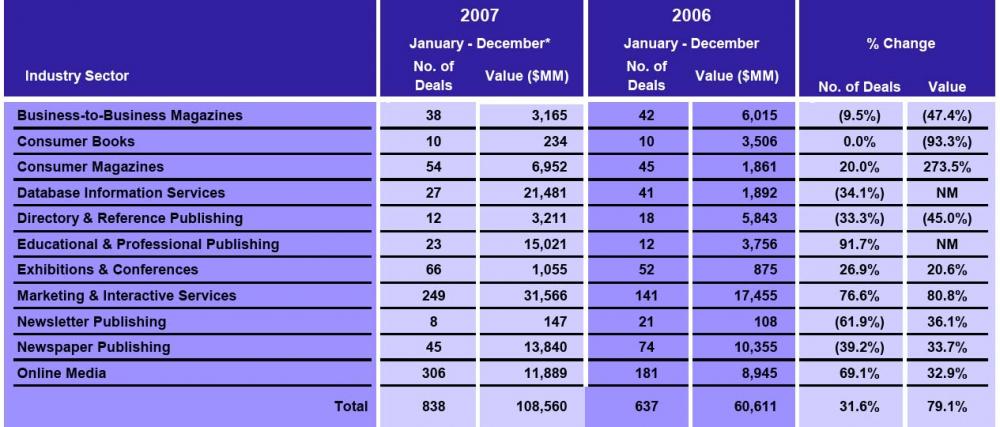 Source: JEGI transaction database, 1/2008.
Meet the Author
---