20 Social Media Tips All Brands Should Know

From Facebook to Pinterest and Instagram, presented in 140 characters or less.
As publishers,  your ultimate goal is to create compelling, lively, and interesting content that your readers will love and share with their friends. You know that social media can be a great way to engage with those readers—but are you sure that your social sharing strategy is as effective as you need it to be?
 
Women's Health, which publishes 28 editions in 51 countries,  is a part of Rodale's International Conference every April, hosting Women's Health and Men's Health editors-in-chief and CEOs across the globe. To help these leaders take their social media practices to the next level, we put together a guide of the essential tips and tools all brands should know. The American  Women's Health has used this guide to build an audience of over 6.1 million fans and followers across all the major social networks, and today reaches 15+ million unique visitors on a monthly basis.
 
Whether you're hoping to grow brand engagement and interest, or want to drive more traffic back to your site, here are 20 must-know social media tips and techniques to help you along the way.
1. Each social media platform plays a different role in your overall brand strategy.
For instance, Facebook is a great traffic-driver; Instagram is enormous for brand building; and Google+ is essential for SEO.
 
Facebook
 
2. Different types of Facebook posts benefit your brand in different ways.
Not all "engagement" metrics are necessarily the ones that matter to you. The old rule you hear again and again is that Facebook posts with pictures in them perform the best and have the highest engagement. But what if your goal is to drive traffic?
 
After doing a deeper dive into our analytics, we realized that while reach and engagement (likes, shares, comments) were better for image posts than any other type of post, the actual click-through rate (the number of people who clicked on the link back to the site) was miniscule in comparison. On the other hand, when we posted link posts, we found that the engagement wasn't as high, but that the clicks back to the site were much more significant. Since traffic-driving has been a major goal for us over the past six months, we've prioritized our link posts over image posts.
 
Here's our basic understanding of what each post type is best for:
 
Image posts are great for engagement, terrible for traffic.
Link posts are great for traffic, not (always) as great for engagement.
Status Update posts can be used to solicit feedback from your readers.
 
3. When posting a story to Facebook, you can change the image, headline, and subtitle to be more compelling to readers.
Certain types of headlines solicit a good number of comments, but not many clicks back to the site. One example: Headlines posed as questions. Instead of clicking through to see the answer, our readers will try to answer the question in the comments of the post itself. We now change the question headlines to more straightforward language when we post on Facebook, in order to better encourage the behavior we're looking for.
 
4. If you're promoting a story about a famous person, tag her in the post—her followers may see it in their newsfeeds.
Certainly can't hurt, right?
 
5. People love infographics.
Since we know that posting images won't drive traffic back, we optimize our image posts to reach as many people as possible. Infographics are great for that. In our experience, successful infographics are useful, interesting, and/or relatable: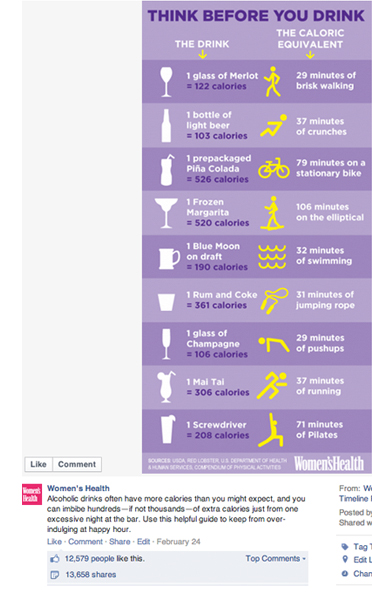 6. When it comes to viral content, Feelings + Excitement = More Likely to Share.
Positive emotions are better than negative, and worked up is better than bummed or mellowed out. Ask yourself:  Would I share this?
Twitter
 
7. Keep it short. Tweets with 81 characters or less get the most clicks, on average.
This is based on an analysis of our own tweets from August 2013. We counted the characters in the tweets (including the URL), and charted them against link clicks. Shorter, more straightforward tweets got the most clicks. Longer, wordier, more conversational tweets got the fewest.
 
8. The best tweets are intriguing, yet unsatisfying. They compel the reader to click.
Don't give it all away in the tweet. Give the readers a reason to click through. This post gave it all away in the headline—and only 136 people clicked on the link: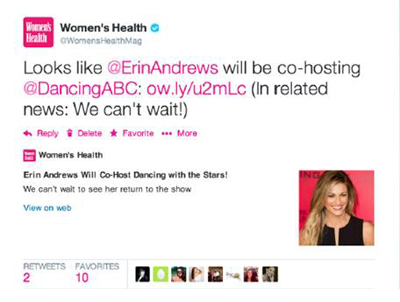 Seriously, be a tease. Leave them hungry for more information… that they can only find by clicking through. This post made people wonder "What's the snack?!", and 3074 people clicked through: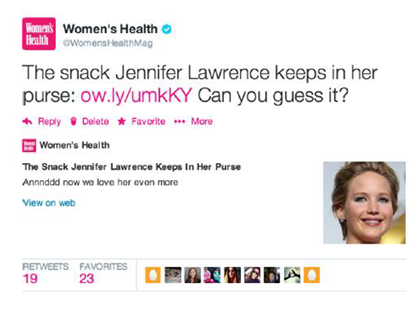 9. If a tweet performs well once, tweet it again!
We learned this one from the New York Times, via Neiman Labs. Thanks, guys!
 
10. Retweet people who are linking to your content.
They'll appreciate the attention, and your followers will notice the new faces in their timelines more than the old—meaning they'll be less likely to tune out your headlines, and more likely to click through. When we started retweeting the readers who were sharing our content, our traffic from Twitter increased 31% month over month.
                                                                                       
Pinterest
11. Add the Pin It button to all images on your site, to make your content as easy to share as possible.
Women's Health has over 283,000 followers on Pinterest, but the majority of our Pinterest traffic comes from content that our readers shared organically from our web site, not from our own Pinterest boards.  Kind of amazing.
 
12. Create designed title cards for all of your content, so that readers know exactly what they're getting when browsing Pinterest.
Images with words = better user experience = more re-pins. For your brand Pinterest profile, create designed title cards for each board.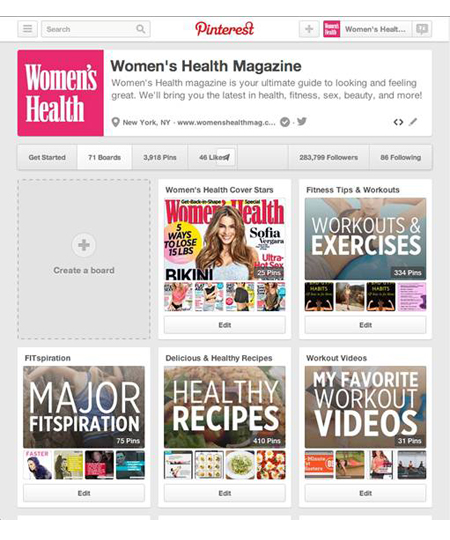 13. Tall pins get more repins than short ones.
The most optimized pin is a tall rectangle, with large words on it.
 
Instagram
 
14. Instagram users love beautiful, professionally photographed pictures.
Yes, Instagram is the platform where the amateur photographer can shine. But users still respond well to gorgeous, professional photographs, as well (just look at the National Geographic Instagram account). We occasionally use pictures from the magazine to promote the issue when it comes out.
 
15. Use Instagram to solicit and find user generated content.
Encourage users to share their creations—and then use what they've shared as content on the site later. One of our weekly columns is called Share Your Smoothies, and we get the content for it by soliciting smoothie recipes and images on Instagram each week.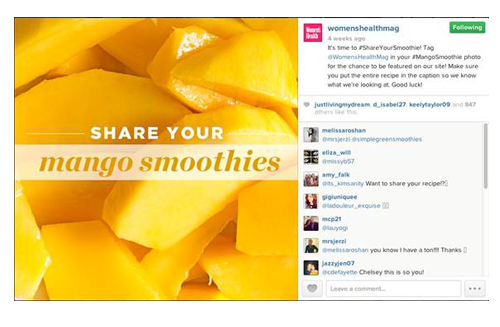 16. Take advantage of Instagram video. You can do a lot in 15 seconds.
For us, we've used it for: 15-second exercise move demos; beauty how-tos; slideshow teasers on the site; super quick Q&As with celebrities. Using the app Flipagram helps with a lot of these.
 
Google+
 
17. Post frequently to Google+. It might not drive much traffic, but it's essential for SEO.
 
18. Use a social media management tool to post to Facebook and Google+ simultaneously. Or auto-share all new content as it's published.
This might not be true for all brands, but we've had more success when we cross-post Facebook posts than when we cross-posted Tweets. The images definitely help.
 
19. You can create GIFs on Google+ by uploading 5 or more images.
Fun little party trick, right?
Ad Sales and PR 
20. The best sponsored social "campaigns" are:
• Editorially conceived and driven
• Beneficial to the reader
• Simple, w/low barrier to entry
 
(Read that again—that's a lot of info in 140 characters!)
 
One of the benefits of our massive social audience is that we're able to do fun and interesting social activations as part of larger sponsorship campaigns—and we do, often. We also have very strict guidelines for what's an acceptable sponsored social campaign experience, and what we're not able to do. The rules above get at the main point: In order for a social campaign to be successful, it has to be something that the editors have come up with (so that it's organic to your brand and makes editorial sense); it has to benefit the reader in a clear way (otherwise… why would they be participating?!); and it can't be too complicated.
Feel like you could use a deep-dive into next-generation social tactics? Learn more at the Folio: Growth Summit, June 16-17 in Chicago, which includes a 3-hour workshop featuring instructors such as Women's Health's Carolyn Kylstra, National Geographic Travel's Carolyn Fox and GrindMedia's Aaron Carrera. Find out more here.
Meet the Author
---