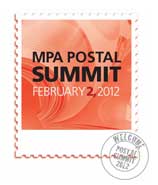 NEW YORK—The United States Postal Service is teetering at the edge of collapse, and magazine publishers—almost completely dependent on the postal service—are desperately looking for answers.
The challenges are enormous. Publishing companies face a massive shift in consumer habits online, but revenue isn't following nearly as fast as the reader. Consequently, print-magazine revenue remains a key to the economics of most companies. These topics and more were discussed Thursday at the MPA's first-ever Postal Summit, held in New York. The keynote was Postmaster General Patrick Donahoe.
In a discussion of what a smaller, slower and possibly more expensive postal service would look like, People managing editor Larry Hackett laid out what would happen if delivery service went from six to five days.
"We're closing by Tuesday afternoon and we're generally on sale in major transit hubs by Wednesday morning," he said. "We aim to have 70 percent of our subscribers have a copy by Friday evening. Customers expect to get their magazines at a certain period of time. If you start disappointing them, they may stop subscribing."
Nina La France, vice president of Consumer Marketing for Forbes Media, was asked by Hearst Magazine EVP John Loughlin if a publication could pass postal-rate increases on to customers.
"Passing on price increases is really hard to do," she said. "Our calculations show it wouldn't be unusual for us to see a fall off of 10 percent if we raise prices, or a fall off of 20 percent when you hit certain pricing tiers. The challenge is getting people to pay more for content. In this day and age it is exponentially harder than it's ever been. Add to that the opportunity to get free information online, you've got this sort of confluence of things that can get harder and harder for us to pass along those higher prices."
Panelist David Orlin, senior vice president of Operations and Strategic Sourcing for Conde Nast, offered a different set of concerns associated with USPS service cuts—having to close the magazine earlier to meet the needs of distribution could mean missed opportunities for ad sales and decreased revenue.
Postmaster General Donahoe, meanwhile, reassured the industry leaders in attendance. "Your trust and your business means a lot to us," he said. "We're in a pretty tough situation right now and what we're facing is continued drop off in first-class mail. And that is the underlying issue and it has been the problem now for the better part of 10 years. We know that this is not just a postal problem but an industry problem."
What's more, Donahoe said, is that declines in first-class mail is not the only problem the USPS faces—infrastructure issues that have built up over time and remain unsupported by revenue, in addition to increasing labor costs, have left the postal system in a state of disarray. "On the table we've got a $20 billion plan to reduce costs throughout this organization," he told the audience. "It will be work. It will be hard. It will require sacrifice—from everybody. Some people say they can't live without 6-day delivery or overnight delivery of first-class mail. Employee union groups say they can't give up wages in a time like this. The problem is, people understand they have to make changes but it's hard to get everyone to pony up, come to grips and make changes."
Changes would include resolving worker healthcare costs and reallocating some of those resources for operating costs; eliminating the pre-funding of retiree benefits; eliminating Saturday delivery; consolidating the USPS network; and reducing the number of career USPS employees. "These things will allow us to maintain price," Donahoe said. "That's why you don't hear me walking around saying we need an exigent price change—that will push you, bill presenters and standard mailers out of the mail."
While Donahoe did pledge support for keeping prices low, he added, "Until legislation is passed, what I won't do is take anything off the table."