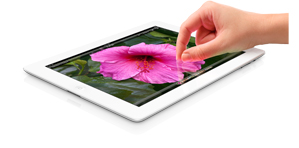 In its third-quarter financials released this week, Apple says it sold 17 million iPads. That's an 84 percent increase versus the same period last year. The company also sold 26 million iPhones, a 28 percent jump over last year's third quarter.
The company's revenue for the quarter, at $35 billion, was a few billion dollars lower than analyst estimates and down about $4 billion, or 11 percent, from the second quarter, but it posted an $8.8 billion net profit and a 42.8 percent margin. Revenue, profit and margin are all up over third quarter 2011.
The huge jump in iPad sales, in addition to the improved sales of iPhones versus a year ago, show how important mobile products have become to the company. The 4 million Macs sold was only a 2 percent increase over last year and the 6.8 million iPods sold was down 10 percent versus the same period.
Nevertheless, iPhones were still the main revenue driver for Apple for the quarter, brining in 46 percent of sales. iPad sales accounted for 26 percent of revenue.
iTunes, App Store and related product sales were about $2 billion, or 6 percent of revenue.