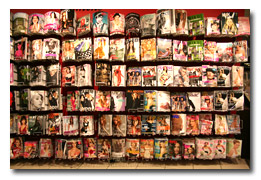 While overall ad pages were down slightly, 128 consumer magazines tracked by Publishers Information Bureau posted ad page gains in 2010, compared to just 22 in 2009.
Food Network Magazine went from "most notable launch in 2009" to the biggest ad page gainer in 2010, according to Publishers Information Bureau, which said the magazine was up 78 percent to 796.5 pages.
Other big winners include Destination Weddings & Honeymoons (+63.6 percent), Martha Stewart Weddings (+ 56 percent), and Boy's Life (+42.8 percent). People Style Watch, the big winner in the first half of the year (+ 59 percent) finished 2010 with ad pages up 49.5 percent.
Of the six Rodale magazines tracked by PIB, Women's Health was the only one with a drop in ad pages for 2010 (-3.6 percent). However, the publisher says all six titles are up for their January/February 2011 issues, with Women's Health leading the way (+30.6 percent).
Overall, ad pages across 12 market categories tracked by Publishers PIB were down less than a percent for full year 2010 and posted a 3.5 percent gain in the fourth quarter of the year (ad pages also grew in three out of four quarters in 2010).
Six out of the 12 market categories tracked posted gains. Magazine publishers may have been the second biggest beneficiaries from the automotive industry bailout, with ad pages in automotive magazines jumping 16.9 percent. General Motors Corp. led all automotive advertising in magazines, spending $385.4 million in 2010, up 56 percent from 2009, according to PIB.
Toiletries and Cosmetics had the second biggest gain in pages, up 11.6 percent, followed by Financial, Insurance and Real Estate with a 9.3 percent gain. Direct Response Companies posted the biggest loss, down 9.3 percent in pages.
Meanwhile, the magazine industry posted a 3.1 percent gain in ad spending for the year (PIB typically calculates revenue using full rate card and not accounting for discounts).