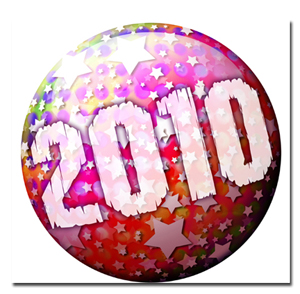 SEE ALSO: 115, And Counting …
Put on your seat belts, folks. The roller coaster of a year that was 2009 is grinding to a halt and 2010 is getting ready to blast off.
We saw bankruptcies. Layoffs. Shuttered magazines. Shattered dreams. But it's nearly 2010, dammit. That's all behind us now. Right?
Well, maybe not.
Keeping with tradition, FOLIO: has reached out yet again to a wide selection of magazine/media industry professionals—publishers, editors, chief executives, dealmakers, bloggers—to channel their inner Nostradamus and work up some predictions for 2010. Which magazines will survive? Which won't? Which technologies will propel the industry next year? What are the keys to staying in business while hopefully making a profit in the process?
Some responses were humorous. Most, understandably, were serious. Whether or not 2010 proves to be as grim and depressing as 2009, one thing seems clear: next year should shape up to be just as volatile in terms of technology and evolving business models, if not more so, than 2009.
So, here you have it—115 (give or take) magazine and media predictions for 2010, mostly unedited and in no particular order:
NAME: Alison Tocci
TITLE: president and group publisher, Time Out New York
PREDICTION(S): Throughout 2010, we'll see two types of media people: those who embrace change and reinvent, and those who dig in and try to wait out the recession hoping for a return to "normal." Both will have to fight through a flat year, but the former will ultimately survive and thrive.
All the old, institutionalized ways of doing things will continue to break down in 2010 and 2011, and be restructured on more reasonable, sustainable foundations. The big guys who are all running around repeating the mantra of 'local' will find out how much they don't know.
Scores of old media professionals will reinvent themselves using all their media savvy—in other lines of work. Scores more of bright young kids with a passion for journalism will reinvent the meaning of media and how to get paid for it.
NAME: Jim Spanfeller
TITLE: president and CEO, The Spanfeller Group (formerly CEO of Forbes.com)
PREDICTION(S):  Here are six:
1. Magazines will see a modest (very modest) rebound in 2010 as the economy improves
2. Digital media will continue to grow share.
3. Video online will begin to move to center stage.
4. Offline media brands will lose value as current brand stewards continue to miss the boat online.
5. Web 2.0 ideas will give way to Web 3.0 which is fundamentally the joining of content with social tools.
6. The e-reader consortium lead by Time Inc. will not get traction.
NAME: Paul Armstrong
TITLE: director of social media, Kinderedagency.com, @themediaisdying
PREDICTION(S): He who enables in 2010 will win. The tablet wars of 2010 will well and truly be won by Apple and Google. Those that charge will wither, not die, but wither. Those that remove themselves from Google will survive but see more men in white coats buzzing around.
Pay walls will continue to rise, rise, rise and traffic will fall, fall, fall. More trade pubs will adopt as will those with established bases but those without will continue free and see surges in traffic.  
Twitter will finally get paid and provide more options to users which savvy publishers will exploit and create networks to distribute their content.  
Overall, the media will still continue to die, shrivel, morph, whatever—it no longer matters. The problems are now much larger than simply less quality/content—it's fast becoming a question of access and that means democracy and that's a whole different kettle of fish. Regardless I think the amount of deaths will lower in comparison to the last two years.
Magazines that will die: Entertainment Weekly, Ebony and Jet—surely their luck runneth out?
NAME: Tony Silber
TITLE: general manager, FOLIO: and Audience Development
PREDICTION(S):  I have seven. Here goes:
1. The industry will remain flat overall for 2010. I wish it were different, but right now, I don't see an upswing, certainly not in the first half.
2. The industry will continue to transform itself, and more print magazine companies will become Web centric, meaning that they have the Web at the strategic core, even with print as a critical element.
3. Many companies will find new ways to monetize their markets beyond advertising. These will include enhanced market education, membership-based resource centers, research and market intelligence, lead generation services and e-media products with multimedia features and measurability
4. E-media advertising rates will rebound faster than print advertising rates.
5. Staff sizes will rebound as managers realize that staffs designed for print can't do print and a whole host of new initiatives on top of that, at least not effectively.
6. E-readers will revolutionize the magazine business in the next two years.
7. Print magazines will always be a great reading experience and will not go away.
NAME: Harry McCracken
TITLE: founder and editor, Technologizer.com
PREDICTION(S): The economy will improve. Ad budgets will get healthier. But magazines will hardly benefit at all. More layoffs are ahead, and more significant titles will fold in 2010 than did in 2009. Cutting to the bone won't prove to be a very effective response—we'll see circulation declines based on the products in question simply having frittered away their value to readers.
Despite this, strong magazine brands will continue to have value. Expect to see some of them change hands in 2010, including acquisitions by Web companies and other nontraditional buyers.
On the Web, media moguls will continue to grumble about Google poaching their business—and some will continue to grumble without doing much to respond. Some pay walls will go up, however. They won't do much to help revenue and will make the sites within them less relevant, and some will start to crumble even before 2010 is over.
Apple will release a tablet, and it'll be a hit—maybe not an iPhone-level hit, but a much bigger deal than the Kindle or Nook. At year's end, publishers will still be experimenting with how to leverage it (and other tablets) and won't be making much money, but everyone involved will agree that the potential is enormous.

NAME: Don Pazour
TITLE: CEO, Access Intelligence
PREDICTION(S): More b-to-b publishers will realize the value of their content and find innovative ways of charging the reader for it.
M&A will remain flat for the first three quarters and as revenues start to climb, M&A activity will pick up abruptly in the fourth quarter with multiples rising quickly and credit becoming plentiful (despite the naysayers, six plus times EBITDA credit will again be available).
Only one or two magazines for most major vertical markets will survive.
There will be many changes at the top of editorial mastheads with more e-community management skills supplementing traditional journalistic skills for the winners.
Print will become richer, better paper will be used, graphics will improve, quality of content will improve and distribution/circulation numbers will drop.
Magazines will drop audits or the audit bureaus will devise better ways to track interaction with online, in-person, and print consumer customers.
B-to-b marketing dollars will come into the market in the second half at an unprecedented rate, but marketers will spend more with fewer publishers and spend on large integrated multi-faceted programs integrating all media.
Video and social networking as revenue drivers will still be trying to find their way, but mobile will catch on and provide lots of new ad dollars for publishers who have made the conversion.
NAME: Warren Bimblick
TITLE: SVP of strategy and business development, Penton Media
PREDICTION(S): Someone will actually develop tools to figure out what I really DO want to buy online rather than doing lousy profiling of me so that I am assured 300 offers per day that are geared toward people who look like me (me?  55 and recently married—not looking to start saving for a baby's retirement fund). E-mail offer received while writing this,
"Dear Warren, Ring in 2010 with the right tools to drive new opportunities."  — WHO WRITES THIS CORN?
Audience data will actually become audience metrics, but the plethora of firms that "dot.do.this" will shake out and usefulness will become important. Marketers, advertising agencies and media companies will actually begin to work together to develop standard metrics. BPA Worldwide will increasingly become the place where the "conversation" is being had (The Algonquin Roundtable for measurement?).
Someone will introduce a Purple Paper or a Puce Paper—I am so sick of White Papers!
Apple will launch a reader in the second quarter that will change life as we know it.
NAME: Keith Kelly
TITLE: "Media Ink" columnist, New York Post
PREDICTION(S): The ad market very slowly climbs out of its hole or at least stops the erosion of the past two years, but anyone not in a one or two position is doomed. Magazines will still close, but not quite at the same devastating rate as 2009.
The problem with digital media remains. Advertisers are pumping money into it because they are afraid of being left behind. Deep in their ad marketing hearts, they really don't believe it works. If they truly believed in it, the ad prices in new media would be skyrocketing as advertisers bid up prices for new media outlets that worked—you know the ones that sent customers stampeding to buy their clients products.
But it is not happening.  Look at it this way, new media advertising went up even in the past year, and the economy tanked. I rest my case.  
One hopeful breakthrough: the four color e-reader. It will be really helpful. Some of the big publications will probably get a few hundred thousand digital e-reader subscribers paying anywhere from $10 to $50. This will bring in anywhere from $3 million to $15 million in subscriber revenue. Unfortunately, some of those same magazines have seen their ad revs drop by $100 million. Get the picture.
It may be 10 years before we see a return to the pre-recession ad paging of say 2007. The one bright spot: magazines are leaner and smarter than before so if the erosion stops in 2010, profits will be up. But nobody is going to try spending it foolishly.  
NAME: Dave Iannone
TITLE: president/CEO, Go Forward Media
PREDICTION(S): 2010 will finally be the year publishers, editors and sales reps fully realize that their magazine is no longer their brand—it's just one product within their brand. Likewise, if the magazine is all their brand has, it may be their last year in business.
With the right strategy, a brand's Facebook, Twitter and other social media pages may become their biggest source of traffic to its sites and Web products, offering more targeted traffic than generic search traffic and more robust interaction with the brand's users.
The 'home page' of a magazine's Web site is going to become less and less important … every page will need to comprise elements of the 'old school' home page to drive traffic coming from a wide array of sources from one interior page to another within the site.
NAME: Bob Cohn
TITLE: editorial director, theAtlantic.com
PREDICTION(S): Two indisputable facts: editors are constrained for resources, while the stories we're facing—war, recession, terrorism, climate change—are not easy or cheap to cover. I predict that one way magazines will try to resolve this problem is through more frequent collaboration. Journalists have been trained to compete, not cooperate. But pooling resources, whether it's money or reporters or technology, can make good sense for outfits that want to remain ambitious in lean times. We all still want to beat the other guy, but sometimes the best way to unpack a complex and multi-dimensional story may be to forge ties with like-minded colleagues.
As crystal ball-reading, this is a bit of a cheat since at least one such initiative is already under discussion. To cover climate change, enterprises as diverse as Slate, Mother Jones, Wired, ProPublica and the Atlantic, among others, are in the early stages of forming some sort of partnership. Where it will lead, if anywhere, is not clear. But the possibility that magazines will on occasion come together to attack the big stories of the day is exciting. It means readers may get a better understanding of important subjects. And it means journalism may be ready for the kind of experimentation that the new economic realities demand.
NAME: Marcus Grimm
TITLE: marketing director, Nxtbook Media
PREDICTION(S): I think 2010 will be an exciting year for the industry.
After a difficult 2009, I see fewer boiler-plate success stories than ever. Instead, some resilient publishers are getting five- and six-figure digital magazine sponsorships, while others are reaping surprising rewards in mobile. Successes and failures are no longer dependent on your products, but your execution of these emerging technologies.
Trends and case studies will mean little to publishers in 2010. Instead, resilient entrepreneurs will look at what one or two other companies have done and will strive to figure out if it will work in their industry. It's a great year to stay on top of industry news, because it will contain the inspiration for your next success.
NAME: Guy LeCharles Gonzalez
TITLE: director of audience development, F+W Media
PREDICTION(S): Consolidation and debt restructuring will continue apace. More niche brands will focus on 'communitizing', with magazines becoming part of a larger ecosystem that will include virtual events and books, both print and electronic. Advertising will finally stabilize, but "growth" will mainly come from search and custom initiatives, including some ill-conceived "conversational marketing" programs that imagine Twitter as a viable hub. Digital magazines and mobile apps will be a bust for all but a few brands as the ROI fails to materialize. The Apple Tablet will be more horse than unicorn, becoming a major player in portable gaming but with minimal impact on publishing.
NAME: Anita Malik
TITLE: founder, East West
PREDICTION(S): As the economy begins to show subtle signs of recovery, publishers will return to what is the primary force of the media business, the reason we are all here … the content.
Content was lost in 2009 to the noise of social media. We won't compete on the number of tweets anymore, but instead, industry leaders, large and small, will look for new ways to get our paid product in readers' hands. Times will remain tough but the winners will be those that return to their roots to understand their audiences' consumption behaviors and tell the stories that set them apart. As a society we've been hiding on Facebook and Twitter to weather the economic storm, hoping our solutions would be delivered from our new social communities.  We will now remember the rest of our business, the reason we are here.
NAME: Joe Pulizzi
TITLE: founder, Junta42
PREDICTION(S): Twitter won't be the bright, shiny object like it was in 2009. That position will be taken over by Foursquare.
A few more well known magazine brands will shutter (not shocking), but some of those will be purchased by non-media brands and used as marketing vehicles.
Someone will launch the first online magazine through LinkedIn.
2010 will absolutely be the year that smart magazines figure out how to truly offer marketing services to their advertising customers. Those magazine publishers start to realize that they really are marketing experts after all, and never knew it.
NAME: Samir "Mr. Magazine" Husni
TITLE: director, Magazine Innovation Center, University of Mississippi
PREDICTION(S): Looking into my crystal ball I see one big word: 'All.' It is no longer an era for either or. Magazine companies have to give it their ALL whether in print or on the Web. The business model has to be rewritten and magazines are going to start charging more for their content. The era of 'Me Too' is on the way out and now more than ever magazines have to provide a point of difference in their content that will add value to the magazine and that will entice readers to pay a good portion for producing such content. It is nothing short but amazing to hear media companies now wanting to charge for content on line while they still sell printed magazines for $5.00 a year.  
As for the survival and death of magazines, I do not think there will be a shortage of good ideas, and technology is going to make it even easier to start printed magazines. The major shift will continue to be in the move from mass to class. Higher cover prices followed by higher subscription prices will be the norm and not the exception. New magazines arriving on the marketplace should have a "Must Have" stamped all over it. The era of "Nice to Have" magazines is gone.
Publishers will continue to experiment with digital until one smart creative company will find a way to make money out of digital and turn out products that don't look like a copy cat of their print cousins. Print will continue in 2010 to be the main source of revenue for most magazine companies, and we may have the same number of new magazine launches as this year: a little bit less than 700 titles.  Not bad for a so called dying industry.
And one final note, Bob Sacks will continue to tell us that e-paper is here.  Thank you Bob!
NAME: Amanda Ernst
TITLE: editor, Mediabistro.com's FishbowlNY
PREDICTION(S): 2010 will be the year of the new revenue stream. We'll see media companies trying out lots of new ways to earn money, including variations on pay walls and optimizing content for whatever e-reader devices will be on the market next. And there's room for some really off-the-wall new revenue stream ideas that will make wine of the month clubs and dating services look like good ideas. Think a reality show with eight reporters and editors picked to live in a house on the Jersey Shore.
Media companies will also be looking to partner up in order to pool resources and keep costs low. Non-profit journalism organizations and Web sites that rely on citizen journalism are a good place for traditional media to look for partners. But there's one partnership that we won't be seeing any time soon: The New York Times and News Corp.
NAME: Chris McMurry
TITLE: CEO, McMurry Inc.
PREDICTION(S): Corporate media will supplant traditional media as the leading information source for consumers. It is entirely possible that this has already occurred, as the process has been under way for many years. It is accelerated by technology because economic downturns reduce the number of traditional mediums and/or render those surviving as less attractive as advertising and marketing vehicles.
NAME: Michael Alcamo
TITLE: president, M.C. Alcamo & Co., Inc.
PREDICTION(S): First, the bad news: Marketing spending has been down; this means that in any four-book category, the fourth, and probably also the third publication, will quietly cease publication. Nothing more can be said about this—it will be very sad for all involved.
The good news, however, is in two parts: first, in the last 18 months, publishing groups learned to do more with less. Despite the recession, industries still need to communicate. Manufacturers need to communicate with distributors and with end-users. Telescope companies need to communicate with astronomers and birdwatchers. Art galleries in Santa Fe need to reach collectors in Dallas and New York. Print remains an indispensable vehicle, and we do not foresee that it will be supplanted by digital any time soon.
If you've watched CPMs for online advertising plummet, you'll realize that online media is not delivering what it promised. Revenue will return to the print media market in 2010; as it does, it will come back at high margins of 75 percent or better.
The second part of the good news is that print businesses spent time developing meetings, events, custom publishing and other programs to diversify their revenue streams. These will also strengthen in parallel, as T&E budgets come back to normal. We should see revenue grow at a balanced rate across differing platforms. We expect 2010 to 2012 to be a very profitable time for the industry.
NAME: Amiad Solomon
TITLE: CEO and founder, Peer39
PREDICTION(S): The online advertising ecosystem will revolve itself around data in 2010. As increasingly similar platforms emerge to facilitate the buying and selling of media, those who will succeed will be those who can leverage many data attributes in real time. Infusing every impression with the most accurate and relevant data ensures maximum advertising value.
As publishers sell a shrinking percentage of their media directly to advertisers, and other platforms become part of the process, the critical factor that will separate them will be the quality of their data. The networks, exchanges and DSPs that integrate pertinent data in a seamless way will successfully reap the benefits of a more valuable ecosystem overall, and will have a big year in 2010.
This reliance on the power of data is especially crucial when it comes to non-guaranteed inventory—the fastest-growing segment of online advertising. Typically under-monetized, these impressions have potential for high CPMs, and can be moved into what is called the 'Secondary Premium Market.' With the expansion and improvement of data attributes, this bucket will continue to grow and show better performance and attract more premium-priced branded campaigns.
NAME: Dennis McKenna
TITLE: CEO, e.Republic
PREDICTION(S): Leaving the economic predictions to others, a subtle but important trend for media companies in 2010 will be the accelerating competition for audience attention from all kinds of new sources—blogs, social media sites, twitter, iPhone Apps, etc. that deliver more focused content value to readers.
This means a media company's technology infrastructure will grow in importance and become a clear competitive advantage. Firms that make the right investments and build content strategies and tech platforms that are fast to adapt, broadly integrated and able to evolve with developments in technology and audience/advertiser needs will come out ahead. Also, realizing that it is unsustainable to keep adding IT staff, these dynamics will drive all but the largest media firms to cloud-based solutions for everything from content management to audience development and engagement.
NAME: Robin Ashton
TITLE: publisher, Foodservice Equipment Reports
PREDICTION(S): I think we'll see stabilization and a gradual improvement for our core print and electronic products as the year moves on. In our very narrow market, foodservice equipment and supplies, manufacturer sales will continue to decline moderately again in 2010. But many of our customers are beginning to return or ramp up, as they see success has become a market-share game. Our biennial chain meeting in February '10, MUFES, is actually trending ahead of '08 in terms of end-user attendance and sponsorships. I just think people want to get back to work and get what's out there.
The Great Recession has made our customers more open to new products, especially video, so we're working at rebuilding our Web site in '10 to get all the new tools. But for most customers, the downturn has not undercut their acceptance of our core print products. They still see the value of print for building brand equity. We'll just make sure we have all the ways to get our customers to their biggest buyers.
NAME: Carla Blanco
TITLE: CEO/publisher, 3Digit Media LLC
PREDICTION(S): I'd like to see a more unified network of regional magazines so that can compete for national ad dollars.  Regional magazines tend to reach affluent homes in such a saturated way that most national magazines can't complete.  This is assuming that luxury brands will begin to advertise again in 2010.
Cash will be viewed as king. Debt will be viewed as the joker. Too many losses, bankruptcies, write-offs etc. happened in 2009.