After more than 20 months and a presidential campaign that seemed like it would never end, Election Day is finally here.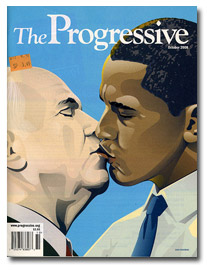 As you cast your ballot in this historic race today, FOLIO: would like to invite you to take a moment and look back at some of the race's award-winning (New York's "Fist Bump"), compelling (Time's "Contender"), controversial (New Yorker's "Fist Bump," the Atlantic's John McCain, Newsweek's Sarah Palin closeup) and downright bizarre (the Progressive's McCain-Obama make-out, right) magazine covers from the U.S. and abroad.
Click here for the slideshow …
EDITOR'S NOTE: There are four "fake" covers included among the 115 we chose for the slideshow. See if you can pick them out—in a race that, at times, became its own caricature, it's tougher than you think.