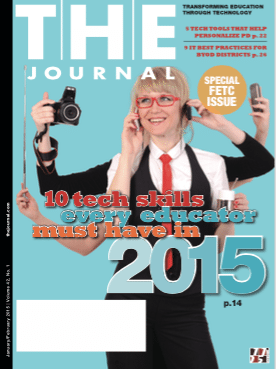 Digital-to-print launches like Allrecipes, POLITICO Magazine and The Pitchfork Review are becoming increasingly common, but it's rare when a brand that decided to abandon ink and paper returns to it.
T.H.E. Journal, 1105 Media's magazine about K-12 education technology, is doing just that though. The title, which scrapped its print edition in 2012, will debut its new print edition at a related 1105 trade show in late January.
"When the decision was made to cease the publication in print, it was based on indicators that digital-only strategies were growing in popularity with advertisers," says 1105's COO, Henry Allain. "We discovered that may be true in some markets, but clearly not in the K-12 ed-tech space. This segment of the market continues to have a vibrant print offering…We needed to be back as part of the mix."
Despite marketing leading digital offerings, in a competitive landscape with six other print magazines, T.H.E. Journal's sales team was short a tool that every other rival had, Allain says.
"In this market segment many agencies and marketers are committed to integrated buys," he says. "We found ourselves at a disadvantage when we didn't offer print as one component of the buy…It was a bit frustrating for the sales team to have to continually deal with the question: 'Where is the print component of this proposal?'"
The return of print is paying immediate dividends. The 38-page inaugural issue has a 50-50 ad edit ratio—"significantly higher" than it had been for digital-only editions, according to Christopher Piehler, the magazine's editor-in-chief.
Along with the print relaunch, circulation will double: 50,000 print issues will accompany the 50,000 digital editions currently being sent out. Frequency will be cut from monthly to 7x however, to more closely align with the segment's active seasons, Allain says.
"When I talk to the connected educators who make up our audience, they say that their computer desktop is more crowded than their literal desktop. For these people, whose job is to grapple constantly with a barrage of emails, texts and tweets, reading something in print can be a way to relax and really focus," Piehler says. "We did a survey that showed reader interest, but for me the most powerful motivation came when a member of my editorial board said to me, 'You know, I hate to admit it, but I read the magazine more when it was in print.'"