1105 Media: The 2012 Federal 100 Awards Gala

Lessons in maintaining credibility through a 23-year run.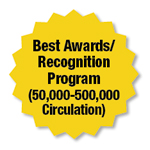 Organized by FCW, an 1105 Media brand targeting federal government technology executives, The Federal Awards Gala has become a long-standing, must-attend event with a heavy dose of both entertainment and hard-won recognition for federal IT leaders who are pushing the technology envelope in government.
Awards galas can sometimes devolve into emphasizing revenue and ticket sales over credible recognition and judging, and The Federal Awards Gala has avoided that trap by maintaining the separation between sales and selection.
Winners and their guests attend for free, while the vendor and contractor community pays for their tickets and sponsorships to gain access to the market's tech buyers and influencers. With 100 awards given, that's up to 200 attending at no cost.
"In the early years, we lost money on this," says Anne Armstrong, president of 1105's Government Information Group. "But we did it as a public service and the winner and the guest attend for free. This is not one of these things where you get invited so you buy a table. If we've done our job and selected the right influential people [for the awards], then there are a lot of people who want to be there and meet with them. And that's the sponsorship model."
Government employee ticket rates are $150, says Armstrong. And industry executives pay $350 per ticket. Sponsorships range from the $40,000 President's Award Sponsor to the $14,500 Award Photo Sponsor. Some sponsorships are tied to paid advertising in FCW—the Award Photo sponsorship, for example, jumps to $24,000 with a four-color, full-page ad in the special Federal 100 issue dedicated to the awards ceremony.
At full ratecard value, a sponsorship sellout could gross the program about $425,000.
These days, about 1,000 people in total attend the black-tie affair, which traditionally features a well-known comedian as the main entertainment. Colin Quinn was this year's guest and previous galas have featured Al Franken and Paula Poundstone.
The comics, says Armstrong, have to adhere to two rules: No making fun of the president, and keep it family-friendly.
Winning an award is not characterized as joining a hall of fame, notes Armstrong. It's akin to going above and beyond the person's job. "This is an all-star team," she says. "These are individuals who did something important that's not just part of doing their job."
Close to 500 nominations were made for the 2012 awards and the judges panel is selected primarily from government executives with some industry representatives as well.
The judges panel is a critical component to the awards—and not just for its objectivity. The ability to know who the players are and how to separate the attention-seekers from the folks who are actually responsible for the work is highly valued. "They're the people who know where the bodies are buried and who has actually done the good work," says Armstrong. "The rule is whatever is said in that room never leaves the room. It's one of the most fascinating days of the year for me."
Meet the Author
---