New Owners Tap George Lois, Luke Hayman for 02138 Redesign

Renowned designers to overhaul magazine for relaunch.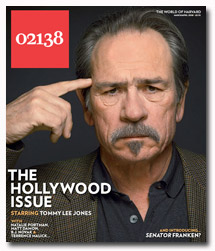 Manhattan Media, the community newspaper and magazine publisher that acquired irreverent Harvard alumni publication 02138 this summer, has hired legendary Esquire cover designer George Lois and noted Pentagram designer Luke Hayman to help lead the magazine's redesign set to launch later this year.
Hayman will oversee the magazine's redesign while Lois, who is famous for his 1960s Esquire covers, will design the cover for the winter 2008 relaunch issue. The issue will showcase the Harvard 100, the magazine's annual ranking of the college's top 100 living alumni.
Both Hayman and Lois will remain with the magazine on a consulting basis, a spokesperson tells FOLIO:.
Manhattan Media also has named former Maxim group publisher and Giant magazine founder Jamie Hooper as publisher and CEO, and David Blum as editor-in-chief. Blum most recently served as editor of Manhattan Media's New York Press.
Hooper replaces Meredith Kopit, who left 02138 prior to the acquisition. Blum replaces former executive editor Richard Bradley, who accepted the editor-in-chief position at Sandow Media's Worth following the acquisition announcement.
When Manhattan Media acquired 02138 in May, the publisher said it planned to increase the quarterly's frequency to six times per year in 2009, as well as roll out similar magazines for all eight Ivy League universities within the next three years.
Meet the Author
---