Why 'Falling Paper Prices' Isn't as Good as it Sounds

A new indicator that print is in decline.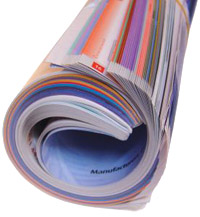 Important quote from yesterday's story on the price of paper reportedly peaking in October (emphasis, mine):
Magazine paper prices have risen about $230/ton—about 25 percent—in the past 18 months, [deputy editor of PPI Pulp & Paper Week Chris] Cook said, but he doesn't expect them to fall that far "because producers will idle their machines rather than run at a loss."
Here's the rest of Cook's analysis:
"Mills are already taking downtime to prevent price erosion but whether they can remove enough capacity quickly enough to keep prices firm is doubtful. When producers again match supply to demand the market will tighten and price hikes become possible, but for this to happen either we need an economic recovery which generates more paper demand through increased print advertising or producers will have to remove capacity.

It looks to me as if magazine publishers are in for a world of hurt next year with revenues pinched by the lack of advertising, circulation pressured by consumers' reduced discretionary spending and relatively high costs for paper and postage."
In other words, paper prices are gonna fall, but that's because there aren't enough magazine ad pages to print or consumers to buy them.
Meet the Author
---