Why Aren't Magazines Selling More?

MPA Retail Conference: Day two report.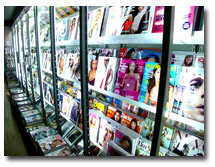 TAMPA, Florida—Magazines, when they sell, are a category powerhouse. So why aren't they selling more?
Day two of the Magazine Publishers of America's 2008 Retail conference was dominated by data looking to answer that question. Surveys anchored the day's presentations—from the role of magazines at retail from a female shopper's perspective; to a Willard Bishop Grocery SuperStudy that highlighted the magazine category's significant profit margin; and finally, a united call to action from three of the industry's distributors. And while magazines do face some challenges at retail, the performance-based figures are very positive. Yet these figures are good only when magazines actually make it from shelf to shopping cart, a transition the day's speakers and panelists paid special attention to.
Magazine Shoppers Like to Buy
Wendy Liebmann, founder and CEO of retail market research firm WSL Strategic Retail, presented a niche version of WSL's "How America Shops" survey that examined the magazine's place in a shopper's retail experience-how 700 (mostly female) shoppers who usually buy magazines compare to a broader population of shoppers that tend not to. Top-line findings show women who tend to buy magazines when they go shopping are cautious shoppers, but they like to browse. In fact, they're a bit less price-sensitive, said Liebmann. Also, women who buy magazines at retail shop at a greater variety of channels, and are more likely to buy online: 71 percent of magazine shoppers shop online compared to 34 percent of regular shoppers. Magazines are number-one on the list of an affordable, less than $10, treat. Sixty-one percent surveyed prefer magazines over beverages, books and candy.
Magazines Perform Well
Tom Griffith, senior consultant at Willard Bishop, another retail market research firm, presented findings from the firm's Grocery SuperStudy, based on a calendar 2006 analysis of all departments and SKUs in a cross-section of stores. The study noted that while center-store space is shrinking in favor of perimeter space, magazines are a solid category performer.
Among the findings:
Within general merchandise, magazines generate 6.4 percent of sales and 16.3 percent of the profit at $.58 of profit per unit.
Magazines provide a higher true profit per unit than other front-end categories: Gum, $.27; candy, $.12; carbonated beverages, $.08; and snacks, $.34.
A Call to Action
A panel representing the industry's major distributors-Drew Wintemberg, EVP sales, Time/Warner Retail, Jay Felts, SVP sales and marketing, Comag, and Jay Wysong, EVP and COO, Distribution Services, Inc.-offered a compelling call to action for the industry to improve retail sales. The day's earlier presentations offered positive retail performance figures for the magazine category, and this panel offered some of their own, but the full sales potential of the category can only be met if the industry unites in its message to retailers, said Wintemberg. Despite rock-solid performance, retailers still aren't giving magazines the space or attention needed to exploit the sales figures. "We, as an industry, have got to find a way to get together and make it easier to do business with our category," said Wintemberg. "We have to put our egos aside because if we don't we're going to lose the space to other categories."
Wintemberg compared the effort needed to sell the category into retail to the effort the industry puts into lobbying for postal rates. "We need to mobilize our industry around newsstand in the same way as we have with our postal rate lobbying efforts. We need the same commitment," he said.
Comag's Felts noted that when dealing at the retail level, the category must be sold first and then sell the title. "We need to secure the beachhead first, and then get into the individual titles," he said.
Felts said the category's profitability, despite being comparatively high, remains hidden. "On the supply side, this comes across as an unnecessarily complex business, but we're quickly approaching the $5 billion sales mark as a category in 2010."
Wintemberg said the panel's presentation will soon be delivered to industry organizations to help facilitate the united message. "You have to take it and use it as a preamble every time you make a call. Treat this as an industry first," he said.
Meet the Author
---