WhoSay Boosts Distribution Through Huffington Post, Flipboard and Tango Partnerships

Celebs can post content directly to media platforms.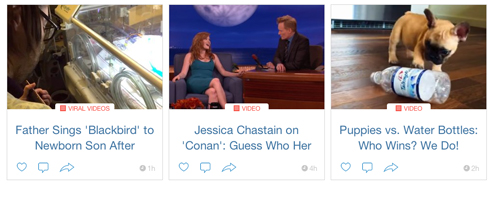 Celebrity social posts, whether ill-advised or perfectly orchestrated, are engagement gold. And WhoSay, a distributor of celebrity-provided social content, has broadened its reach through new partnerships with Huffington Post, Flipboard and mobile messaging service Tango.
WhoSay acts as sort of a clearing house for social-oriented posts from a network of more than 1,600 celebrity members, collecting and managing their posts on its own publishing platform and also distributing them across the various social networks.
The partnerships effectively give celebrities using the WhoSay platform direct access to Huffington Post and Flipboard, just as if they were  posting to Twitter or Facebook. Celebrities—or their handlers—can publish directly to HuffPo's celebrity vertical from the WhoSay talent app, for example, or directly into a new magazine for Flipboard called Celebs Unfiltered.
The partnership with Tango will integrate WhoSay celebrity content with the text and other messages users send to each other.
These partnerships follow on the heals of one made with People magazine back in March.
See Also: People Integrates Celeb Social Posts Into New Vertical
For WhoSay, it's a significant distribution boost for its celebrity members and for the media brands it's a new stream of highly shareable content, provided directly from celebrities themselves.
Meet the Author
---