Which Magazine Has the Youngest Readers?

MRI Spring 2008: Just 38 titles reach 18-34 demo.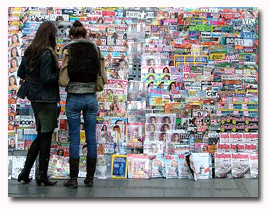 Which magazine has the youngest readers? Which has the oldest? The biggest household income? The lowest?
How many copies of Bridal Guide are passed along?
Those are some of the questions that can be answered twice a year, when Mediamark Research releases the results of its survey of some 222,210 U.S. adults.
According to MRI's Spring 2008 findings, released today, Bridal Guide topped all magazines in readers per copy, with an average of 26.77 for its 171,000 circulation. Bridal Guide bested men-centric titles like Truckin (26.35), Street Rodder (23.62), WWE magazine (19.76) and Super Chevy (19.69).
Endless Vacation (1.06), More (1.16), AARP (1.42), American Legion (1.44) and, surprisingly, Inc. (1.55) have the fewest readers per copy, according to MRI.
Youth Movement?
Despite repeated calls for the print magazine industry to capture younger readers, just 38 of the 255 studied by MRI can claim their readers' median age to be within the coveted 18-to-34-year-old demographic. Teen Vogue (23.8), Cosmo Girl (24.1) and Seventeen (25.5), not surprisingly, have, on average, the youngest readers; Game Informer (26.1) and the Official Xbox Magazine (27.3) round out the top five.
While AARP's 24 million-plus readers have a median age of 62.2, two magazines skew older: American Legion (63.5) and the 1.55 million-circ VFW (63.8). (The number of titles reaching the under 34-set, at least those measured by MRI, has actually gone down; 39 magazines had median readers under 34 in 2003.)
New York magazine, though, decreased its median age (47 per MRI's Spring 2007 report) by 8 years to 39—the largest decrease of any magazine included in the study.
Household Income
Thirteen magazines reach readers with average household incomes of over $100,000-and five of the top 10 are in-flight magazines: readers of Hemispheres, United's in-flight magazine, top the list with an annual household income of $126,377 (Pace, which publishes Hemispheres and Delta Sky, lists two unspecified titles with median incomes of $108,939 and $105,667, respectively); NWA World Traveler ($104,363); and Delta Sky ($103,174).
Veranda ($117,428) has the highest household income reader for non-in-flight magazines. The Economist ($117,225), at number three, is read in households that have more average income than readers of the Wall Street Journal ($116,442).
Magazines seem to have come a long way in reaching high earners—in 2003, for instance, the Journal was the only title with readers with more $100,000 in household income.
Readers of Soap Opera Weekly, at $35,067, have the lowest household income; the magazine, however, has one of higher the pass-along rates (17.46 readers per copy).
Meet the Author
---