Which Advertisers Have You Blacklisted Today?

An anonymous, running list.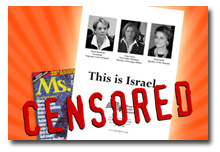 Ms. Magazine's refusal to run what appeared—at first glance—to be a benign advertisement touting female Israeli leaders, as FOLIO: first reported last week, has caused a bit of a stir in the American Jewish community, who are claiming the magazine is being anti-Israel. The magazine claims it is merely being anti-political:
"Ms. magazine's policy … is to only accept mission-driven advertisements from primarily non-profit, non-partisan organizations that promote women's equality, social justice, sustainable environment, and non-violence. The ad submitted by AJCongress for consideration appeared to be a political ad, and as such, was inconsistent with this policy. With two of the women featured in the ad from one political party in Israel, Ms. concluded that in accepting the ad it could be viewed as though it was supporting one political party over another in the internal domestic politics of a country."
It also begs an interesting question for all you freewheeling magazine publishers out there: What sorts of advertisers have you turned down? And why?
Publishers, we want your horror stories! And blacklists! Please leave them in the comments section below. Anonymity is guaranteed.
Meet the Author
---