What Newsweek Can Expect from Sidney Harman

A former trade publisher shares his personal experience with Harman.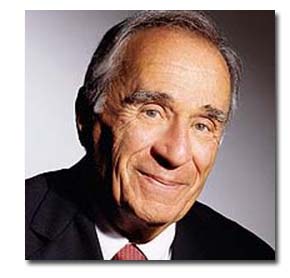 Audio pioneer Sidney Harman [pictured] was never shy about offering his opinions of and to the press, including industry trade publications. My experience with Harman began 51 years ago when I launched an audio industry business weekly called Audio Times.
I began this journal because, as an audio hobbyist, I sensed a need for an informative newsweekly that would provide a steady flow of information about the wide range of products coming to market. Was I qualified to do this? Heck, no! I had no business contacts in the field and no experience in trade journalism. I did have a BS in Journalism and lots of enthusiasm. This was hardly preparation for the rough and tumble world of trade publications. I decided to handle sales and marketing and took the title of publisher. As luck would have it, a terrific and experienced editor named Robert Angus found his way to Audio Times via a classified ad.
We launched without a single paid ad—determined to prove our value by avoiding the hype omnipresent in so many trade magazines of that era. Suddenly, after the fourth issue appeared, Sidney Harman's secretary called. She said Mr. Harman wanted to see me in his office to discuss advertising. My spirit soared. It was our first bite—and entirely unsolicited. With the hubris of youth I was certain the Harman Kardon company would be our first advertiser. The cost for a page was a modest: $ 1500—with a $600 premium for the back cover.
The next morning I drove to Harman's office on Long Island. I was ushered in right away. Mr. Harman was very direct. "I think you're onto something," he asserted. "I'm willing to have Harman Kardon be your first advertiser."
My chest swelled!
"There's one thing," he added. "I see this as a very risky business decision—going into an untried and untested magazine, so I want to minimize our risk. Our company's advertisements must run only on the back cover of Audio Times—and we'll pay just $500 per page."
"Mr. Harman," I replied," It would be utterly impossible for us to ever make money selling ads at such a rate. How could we survive?" He smiled and said, "If Audio Times has Harman Kardon ads running on the back cover of each issue, other industry suppliers will fall in line and begin advertising in every issue. It's the best promotion your fledgling publication could possibly have."
I told him I needed to sleep on his proposal. I would give him my decision in the morning. All night long I wrestled with the concept of having negotiated rates for each advertiser. Perhaps it was idealism. Perhaps it was inexperience. I couldn't see offering rates that weren't substantially the same for each advertiser, depending on frequency and size. Editor Bob Angus agreed.
I called Sidney Harman and gave him our decision, "OK," he said, "just remember Harman Kardon was the first company to offer your publication its support. It may be a long time—even years—before Audio Times gets another chance with Harman Kardon." And so it was. But our relationship didn't end there.
Despite the fact that HK wasn't an advertiser, Harman didn't hesitate to offer his candid opinions of the publication's flaws. He was both critical and reflective. It was infuriating to have a non advertiser telling us what he thought our editorial voice should be.
A few years later Harman Kardon was sold to Jerrold Electronics, a cable TV supplier run by Milton Shapp, later to become governor of Pennsylvania. It was only then that Harman Kardon became a regular and substantial advertiser in Audio Times.
Sidney Harman forced me to make a business decision I never regretted:
maintaining price integrity for Audio Times and two dozen other business journals I  later launched.
Now, the shoe is on the other foot, so to speak. It will be interesting to see how Mr. Harman will deal with the enormous pressures his new marketing team will face from advertisers demanding significant rate discounts to advertise in money losing Newsweek. Good luck, Mr. H. I promise not to offer my advice.
Meet the Author
---