Wells Media Launches New Website

CarrierManagement.com targets the insurance industry executive suite.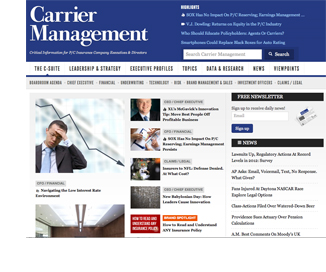 In a particularly digital-first way, Wells Media, a San Diego-based b-to-b publisher serving the property/casualty insurance market, has launched CarrierManagement.com, which, for now, does not have a print counterpart and focuses on management issues for property/casualty insurance executives.
The site is intended to be a sister site to Wells' Insurance Journal brand, relying less on a news-focus and more on the trends in corporate management issues specific to insurance companies.
The site isn't going for big scale, but rather hits a niche insurance executive market numbered in the 10,000 range, says CEO Mitch Dunford.
"Out of the 300,000 uniques [across Wells' sites] we get every month, over 32 percent describe themselves as some kind of insurer. Also, 18 percent described themselves as C-level or senior management, so that signaled it was time," adds Julie Tinney, vice president of sales and marketing.
That C-suite demographic is what helped justify the launch. The advertising pool overlaps a bit with another Wells title, Claims Journal, but Dunford says there's potential for a new universe of customers looking to get in front of insurance executives.
Twelve charter sponsorships have been set up, says Tinney, reflecting a sales model that will rely on a content marketing format rather than impressions.
Dunford adds that a quarterly print counterpart could launch later in the year as a way to help bolster the site's audience. "We did the same thing when we launched our Claims Journal product last year," he says. "We had the site for a number of years and we launched a quarterly print publication. We were able to sell enough ads in print to cover the cost and the result was a significant increase in traffic to the site."
Meet the Author
---