The Weird Pricing Plan at Barnes & Noble's Magazine Store

Are digital magazines worth as much as print?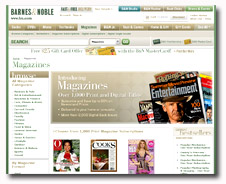 Barnes & Noble announced this week that it will begin selling magazine subscriptions online at steep discounts to more than 1,000 print and digital titles. Print subscription prices range from as low as $5.99 (Batanga) to $299 (Adweek). Digital subscriptions range from $1.56 (24-K) to $1,372 (Jane's Defense Weekly). Digital single issues range from $0.99 to $99.
The retailer scoffed at the idea that it would be competing with discount subscription sellers. (I don't buy it. Nor does John Harrington, the New Single Copy editor, who said "it's not much different from a number of online subscription sources.") But this is nothing new.
What is new, from what I can tell, is that, in some cases, the site is charging more for digital subscriptions than it is for print. For instance, a year's subscription to Men's Health is priced at $24.95, 44 percent off its $45.00 cover price; a digital subscription to Men's Health sells for $24.97.
Even weirder: some of the digital single copies BN.com is selling are priced close to their original cover prices. Granted, back issues of print magazines are usually inflated, so it might appear to be a good deal for someone trying to extract some old feature not online anywhere. But I sure as hell wouldn't pay retail cover price for a digital copy of something I could find in print elsewhere, even if it took a little eBay digging.
Barnes & Noble says digital magazine publisher Zinio and M2, its print fulfillment partner, are responsible for the prices. "They're actually the seller of record. And they're selling the magazines through our site to our customers. So they're setting the prices."
So, Zinio, what gives?
UPDATE: See Zinio's response below. 
Meet the Author
---