A Web Traffic and Engagement Tip Sheet

SEO and Web content experts share their best practices.
Everyone needs a review sometimes. And in the highly competitive and, especially for magazine publishers, make-or-break world of Web content publishing, SEO and engagement are two critical strategies that deserve perpetual oversight and review. So, in that spirit, we've spoken with a number of SEO and Web content development experts across the industry and compiled their favorite ways to drive—and keep—traffic to their sites.

Optimization and Traffic
Topic Pages Are the Anchors
We're all creating hundreds of thousands of pages of content that come and go on a daily basis. Topic pages that never change their URLs, however, are like a traffic magnet. Over time, other sites will link to them, building up that all-important "Google juice," and topic pages tend to be very keyword heavy.
"If something has been up over time, you build up more incoming links," says Kelly Maloni, director of product development at New York. "Google is looking for incoming links, keyword-friendly URLs, and keyword-rich pages. Pages that have those and don't change over and over again have a lot of weight. It's about owning the keywords, a simple URL, and owning that space."
Remember Your 301 Redirects
Every site needs to rebuild its structure at some time or another. If you do have to change a URL to a topic page or a directory page, make sure you alert the search engines with a 301 Redirect command, which tells search engines that the old URL is the same as the new one.
"We're pretty obsessive about the 301 Redirects," says Maloni, who warns that without it, Google will treat the URL as a brand new one and all the elements built up over time that gave the page a high ranking will be erased. SEO for that section will have to start all over again. "Instead, a 301 Redirect tells Google that the old URL is now the new one, and to consider them the same page and keep the page rank."
Social Media Isn't Just a Buzz Phrase
"It can actually work from a traffic standpoint," says Jonathon Hills, acting GM of ReadersDigest.com. "We've done a lot to ramp up our social media efforts, which now account for a good portion of our traffic."
Digg, StumbleUpon, Facebook, Twitter—they're all being used, but not indiscriminately. "Social media is a fuzzy area, but if you select the channels carefully and position the content in a way that makes sense to your brand, it can be a powerful traffic driver," says Hills.
Leverage Your Analytics
"A lot of my work comes from looking at analytics," says Alison McPartland, manager of search and discovery strategies at Questex Media. McPartland created a "Top Author" report that identifies which editors and what content brings in the most traffic—and uses it to foster a bit of friendly competition. "It's the top 30 articles of content per month," says McPartland. "We pull who the author is and what the topic is and analyze page views, percentage over site, total amount of keywords that were driven to that story, average time spent, bounce rate and exit rate."
The content analytics reveal how visitors find the content (keywords) and what topics are trending high. McPartland then makes sure to share the details with the editors. "It gets them competitive with each other and makes them proactive, rather than waiting to see what works."
Leveraging Syndication's Results
Finding other Web sites and portals to syndicate your content is another way of driving traffic back to your site, but it's what you do with the traffic that's also important.
"We've got great partnerships with MSN, Yahoo!, AOL and some smaller sites as well," says Sean Nolan, Rodale's VP of online operations. "We assume we're getting new audiences and populate the article with downstream links. We try to get them around the rest of the site and show them related content—maybe have a subscription or product offer."
The E-mail Newsletter Connection
Create and send e-mail newsletters as often as people give you permission to. "It really begins with e-mail," says Jason Revzon, VP of Taunton Interactive at Taunton Press. "Half of our traffic comes from search, but e-mail is hugely important. It's your way of reminding people what's on your site. Depending on the site, we double or quadruple our traffic when the e-mails go out."

Content and Engagement
Tease Related Content
"You want to watch for people viewing multiple pages of content across the board," says Omid Jahanbin, director of product design and creative strategies, interactive platforms, at Cygnus Business Media. "We want to keep on average four pages of content on the top of our page view line."
Time the Release of Certain Content
Post content when your audience is most likely to read it. "You want to release content when you have a high traffic period," says Jahanbin. "Typically, 11:00 am is very high for our publishing partners."
The added benefit here, says Jahanbin, is readers are more likely to avail themselves of the sharing functions, too—e-mail to a friend and the social networking buttons. "There's a reason corporations release news they don't like on a Friday. It's lost its mystique by Monday."
Content Packaging and Presentation
Don't just shovel a 2,000-word story into a single Web page. Break it up. Add infographics. Consider changing the format completely. "We're always trying to turn a full-length magazine article into a seven-photo slide show, for example," says Hills. "We could take that and break it down and extract pieces and add some relevant images and create a whole new story—that presentation works better than a 1,000-word article. Or we could turn 25 tips into a one-minute Web-exclusive video clip."
Reformat Your Video Presentation
Consider breaking up a longer-form video subject into a number of shorter clips that can play in a series. Taunton's Revzon has introduced "snack-sized" videos that visitors are watching all at once. "We recently went from a single-clip player on a page to a player that has eight clips on a subject that play in order," he says. "People are watching eight videos on average, and that keeps them there a long time. They're small nuggets—between 40 seconds and two minutes—but they're put together in a way that lets you lean back and enjoy them."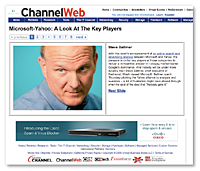 Make Your Slideshows Tell a Story
A perennial page-view favorite, it can actually be hard for image-only slideshows to keep readers until the end. At UBM's Channelweb.com, vice president and editor Larry Hooper says they get 80 percent pull-through on their slideshows by adding some editorial content. "We treat them like stories, not like a bunch of pictures with captions," he says. "We take a graphic novel approach to pull people through."
Hooper also says that he'll substitute a slideshow or other visuals for a text-based story where it makes sense. A story about 10 new laptops, for example, could easily be turned into a slideshow.
Pull Your Visitors into Guiding Editorial Development
User-generated content is one thing, but having your site's most loyal visitors help guide story development accomplishes two things: Your editors have first-hand knowledge of what topics matter most, and your users are pulled deeper into the site experience.
"Instead of calling up five or 10 readers, we're starting the reporting within our community," says Hooper. "It creates more traction than just commenting. Our reporters have set up private groups and invite experts to join, and those are generating stories on the site."
Meet the Author
---