Web Site for Salon Pros Launches Print Title

Behindthechair.com expands brand with quarterly.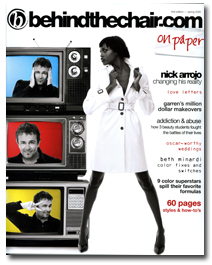 With a plenty of magazine publishers forced to shutter their print operations and go online-only, here's one online-only publisher going the opposite direction—expanding its niche brand into print.
"With the market being in such turmoil, it was a perfect opportunity for a small private media business focused entirely on the salon trade to take on our competitors in the print market," Mary Rector-Gable, founder of Illinois-based Behindthechair.com, said recently.
"Our competitors are much larger trade media companies with a significant number of titles outside our market," she said. "The nature of the poor economy has placed them in the unenviable position of focusing their efforts on cost savings across all their titles. While they cut editorial budgets, decrease the quality of their paper and continue to print monthlies with limited advertising, we instead print a quarterly with incredible paper, the best writers, the best columnists and contributors in the celebrity, international and trade market."
The first issue, Behindthechair.com on paper, will have a circulation of 75,000 for its 172-page spring 2009 issue, going to print three more times this year (July, September and November) at an annual subscription cost of $29.95.
"We've created a magazine that is so radically different than anything else in the market that we're being rewarded for it," said Rector-Gable. "The content mix, feel of the design and vibe of the attitude of our magazine is not by accident—it's based on nine years of watching how our members consume content."
In addition to print, Behindthechair.com will offer a free digital edition of its first issue. The July issue will also include educational DVD.
Meet the Author
---