Warwick Sabin

Publisher | Oxford American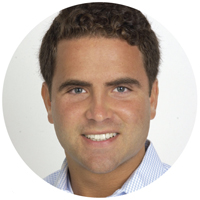 Warwick Sabin's year-long tenure as publisher of literary magazine the Oxford American has been anything but ordinary. When he took the top sales post last spring, the non-profit magazine was reeling after its former business manager allegedly embezzled as much as $100,000.
"I have spent the last year completely overhauling the Oxford American's business operations in ways large and small," Sabin says. "I have reorganized personnel, streamlined administrative management, imposed strict cost-cutting measures and financial controls, and achieved efficiencies with our limited resources."
Sabin, who also serves as associate vice president of communications at the University of Central Arkansas, was appointed publisher last April when the school granted the magazine a $140,000 loan (the magazine is published on campus).
While Sabin has been busy trying to right the ship he's also had to put out some fires, including one big one. Without much liquidity and faced with having to make a lump payment of $31,000 to the Internal Revenue Service (the magazine owed roughly $57,000 in federal payroll taxes as a result of the alleged embezzlement), Sabin sent an open letter to the media announcing that if the magazine was forced to make the payment it might have gone out of business. However, the following morning, an anonymous donor gave the magazine $100,000.
"I was very hesitant to call attention to this situation, because I had been trying to make sure that the Oxford American only received publicity for its outstanding content, not its business problems," Sabin says. "But by the time I sent the letter I had exhausted all of my options trying to negotiate with the IRS."
Sabin hopes Oxford American could return to profitability by the end of the year, a very short turnaround considering what the magazine was facing.
"Not only did we survive yet another existential threat, but the very public demonstration of support by our anonymous donor is a sign of confidence in the direction of the magazine," he says.
VITAL STATS: Sabin is trying to bring the Oxford American back to life after an alleged $100,000 embezzlement.
Meet the Author
---