Wal-Mart

The retailer cuts magazines, wreaks havoc on distributors.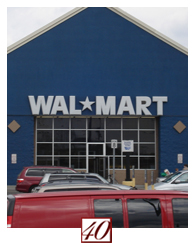 So long, Cigar Aficionado. Bye-bye, BusinessWeek. Adios, American Idol, The Magazine.
These titles, along with about 1,000 other mainstream and niche magazines, were officially cut from Wal-Mart's discount mega-store shelves in mid-January—a move that arguably turned into one of the biggest industry stories in the last 12 months. The company attributed the massive slashing to its Sustainability Committee and its commitment to reducing waste.
Initially, the announcement had news outlets like the New York Post calling it a "shock wave" through a "battered publishing industry." While magazines sold at Wal-Mart account for more than 15 percent of total U.S. magazine sales, others since have characterized the cuts more in terms of "trimming the magazine fat."
"It really wasn't that big a deal," says John Harrington, publisher of The New Single Copy newsletter. "The titles that Wal-Mart kept represent around 97, 98 percent of its total sales. Several large supermarket lists were already in the 1,100 to 1,200 range, so it's not precedent setting. Actually, Wal-Mart's sales may now expand."
While no major publisher was spared from Wal-Mart's cut list—titles from Time Inc., Hachette, McGraw-Hill, and Condé Nast were included—a significant portion were annuals and one-shots, non-magazine products (i.e. comic books) and magazines that had folded (Business 2.0, Elle Girl, Teen Vogue, etc.).
Perhaps those who are hurt most by the cuts are consumers who purchase their newsstand copies at Wal-Mart locations, and can no longer find the titles they read most often.
The real issue here, according to Harrington, is Wal-Mart's proactive sustainability initiative. "They're working with a large group of publishers and wholesalers," he says, "and say they want to achieve 50 percent sell-through (which is now under 40 percent), improve units by 5 percent and take waste completely out of the system throughout the distribution process."
VITAL STATS: Magazines sold at Wal-Mart account for more than 15 percent of total U.S. magazine sales. The 1,000 titles the company cut from its shelves represent only 2 to 3 percent of its magazine sales, according to The New Single Copy newsletter publisher John Harrington.
Meet the Author
---