Vogue Releases Latest Edition of Vogue Exclusive App

Offers Look at Costume Institute Gala at Met on May 2.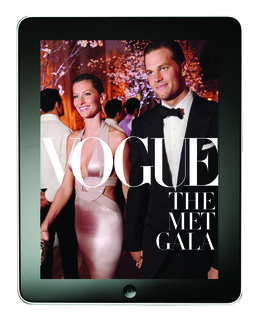 Vogue announced their latest version of the Vogue Exclusive app today. The app focuses on the Costume Institute Gala at the Metropolitan Museum of Art, the May 2 event which will celebrate the late designer Alexander McQueen and the exhibition opening of "Alexander McQueen: Savage Beauty".
For a $.99 download, the Vogue Exclusive app offers: three videos; an introduction to the new McQueen exhibition by Met curator Andrew Bolton; a tribute to McQueen by Vogue EIC Anna Wintour; a retrospective focused from 2006's "Anglomania" to 2010's "American Woman" and an intro by Vogue's European editor-at-large Hamish Bowles.
This is the third installment of the Vogue Exclusive app; prior editions included cover subjects, the pop stars Rihanna and Lady Gaga. The Lady Gaga installment is bundled with purchase of the Costume Gala edition.                                                                             
The Costume Institute Gala began in 1948 as a $50 plate midnight supper. The McQueen exhibit features 100 ensembles and 70 accessories from the designer's career.
Vogue launched the Exclusive app on February 17, with Vogue's Lady Gaga cover story anchoring the app offering. Additional interviews, photos, audio and video were included in the iPad-only app.
Photo Credit: Mario Testino/Vogue
Meet the Author
---