Victims of Media Layoffs Band Together to Party Like its 1999

Ex-Radar editor launches cheeky group for the freshly unemployed.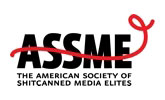 With all the layoffs in the media industry this year, it was just a matter of time before an enterprising victim decided to throw a party for all of the freshly unemployed.
Enter ex-Radar executive editor Aaron Gell, whose cheeky American Society of Shit-Canned Media Elites ("ASSME"—a dig at the MPA's ASME) is reinventing the famed "pink slip parties" of the dot.com bust era with a holiday party next week in New York. (Say what you want about the magazine, Radar always knew how to throw a good party.)
Here's the invite:
Who: Recently downsized magazine, newspaper, publishing, advertising, TV and Web professionals. Still employed?  You're buying the first round.
Where: Ella Lounge, 9 Avenue A
When: Wednesday, Dec. 17, from 8-11
Open bar with p.i.n.k. vodka from 8-9pm; $5 drink specials
Broke ass beats by Josh Link/photos by nickydigital.com
What to bring: a nice, gently worn coat for New York Cares.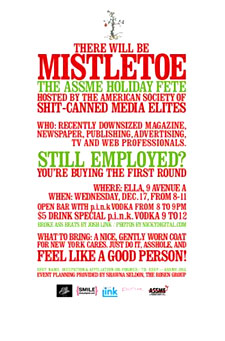 Meet the Author
---