Vegetarian Times Debuts Cover-to-Cover Redesign

Includes a new logo, editorial departments, color palette, and tagline.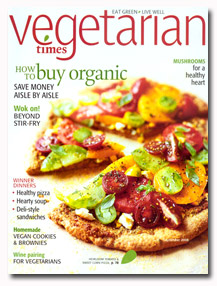 Active Interest Media's Vegetarian Times recently debuted an extensive redesign this month that includes a new logo, editorial departments, color palette, and tagline—"Eat Green, Live Well."
Readers of the 30-year-old publication for "vegetarians, vegans and non-vegetarians alike" will also notice easier-to-read recipes and more location photography.
VT's new editorial departments include "Technique," which shows readers how to improve their cooking skills and use specific kitchen tools, "Peak Season," which tells shoppers how to select the best available in-season produce, and "Healing Foods," which covers the health- boosting powers of natural foods.
"As the only epicurean magazine dedicated to vegetarian cooking and health, we wanted to create a fresh, modern look and feel that would truly inspire as it informs," VT editor-in-chief Elizabeth Turner said in a statement. "[The redesign] will give readers the concrete information they need to make delicious, smart food choices."
Newsstands sales for the title are up 25 percent over last year, according to VT. Subscription sales are up 5 percent and ad pages have grown 13 percent, as well.
Meet the Author
---