Variety Erects Online Pay Wall

Publisher: Traffic to fall 'steeply,' but 'we're not a CPM business.'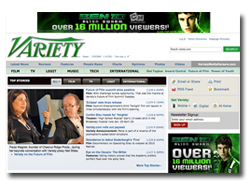 Visitors to Variety.com will soon enjoy a lot less free access. The trade magazine is rolling out the beta version of a pay wall that will require payment for full access to its portfolio of print and digital products.
 
Beginning Thursday at 9 a.m., one out of every 10 visitors to Variety.com who click on two pages will be prompted to register for further access. Current print and digital subscriber who have logged into the system will be allowed unfettered access for no extra fee.
 
Nonsubscribers, however, will be asked to pay a flat subscription rate of $248 which provides access to all of Variety's products, including the print editions of Variety and Daily Variety, as well as Variety.com and its digital edition. Those who opt not to pay the subscription fee will be restricted from accesses more than five content pages a month.
 
A print subscription to Variety currently costs $329.
 
"Our content online is no less valuable than in print, and should be paid for," publisher Brian Gott told FOLIO:. "It's not our subscribers' responsibility to decide to pay different price points for different products. This way, they pay one price and we deliver our content across all of our platforms."
 
Gott said full implementation of the pay wall will happen sometime within the next couple of months, although a hard date has not been set. In the meantime, Variety will collect user feedback and may "tinker with the online experience" to work out any kinks, complaints or login issues. "We'll collect those data points to help us shape the final experience," he said. "To be clear, though, we will not deviate from implementing the full pay wall."
Variety said content that will be unaffected by the pay wall will include the home page, headlines, brief article summaries and search results. Variety news will continue to be aggregated online as it has been, the magazine said.
 
It was not immediately clear if the $248 subscription rate will increase or remain the same following full implementation.
 
On average, Variety.com receives 2.2 million monthly unique visitors and roughly 10 million pageviews, Gott said. With the pay wall, the magazine expects those traffic numbers to fall dramatically. "The Variety user in print is purely b-to-b—they use the magazine to affect decisions they make for work," he explained. "Online users are twofold: there are business users and there are consumers who find us through Google."
 
"Traffic will fall steeply, but we understand that implementing a pay wall is not a circulation driver," Gott continued. "We're an endemic advertising vehicle and not a CPM business. In respect to the general consumer audience online, we and our advertisers care less about losing them as we do about keeping our b-to-b audience."
Gott said Variety also will be implementing a similar advertising model that will allow advertisers to pay a flat rate, depending on the ad, and have that ad across Variety's platforms. "We've spent the last two years getting advertisers comfortable and used to integrated packages," Gott said. "This won't result in a spike in advertising rates."
 
Variety.com formerly had a pay wall, but discontinued it in October 2006.
 
In a similar move, Google recently announced an update to its "First Click Free" program that will allow publishers to limit the number of free news articles accessed without registration for up to five days. Google users will start seeing registration pages pop up after they've clicked through to more than five articles on a participating publisher's Web site.
Meet the Author
---