Vanity Fair's Wolff Now Says Newsweek Will be Dead within Two Years, Not Five

Staring down the newsweekly barrel.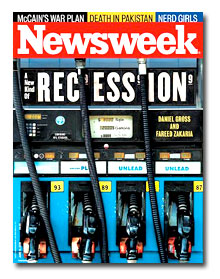 Michael Wolff, Vanity Fair's cranky contributing editor, Rupert Murdoch biographer and noted firestarter, stated publicly that Newsweek wouldn't last another five years.  After last week's news—first reported by FOLIO: ("Newsweek Mulls Dramatic Drop in Circulation")—that the magazine is considering a huge rate base cut, Wolfe says that he appears to have been "optimistic."
He's now revised it to two:
Sometime around the fourth quarter of next year, Newsweek will be shuttered (possibly there's a phase where it goes bi-weekly, or even monthly). The people at Newsweek and at the Washington Post Co. will be as adamant and dismissive about denying this as they were about my original assertion. And yet, they obviously can't be certain they have a positive future (or any future).
Here ("possibly there's a phase where it goes bi-weekly, or even monthly") Wolff is hedging his bet. While Newsweek doesn't "want to be seen as a U.S. News," it's entirely plausible that all traditional weekly newsmagazines—including Time and Newsweek—go biweekly or even monthly in two years, particularly if the advertisers who exited the print magazine market don't return.
It's interesting that Wolff, who founded Newser.com, a news aggregator, would want to put an expiration date on a magazine, given that his livelihood, at least in part, hinges on writing for one. (I asked Wolff how long he gives Vanity Fair; he wouldn't comment.)
But Wolff does make an interesting point, and it's something that we heard from some ex-Washington Post Co. executives when we were working on our story: "How do you say to your colleagues and your customers, while we're still here today, in all honesty we're toast tomorrow?"
It's a question some publishers are going to have to face sooner than later.
Meet the Author
---