The Value of Video

Four publishers discuss how they use a variety of models for video content.
For many publishers, video appears to have made the leap from fancy bell-and-whistle to reliable, significant stream of revenue. That said, the full picture of its promise is still developing; a variety of models are in use, and a number of potential directions are up for consideration. Here, Folio: checks in with publishers across the spectrum to assess the state and character of this medium right now, while looking ahead to opportunities beyond.
A Curation/Production Mix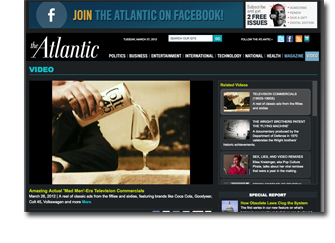 In an effort to substantially ramp up its video offerings, TheAtlantic.com launched a video channel last August that Bob Cohn, editorial director of Atlantic Digital, says is roughly 80 percent curated from around the Web, and about 20 percent original. "We can't possibly create as many videos ourselves as we'd like to offer our readers," Cohn says. "We don't have a huge video team and it's not our first skill set. At the same time, we saw incredible amounts of video out there with an Atlantic sensibility and decided it's more efficient for us to identify it and bring it to our site."
The channel—run almost entirely by editor Kasia Cieplak-Mayr von Baldegg, hired exclusively for this purpose—has increased 331 percent among unique visitors since launching, up from 140,000 to 603,000 per month. It is monetized through a mix of banner and preroll ads.
New York employs a similar mix of curated and original content for its Vulture video channel, which launched in February. For this, New York works with vendor Magnify.net on identifying, gathering, producing and distributing its entertainment-related video. Michael Silberman, New York Media's general manager of digital, says he's seen "tremendous advertiser demand," especially for preroll ads on original or licensed content. Recently, the site partnered with television show "Cougar Town" to run a series of exclusive videos while the program was on hiatus. "We're experimenting with relationships like that," Silberman says.
At another end of the spectrum, enthusiast media company Source Interlink (SIM) focuses primarily on original video production. In February it launched the Motor Trend YouTube channel, one of 100 new original content channels to roll out on the site this year, featuring eight separate shows ranging in length from five to 22 minutes, with new content appearing on the channel daily. The channel currently has 173,000 subscribers—up from 100,000 in August, from a near zero base four years ago—and draws 1.5 million unique viewers per week. The company receives an advance against revenue and then a share of return on preroll advertising sold against the video. All of the content is written, shot, produced and hosted in-house.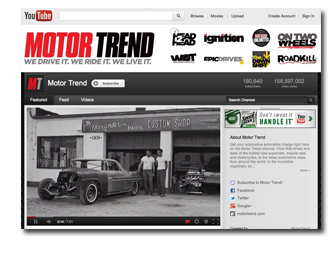 For SIM, original content is paramount: "That's the real value in any media company," chief content officer Angus MacKenzie says. He points out that Google changed its algorithm last year to more highly value original content. "I think original content is finally receiving its due recognition."
Making it Work
Of course, original content isn't free, MacKenzie reminds, "It's not even cheap." The investment is worthwhile to SIM, he says, because "video creation is an integral part of how we think and how we view ourselves as a business. We don't regard ourselves as a magazine publishing company; we are a content creation company, with media brands."
Still, MacKenzie says the investment isn't as large as one might think: "All we did was reallocate our assets and resources with the people we've built up and the experience we've gained over the years." The goal is to focus on return, he adds: "Before we do anything with a single story, we sit down and talk about what deliverables come from this." The teams consist of a core of content creators who conceive and write the stories, surrounded by production specialists and videographers who can deliver the content to various platforms.
Jim Spanfeller, former Forbes CEO who founded TheDailyMeal.com publisher Spanfeller Media Group in 2010, argues that the investment in video is often overrated. "You can buy a professional-quality camera for $5,000, buy an off-the-rack, high-end computer and put in editing software and you are fundamentally ready to go," he says. The Daily Meal launched a video network in February, with more than 300 originally-produced videos. But Spanfeller agrees that having a sense of the final product is key: "You can get off on a lot of tangents where you're paying too much."
Spanfeller warns against the pitfalls of working with vendors. "There's nothing wrong with a third party as long as you can get to scale," he says. "Often these folks present you a solution which in the near term is easier to accept but in the long term costs you more than doing it yourself."
The trick, Silberman says, is to balance the cost of creation with that of distribution. "If you invest a lot and can't get anybody to watch it, you can't earn it back."
Distribution: Challenge and Opportunity
Distribution is both a challenge and an opportunity for companies with legacy brands, says Silberman: "The audience isn't necessarily conditioned to go to a magazine website to look for video. Finding smart ways to drive more audience is definitely a priority."
YouTube is one way New York is experimenting on that front. "The main point is to expose our video to a wider audience and hopefully drive some of that traffic back to our website," he says. "It's not a huge source but it certainly helps raise awareness that we produce video."
The Atlantic, however, has so far avoided the YouTube route: "At this point, we are eager to host much of the video conversation and audience here at TheAtlantic.com," Cohn says. Social media editors, meanwhile, actively promote The Atlantic video, driving traffic to the site.
The distribution opportunity comes in leveraging brand power: New York, for example, partnered with NYC-TV to run "Best of New York"-themed stories on its city television channel and in New York City taxi cabs.
"Print is our heritage," adds SIM's MacKenzie. "We're never going away from that. Some of our brands have been around for more than sixty years. We can leverage that expertise across different platforms."
New Directions
One of these platforms, for SIM, is the Google TV Android app, which allows for on-demand, Web-based viewing of video content. "We're still in early days, but we think connected television, or Internet television, is going to be an important technology," MacKenzie says. "It allows us to do our own television programming without having to go through the traditional model of pitching to a network."
According to Spanfeller, the notion of on-demand, consumer-controlled access to video is vital. "Right now, we've been fairly slavish to what's gone before in television," he says. "There's nothing wrong with that, but there is an opportunity to have more one-on-one interaction, without having to worry about being a half-hour show. Online is fundamentally not a linear experience. You get redirected. How we set up navigation is going to be important going forward."
No matter the direction, video will continue to be an area of focus. "We think there's significant room for growth," says Cohn. "If we had the bandwidth, we might try to make the effort we're making broadly across our seven specific channels. Right now we feel we've seen pretty good growth and have had pretty good success monetizing that, so we're going to keep on pushing."
Meet the Author
---