The Value of Online Content: Practically Nothing

Demand Media cuts costs, ramps up volume online to reflect market value.
I was thumbing through the November issue of Wired when I stumbled across an article on Demand Media, penned by senior writer Daniel Roth. It's a detailed look at how the online network has successfully leveraged a user-generated content model and become the largest supplier of videos to YouTube. According to the report, Demand rakes in roughly $200 million a year and was valued in a recent round of financing at $1 billion.
Demand is reportedly the 15th-most-visited online media property, attracting 52 million visitors in September—bigger than CNN.com, Twitter.com and Weather.com.
But what jumped out wasn't the soaring profits. It was how co-founder Richard Rosenblatt thinks other media companies, which have been trying to increase the value of their content to at least match the cost of producing it, have the equation backwards. As he's done with Demand, Rosenblatt said the trick is in cutting costs until they match market value for content.
Demand utilizes an algorithm system that mines search data, traffic patterns and keyword rates to commission stories/videos based on what online users want to know and how much advertisers will pay for it. The company has all but eliminated actual people from the process, other than to make sense of terms the algorithm spits out. ("Demand uses editors in its process, too," the Wired story says, but "they just aren't worth very much.")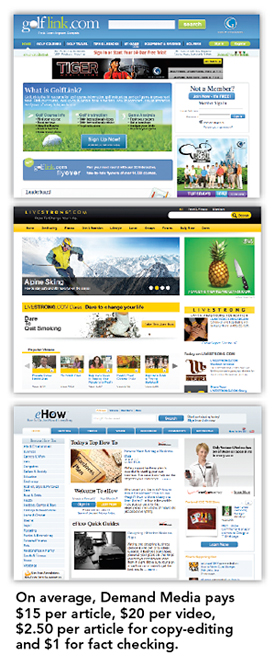 $15 Per Article
Another way to cut costs: Pay your content producers squat. Rosenblatt's massive stable of freelancers earn just $15 per article and $20 per video produced, on average. Some writers opt to earn nothing upfront and instead participate in a profit sharing program, although it can take months to earn even $15 that way. Copy editors take home $2.50 per article, fact-checkers get $1 an article and headline proofers bank a whopping 8 cents a headline, according to the Wired story.
Fifteen dollars a story? Granted, the stories are far from 4,000-word investigative pieces, but only a few years ago I was freelancing for a Boston-area newspaper, writing 300-word lifestyle/entertainment stories at about $100 a pop. That's more than six times what Demand pays.
The pittance Demand pays multiplied by the volume of content it produces has added up to $17 million in expenses so far. But even so, the idea that online content and its creators have been so devalued is truly astonishing.
Others Weigh In
I asked TheAtlantic.com editorial director Bob Cohn his thoughts about Demand's business model. He said that even though Demand doesn't do "journalism," the downside is that its model might help reduce the amount of money writers and video-makers can charge for their work across the media industry. 
"And it could well change the market when it comes to editing by showing that computers rather than people are 'better' at making story selections," Cohn said. "All this could have a negative effect on quality, especially in areas like complex financial reporting, investigations into government corruption, and explanatory journalism."
At TheAtlantic.com—which is expected to ring up 103 percent digital revenue growth in 2009—Cohn said he and his team "strive for insight and distinction" in its news analysis. I asked Cohn if he thought publishers should be worried about what Demand is doing. "Demand is giving readers what they want, and doing it with ruthless business efficiency," he said. "That's a model that's bound to succeed."
Meet the Author
---