A USPS Timeline for Survival

Insolvency is a year away, and major hurdles to legislative action remain.
A recent story this weekend by The New York Times about the United States Postal Service's dire financial predicament fueled speculation about how long, exactly, the organization has until it closes entirely.
According to the report, a shut-down could happen as early as this winter failing any Congressional action.
The story came out just ahead of today's Senate hearing with the Committee on Homeland Security and Governmental Affairs where postmaster general Patrick R. Donahoe provided further insight into the USPS' survival timeline.
We've already learned from USPS statements that, without legislative intervention, the organization faces a default this month, the end of its fiscal year. It will hit its $15 billion borrowing limit and will default on a $5.5 billion retiree health benefits [RHB] pre-payment.
For fiscal year 2011, the USPS is predicting a net loss of "up to" $10 billion, depending on interest rates (the NYT report cites a net loss of $9.2 billion).
Whether or not that RHB pre-payment gets deferred through legislation, Donahoe says in his testimony that after a $1.3 billion Department of Labor reimbursement for workers' comp in October, the USPS will have "liquidity equal to approximately one week's worth operating expenses."
Further, by not paying the RHB this year and without any other changes to its funding schedule, Donahoe says the USPS can forestall insolvency until this time next year.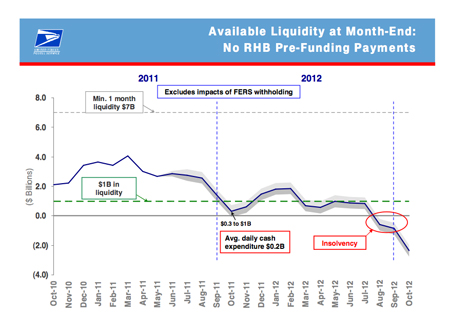 Source: USPS
In the meantime, NYT report manages this doomsday scenario: "But sometime early next year, the agency will run out of money to pay its employees and gas up its trucks, officials warn, forcing it to stop delivering the roughly three billion pieces of mail it handles weekly."
To avoid that scenario, Donahoe says that Congressional action is needed by the end of this fiscal year—three weeks away. Given the prickly nature of Donahoe's proposed fixes—resolving the RHB pre-payments; returning $6.9 billion in overpayments to the Federal Employees' Retirement Fund; five-day delivery; letting the USPS create its own healthcare system; and eliminate another 220,000 jobs by 2015—legislative rescue is a tough sell.
Inquiries to a USPS spokesperson on how—without legislative action—the USPS will make it from October to August were not immediately returned. Presumably, cash receipts will be up late in the year due to higher volumes, which will help carry the organization forward for the short term.
Update: According to a USPS spokesperson, there will be no shutdown in early 2012. But the insolvency projection for the summer 2012 time frame still stands absent any action from Congress. "We will continue to pay employees and suppliers as long as possible to keep the mail moving in the absence of legislative change," says the spokesperson. "Our projection continues to be we can continue to do that until the end of next summer (August/September 2012 timeframe) by not making a required $5.5 billion required annual payment to prefund retiree health benefits, continued cost cutting and other actions within our control. We are hoping that legislation is introduced and passes that gives us long-term flexiblity to operate like a private sector businees and that there will be no interuption in mail delivery."
Update: A full-blown shutdown with no government intervention is an unlikely scenario, says one publishing executive who requested not to be named. Yet Congress won't have enough time to act before the end of the fiscal year, so the USPS will be forced to default. "We met with the USPS' CFO [Joe Corbett] two weeks ago and the current projection is that they will run out of cash in July/August 2012. The reason the dates are changing is that first class volume continues to drop faster than they expected. No one in D.C. will let them stop delivery and we both know that Congress will not do anything in the absence of a crisis. We now have a full blown crisis on our hands, so they will take action before the USPS runs out of cash. I can guarantee that it won't be before 9/30, so they will default on the $5.5 billion payment."
Nevertheless, Donahoe says that the USPS needs to reduce annual costs by more than $20 billion to reach profitability by 2015. In the last four years, it has cut $12 billion out of costs.
To get to that $20 billion, Donahoe is proposing the following eliminations:
Operations:
-$3 billion from sortation and transport (508 processing locations to 200; eliminating 35,000 positions)
-$1.5 billion out of retail (closing 15,000 offices)
-$2 billion from delivery (eliminating 20,000 city routes out of 144,000; eliminating 22,000 positions)
Legislative:
-$5.5 billion from RHB Pre-Funding
-$3 billion saved with 5-day delivery
Compensation and Benefits:
-$5 billion from flexibility, benefits and wages
Witnesses on hand at the testimony included postal union leaders and Ellen Levine, editorial director at Hearst Magazines, and Tonda Rush, director of public policy of the National Newspaper Association. Both Levine and Rush, while acknowledging the need for some reform, testified against the proposed five-day delivery schedule as well as mail processing network shrinkage and retail office shutdowns, particularly in rural areas.
Donahoe pressed the Committee hard for resolution in the current fiscal year. "I cannot emphasize enough the importance of action this year [emphasis his] to help the Postal Service avoid default and insolvency. Without the involvement of Congressional leaders, in just over three weeks, we will reach our debt limit, experience a serious cash shortfall and be unable to make the required $5.5 billion RHB pre-payment," he said in his testimony.
You can read testimony from the hearing here.
Meet the Author
---