UPDATE: USPS Has 'Extreme Prejudice' Against Raising Rates Next Year

Postmaster general now says there will be no rate increase in 2010.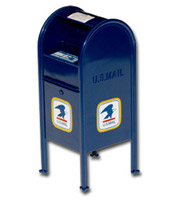 NEW YORK—Having logged its 11th quarterly loss out of the last 12 quarters in August, magazine publishers have been waiting anxiously to find out how the United States Postal Service might raise its rates for mailers in 2010.
"We have an extreme prejudice" against  making a rate change next year, USPS postmaster general and CEO John E. Potter told the publishing executives gathered here Wednesday at the Magazine Publishers of America's Innovation Summit. Potter was interviewed by Hearst Magazines president Cathie Black during an afternoon keynote presentation called "What Transformation at the Post Office Means for Publishers."

UPDATE: In a statement released to various customer groups on Thursday, the USPS said it "will not increase prices for market dominant products in calendar year 2010." That includes First Class, Standard Mail, periodicals and single-piece Parcel Post. "While increasing prices might have generated revenue for the Postal Service in the short term, the long term effect could drive additional mail out of the system," USPS said in the statement.
While some have speculated a 2 percent to 3 percent rate hike next May, Potter said a final decision has not been made. Potter said the USPS has seen a dramatic volume decline since 2006, with 202.7 billion pieces mailed in 2008 and only 160 billion projected to be mailed in 2010.
In August, the USPS reported a $2.4 billion loss for the third quarter and a $4.7 billion loss year-to-date. It projected a net loss of more than $7 billion through the end of the fiscal year 2009.  
According to Black's introductory remarks, 7 billion magazines were mailed last year, costing roughly $3 billion. Subscription makes up approximately 90 percent of total magazine circulation, she said.
"These problems are a national issue," said Potter. "The American people own the postal service. We need to have conversations with all the stakeholders who care about what happens to the postal service [to determine what to do]."
In recent months, the postal service has made aggressive changes, Potter said, to help reduce costs. Those actions include cutting 115 million work hours, reducing overall workforce by 50,000, consolidating facilities and making changes to retired employees' health benefits.
Potter said the USPS is looking to find answers to a number of its financial questions soon. "This yo-yo effect, in terms of what services mailers will get or won't get, isn't healthy for the industry," he said.
Meet the Author
---